Departing Ichinomiya, we went back to Narita Airport to catch our domestic flight to Kochi in the Shikoku Region.
It's about an 1hour and 15 min flight, the cheapest way to get there would be via JetStar on their sales. Our ticket was about AUS $100 one way.
Kochi is known for the Shimanto River that still has untouched natural beauty which is VERY rare in Japan. Sadly , so many pristine rivers and oceans, forests have been destructed and developed. But Kochi has still retained its natural environment alongside with its rich cultural heritage.
We chose Tosa-cho as our next destination as I had my long time friends living there. Kotoe and Daiyu, with their two daughters who moved from a bustling busy life in Manhattan NYC a few years ago. I went to University with Kotoe and we were both in the windsurfing team. It was truly one of the best years of my life, so youthful and full of energy.. Our team was very close like a family, and that enabled us to stay in touch even after 20 years after graduation. I visited Kotoe and Daiyu in NY few times too.
1998 Sophia Windsurfing Team Summer Training Camp at Saiko, Yamanashi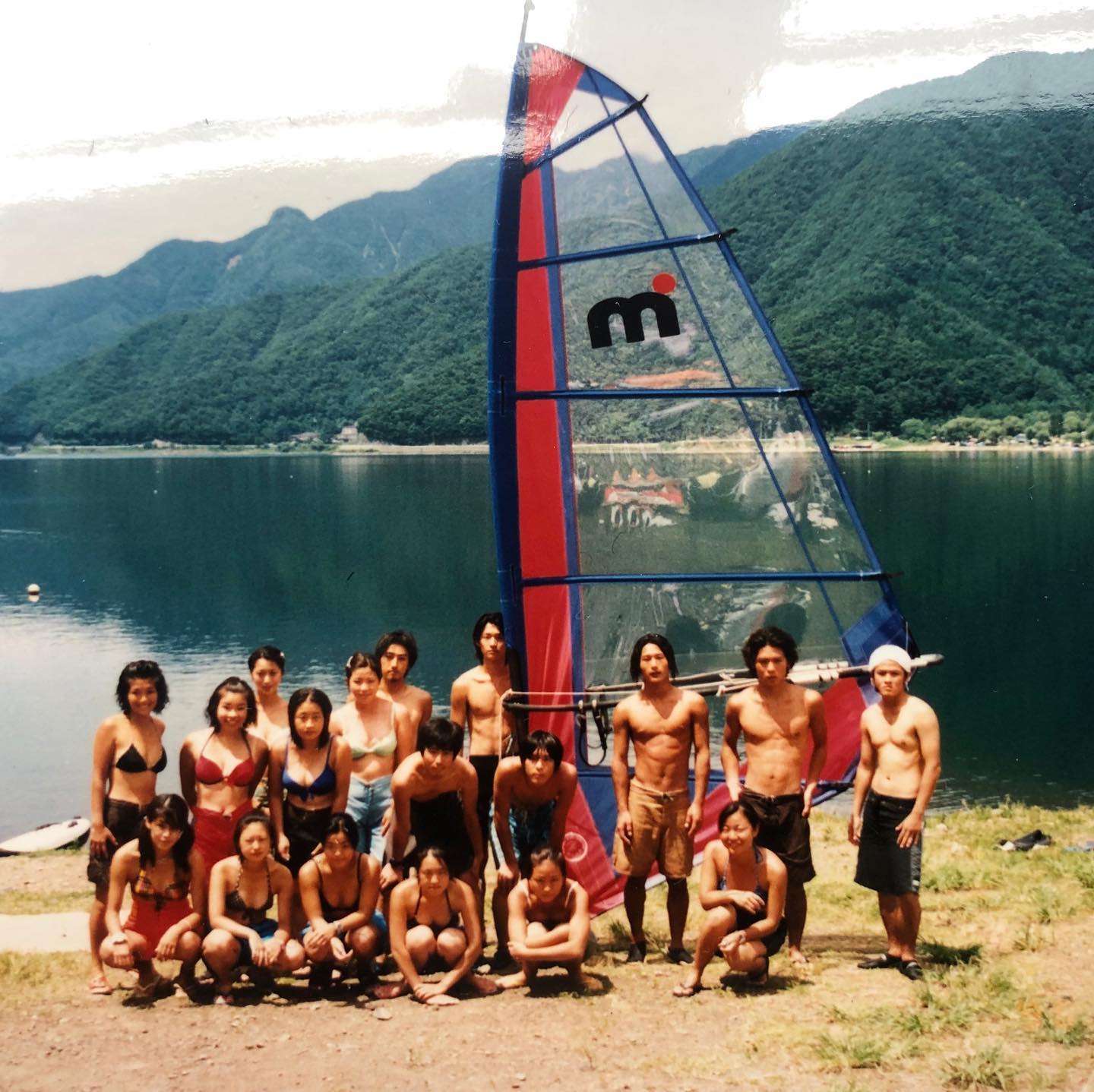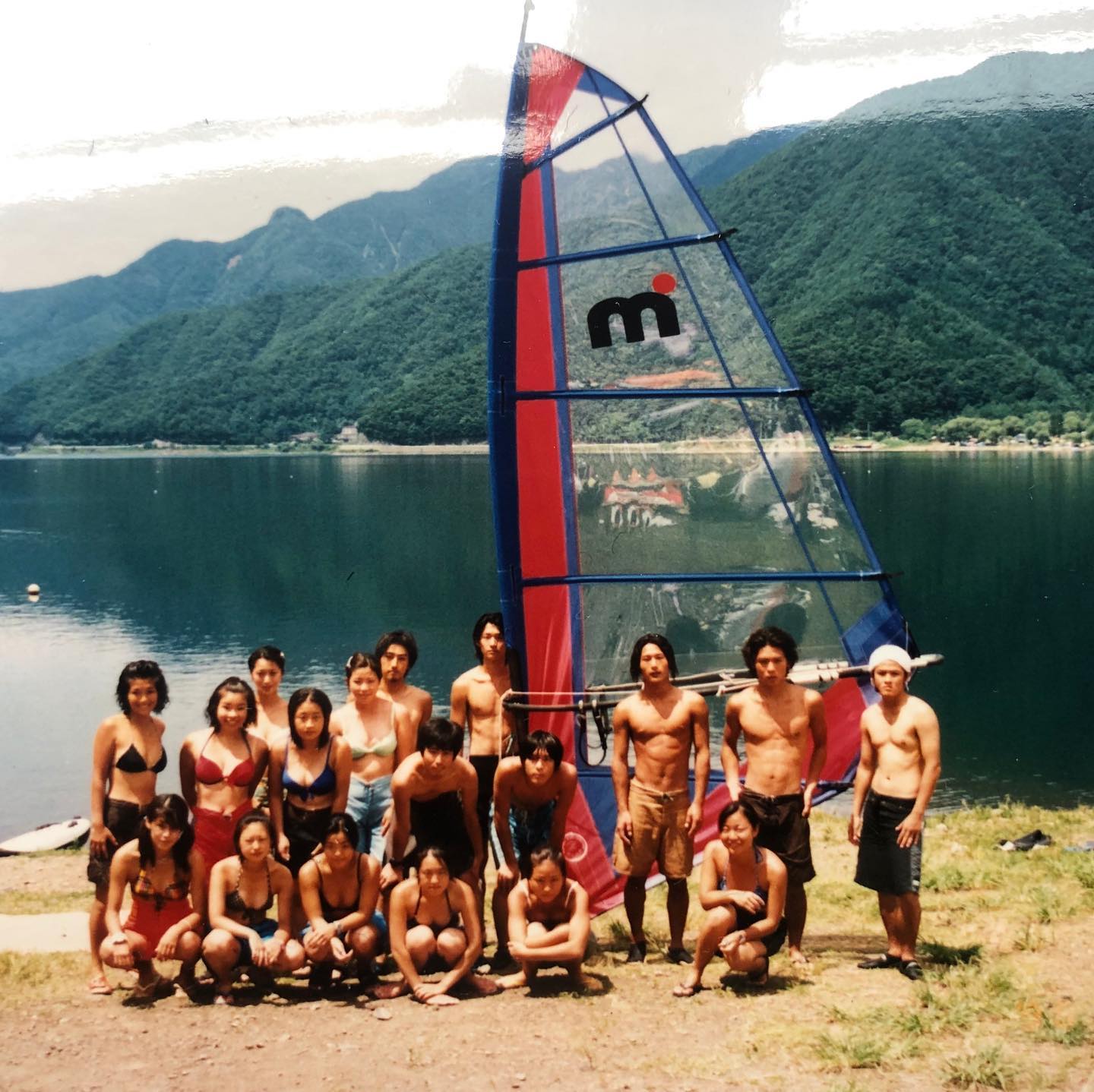 Another family, Ai and Daigo who were also members from the Uni windsurfing team had joined us for their summer holiday driving from Tokyo.It was a reunion of good friendships and good times promised.
Unluckily, it was raining most of the time so we didn't get to fully explore the beautiful nature of Tosa-cho but we just felt the immense beauty that this place had to offer.
Driving from Kochi Airport to our accommodation where Kotoe and Ai were already awaiting us , we drove through the most scenic rice fields across the mountains. With the misty rain and fogs , sun was setting , it was as though we were driving up into the clouds. So majestic!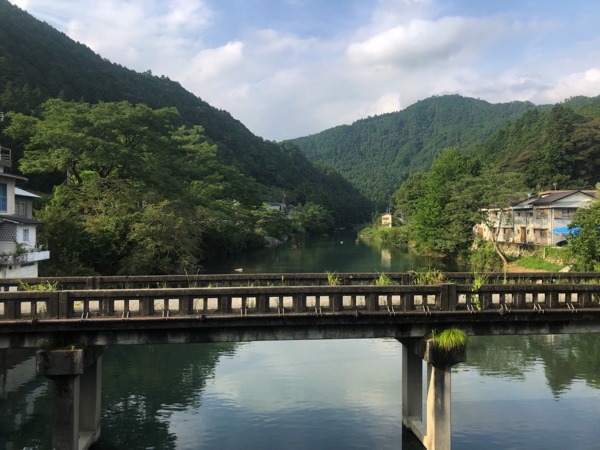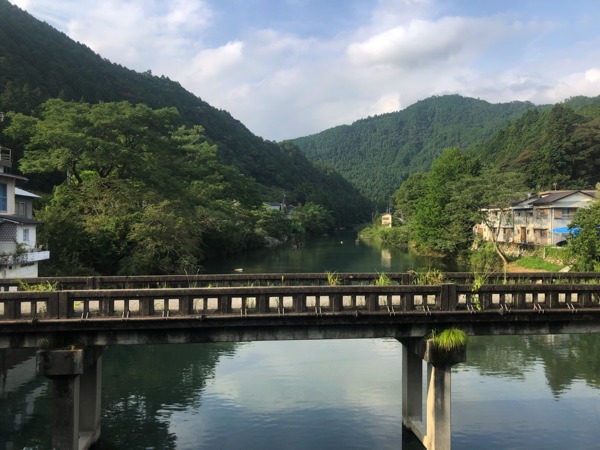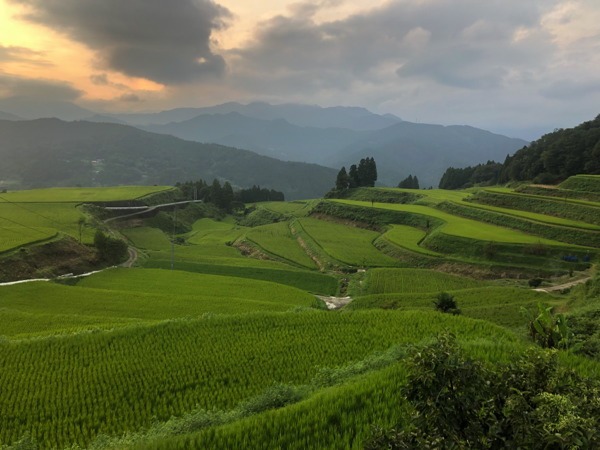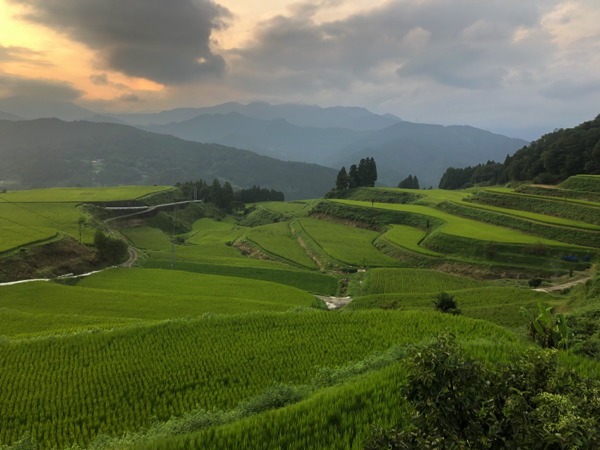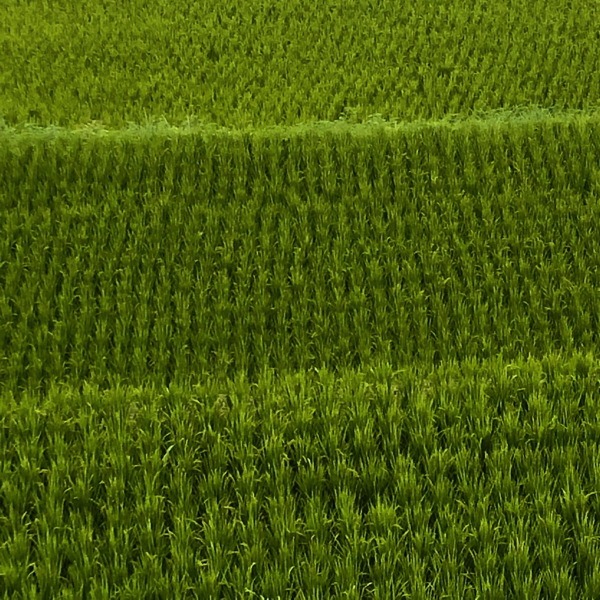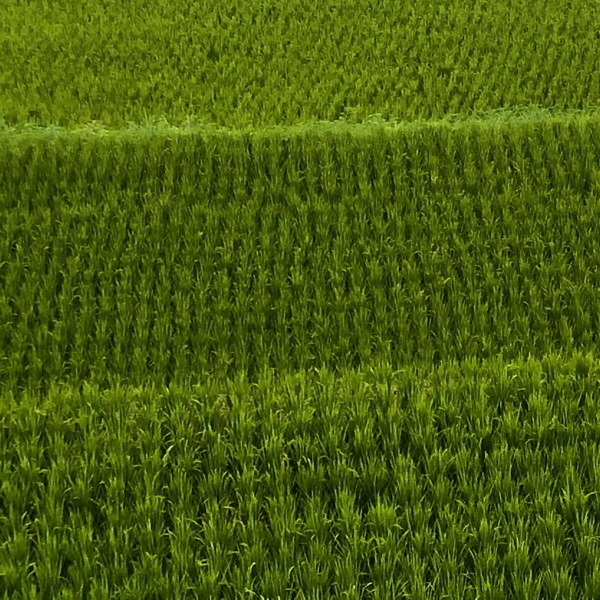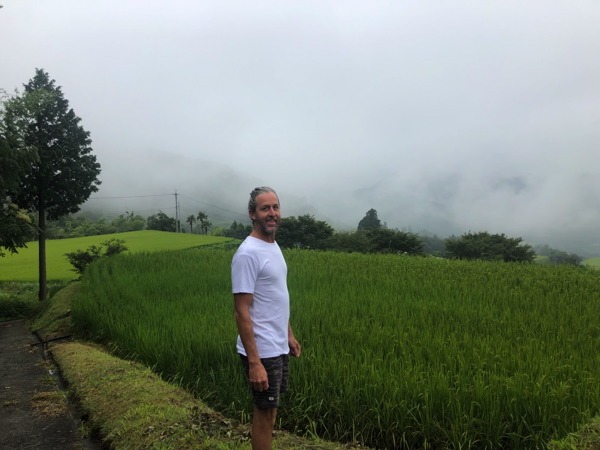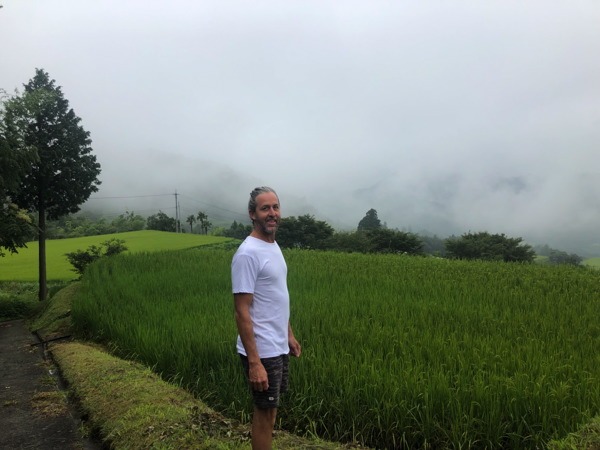 Takasu Terraced Rice Fields stretch across the mountains on the highest reaches of the Yoshino river at 350 meters above sea level. The rice from this area is known as 'Aikawa Rice' and is one of the most popular and delicious rice brands in the prefecture.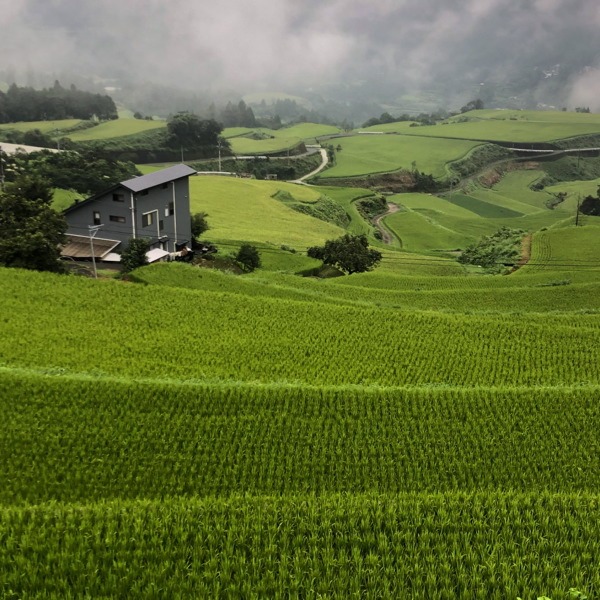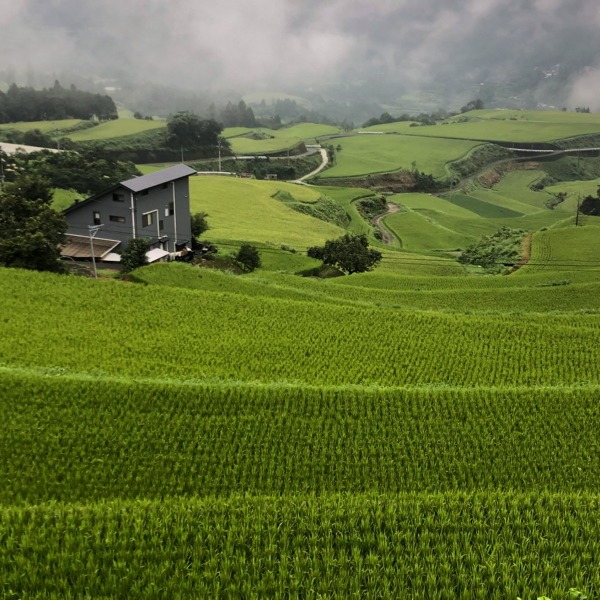 At the end of the winding road and perched on top of the mountain was an old guest house / camping facility where people could stay. It was nothing fancy, more like a dormitory / youth hostel vibe with big communal kitchen and shared bath / toilet but we had the whole place to ourselves and cheap, so couldn't complain with our budget travel. It almost reminded us of our windsurfing training camps when we would sleep together, cook and eat together, like a family.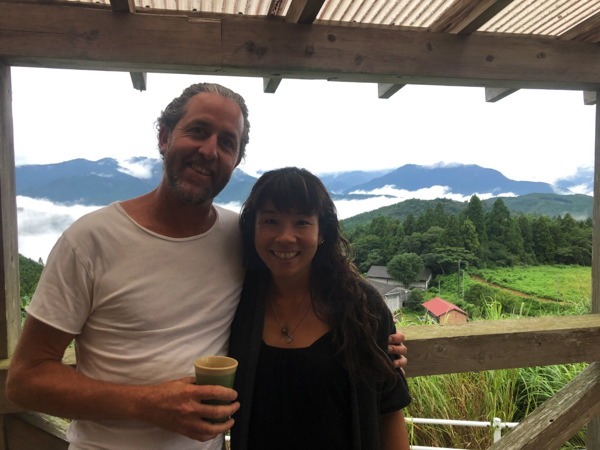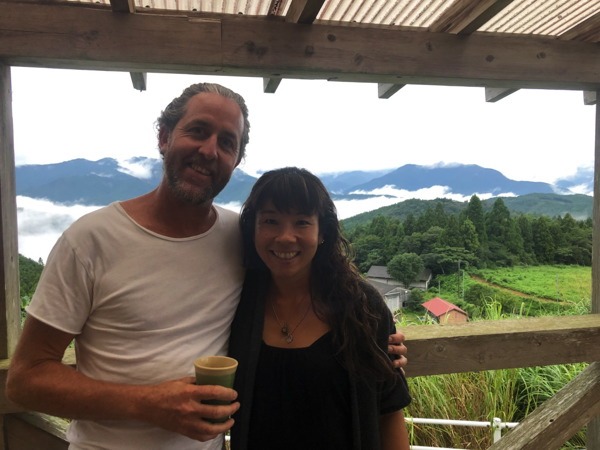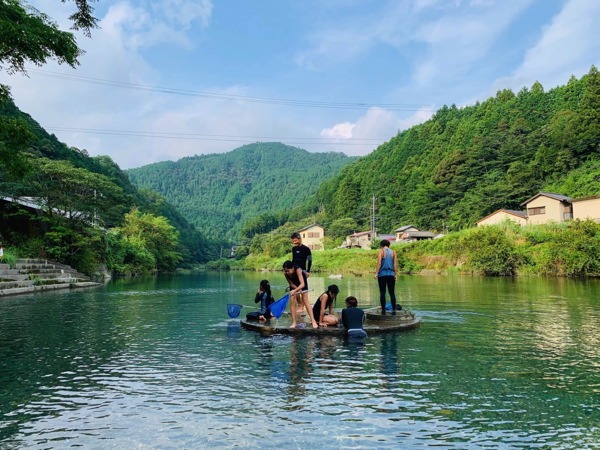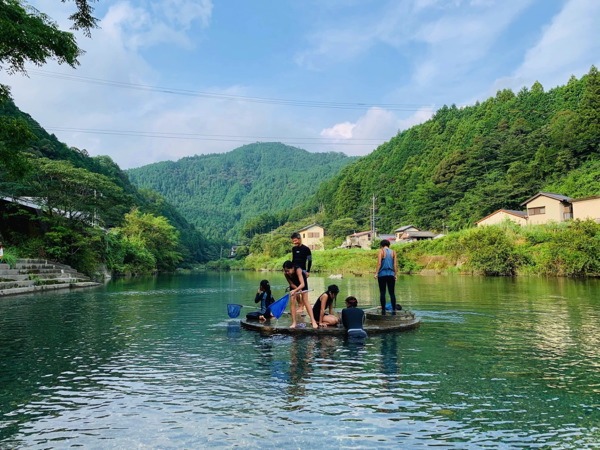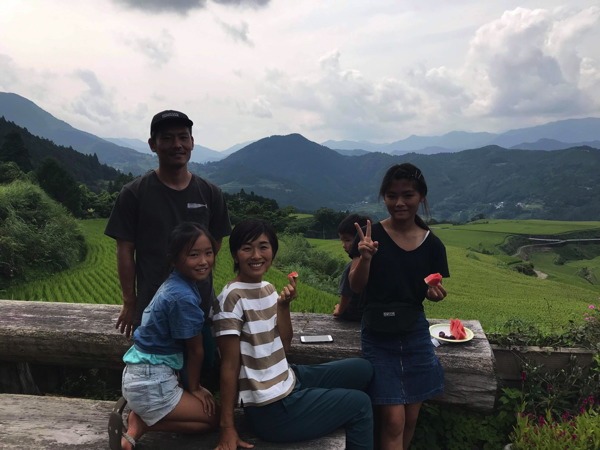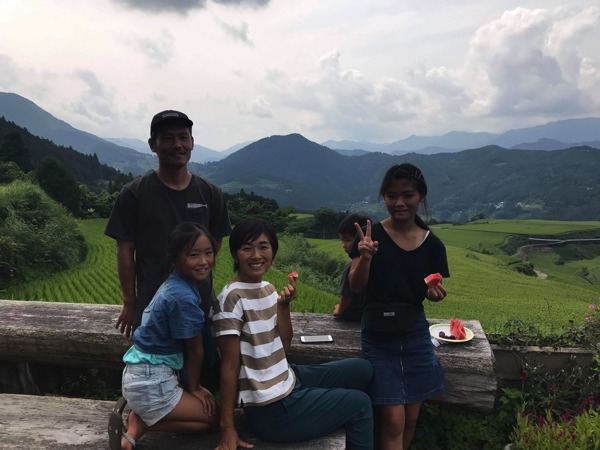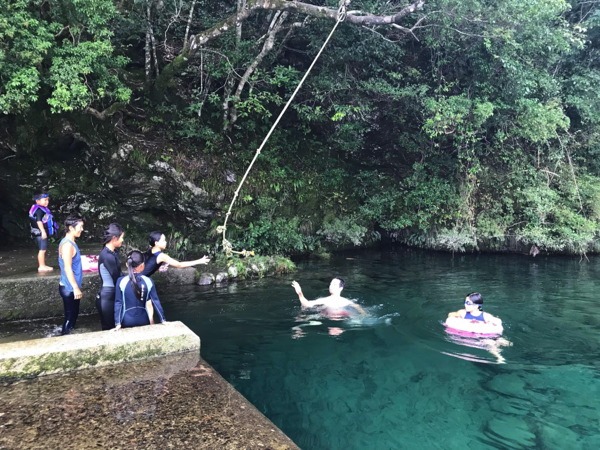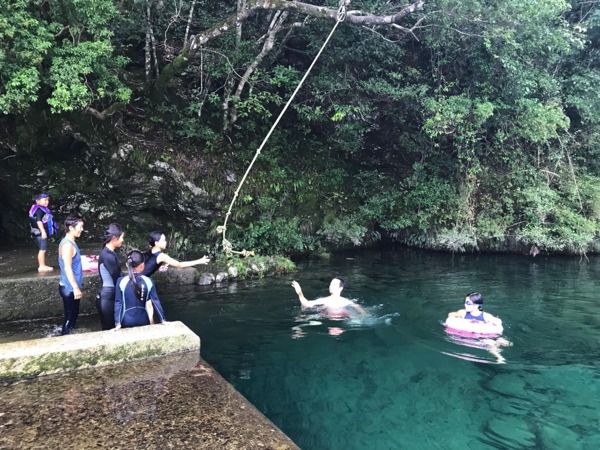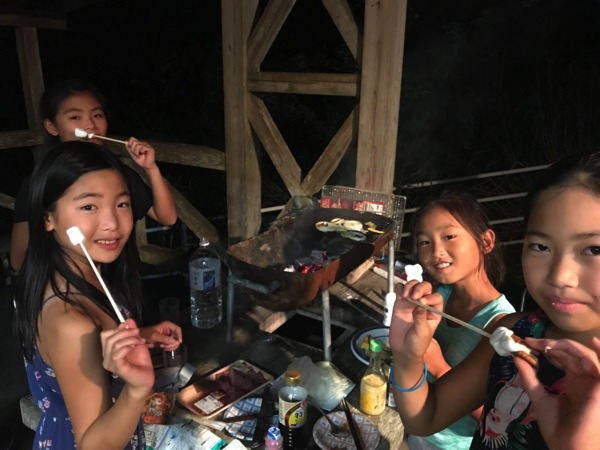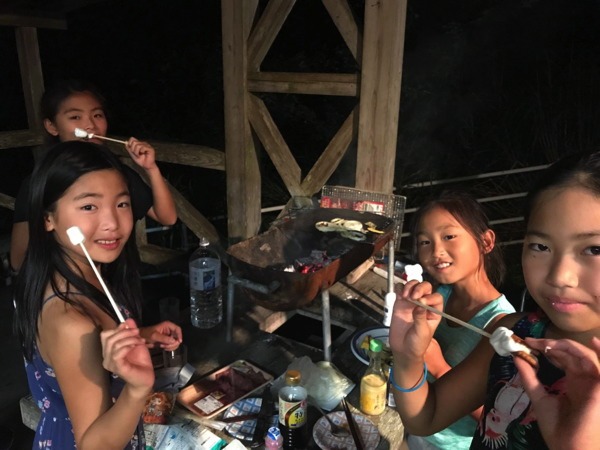 I hadn't seen Kotoe and Daiyu since I last visited them last in New York, probably in 2009, she didn't even have kids then !
Same with Ai, she was also in the windsurfing team and she had met her now husband Daigo in the club. They got married and had 3 kids since, I think when I left Japan five years ago, the youngest boy Gen was just born. So to see them in their full parenting was a bit strange that so many years have gone by but we still hadn't changed bit and felt the same as we were  at Uni .
Now, you might think why on earth did Kotoe and Daiyu moved from the hustle and bustle of Manhattan to such a rural remote area, in the hidden valley of Tosa-cho ? Well, Daiyu was a school teacher teaching in Japan and had been a passionate advocate about education and the philosophy behind it . He received a prestigious Fullbright scholarship to deepen his knowledge and studied at Columbus University in NYC and Kotoe went with him, after completing her studies as a music therapist at NY University as well. They moved to NYC together, studying and working in their professions for many years, raising two children. When it was time to go home, Daiyu looked for an opportunity where he could put his theory and ideas into practise and one of his friend said their was a teaching position in Tosa-cho local school.
They knew no one.
They had barely no connections ( except his new job offer )
The kids could hardly speak any Japanese.
NYC is a melting pot of young and old, different ethnic and cultural backgrounds.
Tosa-cho has a population of about 3500 people, of which about 50% are over 65 years old.
It was certainly a brave move, but I guess Daiyu was very determined to make things happen. And he did.
Within a year of moving to Tosa-cho, he fully integrated with the local community and was urged to run for council.
He got the highest votes and was elected in to the council member. Unheard of!  What a legend !
Amidst his busy meetings and duties, he took some time off to spend with us, and also take Damien to teach Kendo !
Now here's some history.
Kendo, or the "way of the sword," is similar to forms of fencing seen in other culture.
Two contestants wearing armor to protect the face, chest, and arms confront each other with bamboo swords called shinai.
Samurai warriors practiced the art of fencing for a long time, and eventually practicing with swords became a part of the study of morals and Buddhism, especially Zen. Samurai eventually had to practice not only fencing but also spiritual training. Then at the end of the eighteenth century protective equipment and safe bamboo practice swords were introduced, and the present form of kendo took shape.
One of the greatest contributors to this practice was Ryoma Sakamoto who was from Tosa-cho.
Ryoma was a leader of the movement to overthrow the Tokugawa Shogunate during the Bakumatsu period in Japan. At the time United States trying to force Japan out of its national isolation policy, he was a master swordsman and a disciple of the Hokushin Itto-ryu. With having a visionary that Japanese people must modernize, he was recruited into an anti-Tokugawa, pro-Emperor party. In 1864, as the Tokugawa shogunate started taking a hard line, Ryoma made a subsequent negotiation successful between Satsuma and Choshu. This alliance played a crucial role in Tokugawa Shogun resigning voluntarily and as a result bringing about the Meiji Restoration. Also he he is respected as one of pioners who modernized Japan for his established the first Japanese modern private navy and trading company, named Kaientai. Ryoma was assassinated at the age of 33 in Kyoto, not long before the Meiji Restoration took place, and the true assassin has never been proven in a court of law.
He became famous even more after the death and being loved until now by Japanese people as a passionate leader and businessman who lived a life of full ups and downs. He's vision had been ingrained in the Tosa-cho where Kendo is taught FREE to everyone at schools and community centers as a way to also conquer fear and gain mental strength.
Black belt master senseis have carried on his legacy and we were fortunate to join their practice.
It was so amazing to watch young children having so much  discipline and focus.
Their form, their etiquette, their manners, their gesture , their movement- everything was subtle but well trained.
It must have been quite intimidating for a foreigner to give a go at it, but Damien blended in quite well !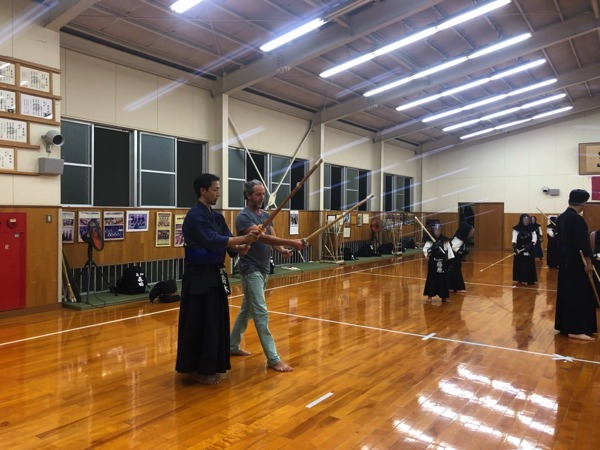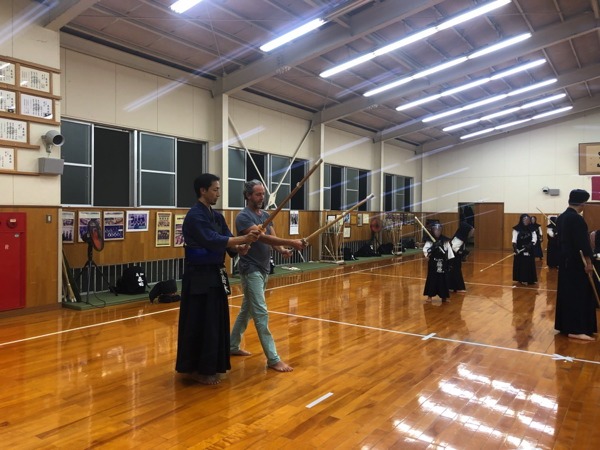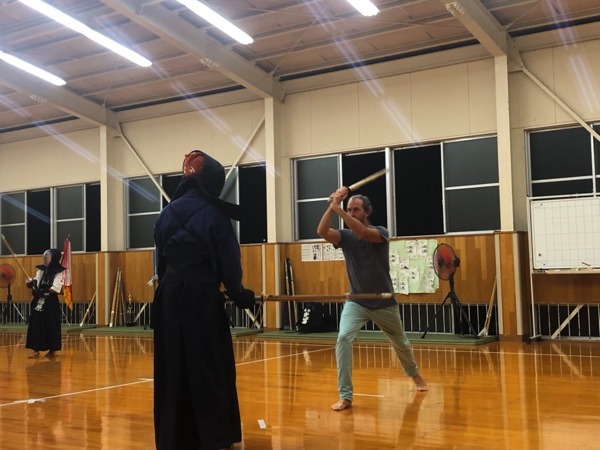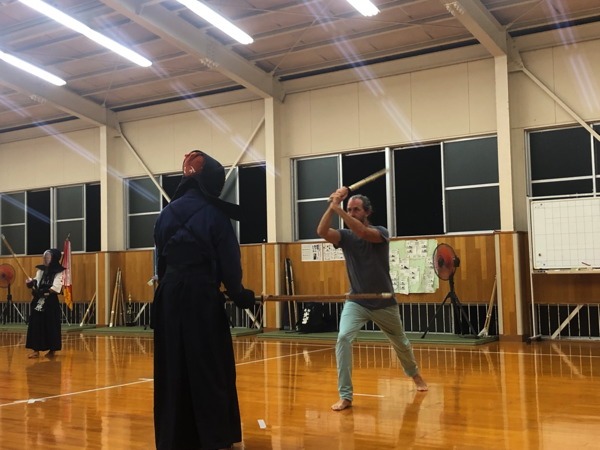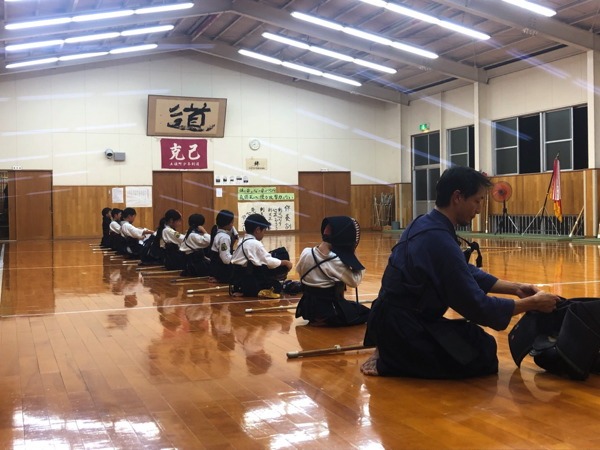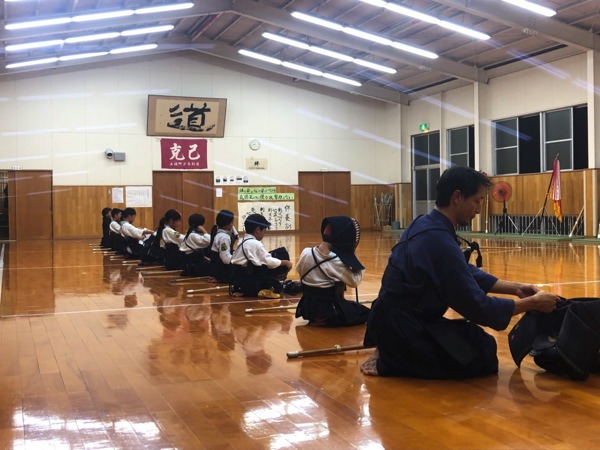 We also visited another family, Cinema and Yusuke who had moved from Chiba after the Fukushima melt down.
They had found their slice of paradise, living in an old abandoned farm house ( very very very cheap rent !! )  growing their own food and living simply. They CHOSE to live this way, using wood fire to cook their food and warm their house during the harsh cold winter. They use compost toilet, They have rain water and fresh spring water that is abundant. They have minimal waste and minimal impact on their surrounding environment.
Cinema is the eldest daughter of my macrobiotic cooking teacher Deco Nakajima and has always been passionate about sustainable living. It may seem inconvenient , unpractical or too rustic , but the kids are healthy and love it, they know how to live responsibly and sensibly . It makes them more resilient and strong.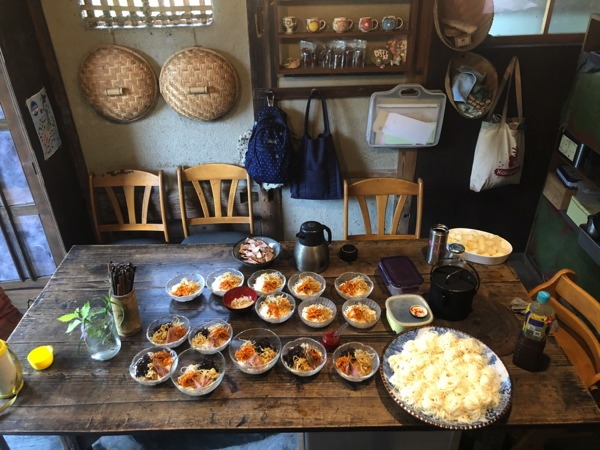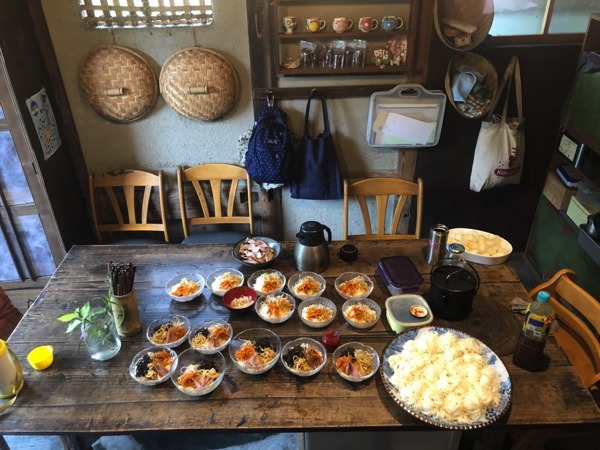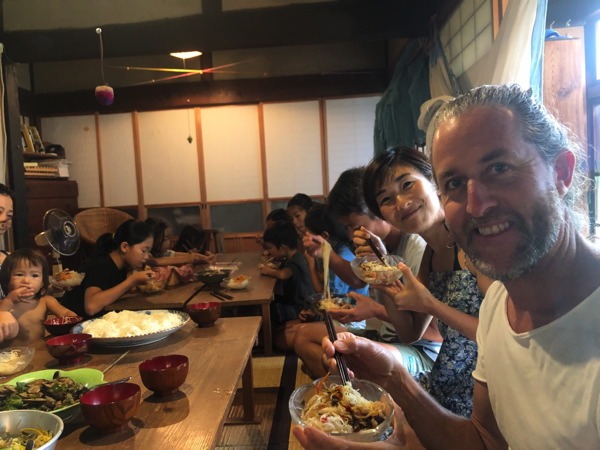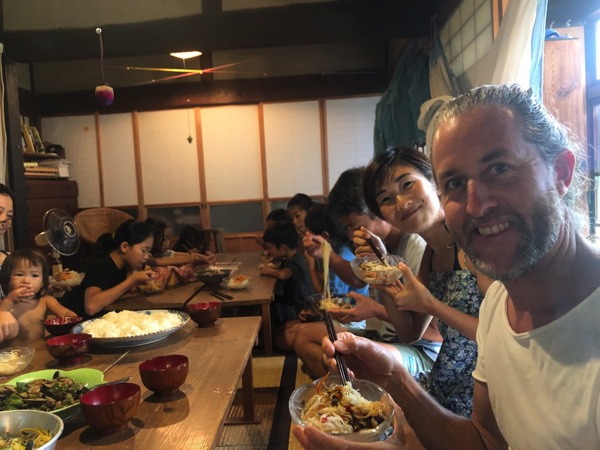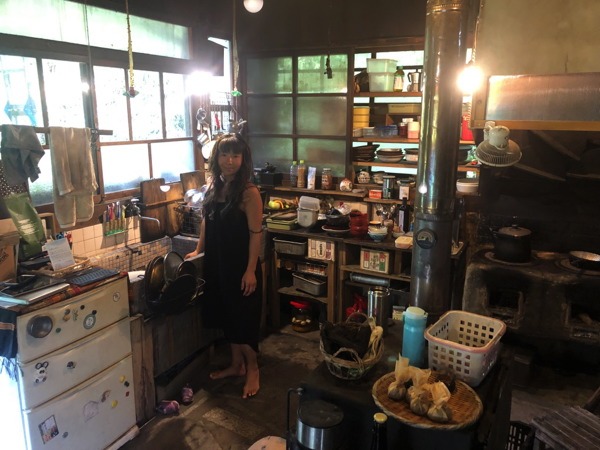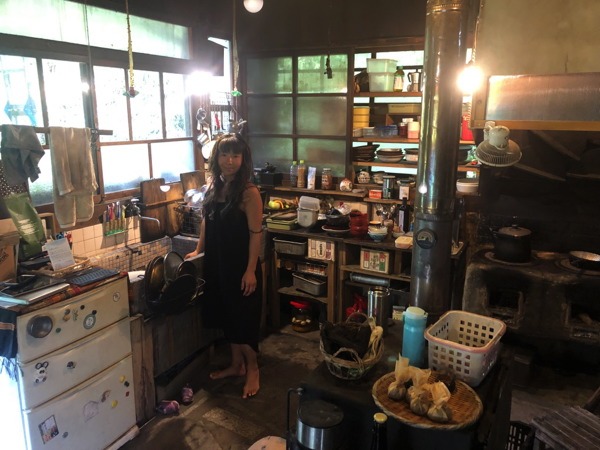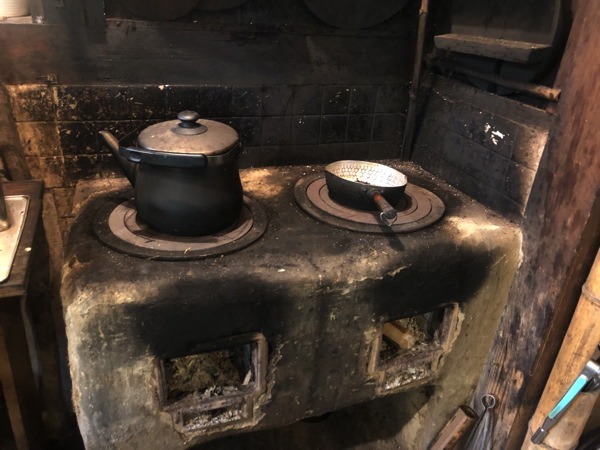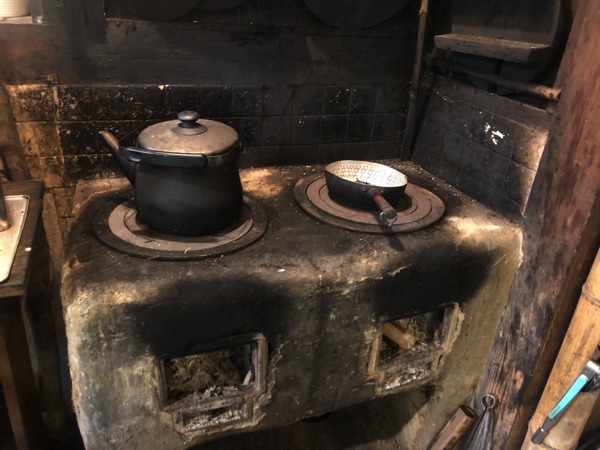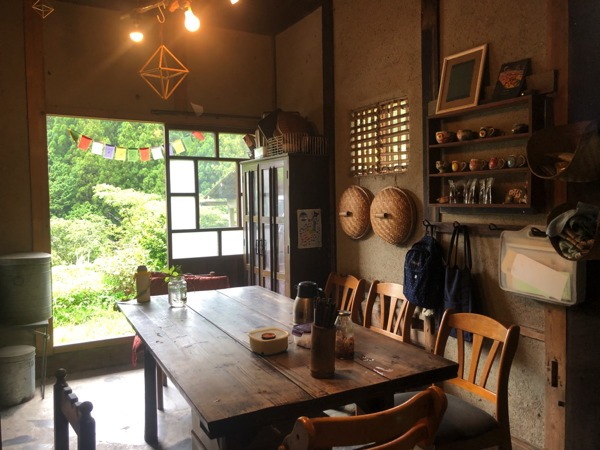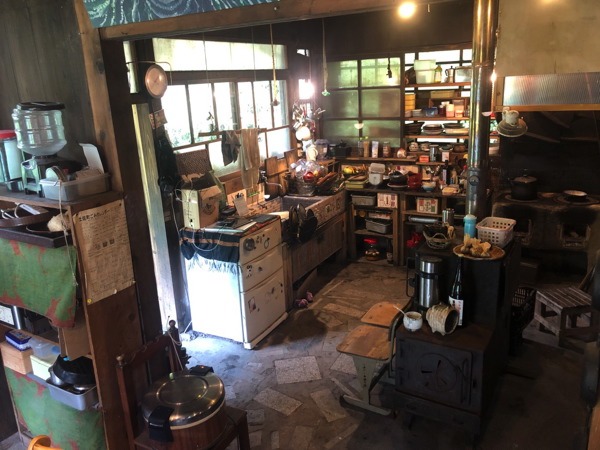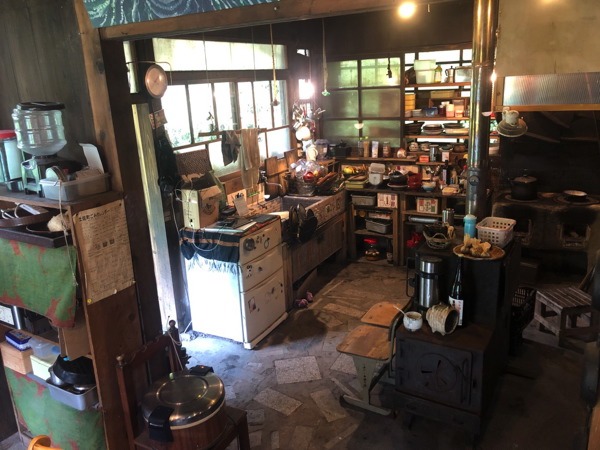 Like Kotoe and Daiyu, they had no connections what so ever to this land but they were drawn here because of the natural untouched spring water. They believed that access to clean water would be vital and crucial ( to sustain any kind of life ) in the years to come. They have four kids , all home birthed and lives off the land. They literally make EVERYTHING ! From miso to soy sauce to rice… home cooked and home produced, nothing beats that !
If you ever feel like experiencing a traditional/ locals way of Japanese life , I highly recommend a night or two at their house " SASA NO IE " where they welcome homestays. Yosuke has worked in Australia as a diving instructor in his early days and can speak good English.
Speaking about clean water, because of this amazing natural abundance,  Tosa-cho is also known as one of the finest Sake brewers in Japan. What makes a good sake ?  Good rice and clean pure water !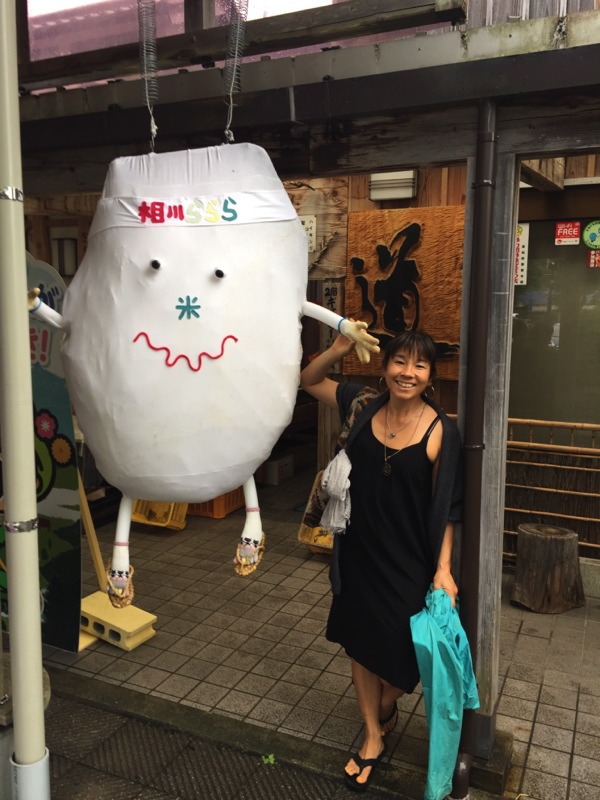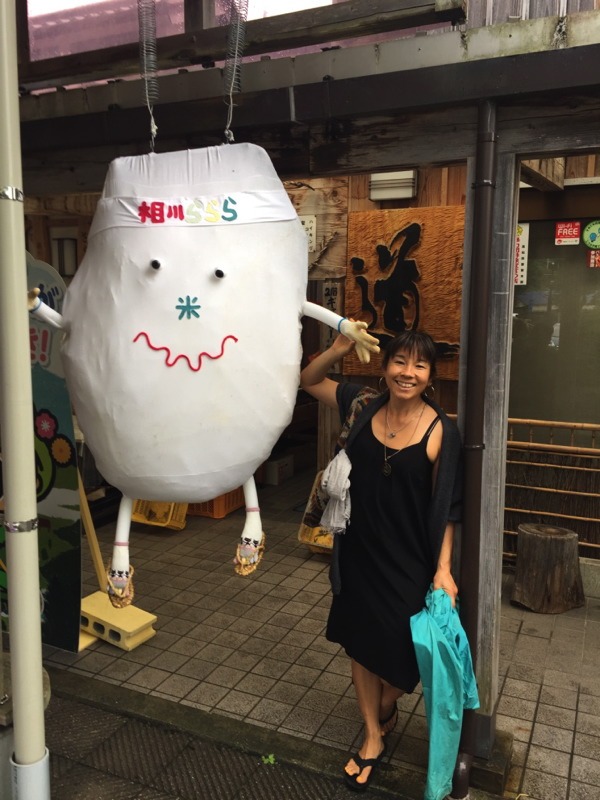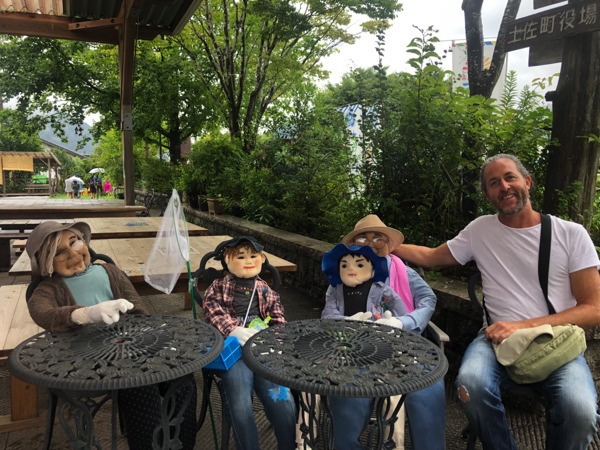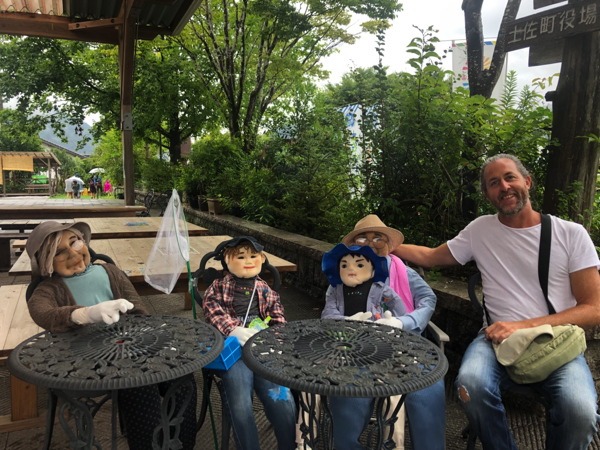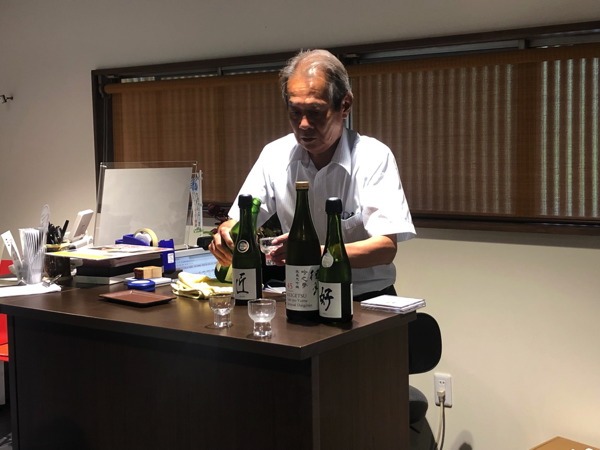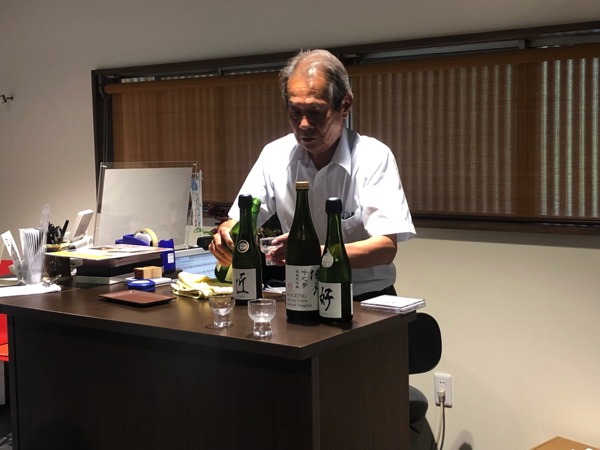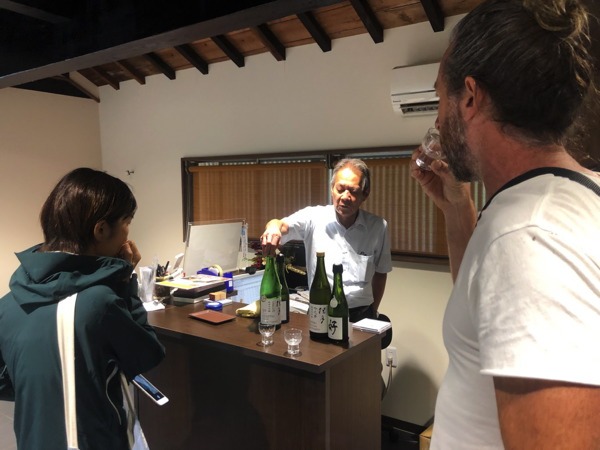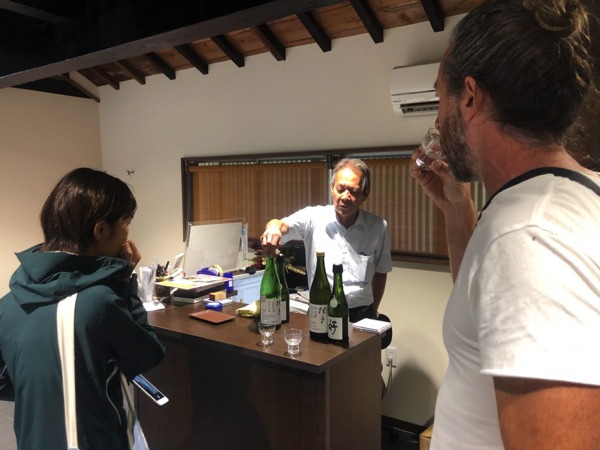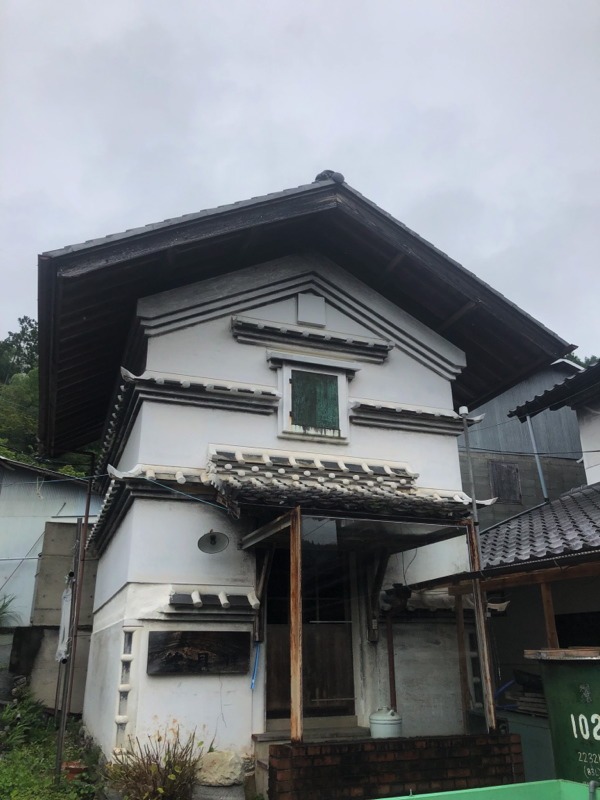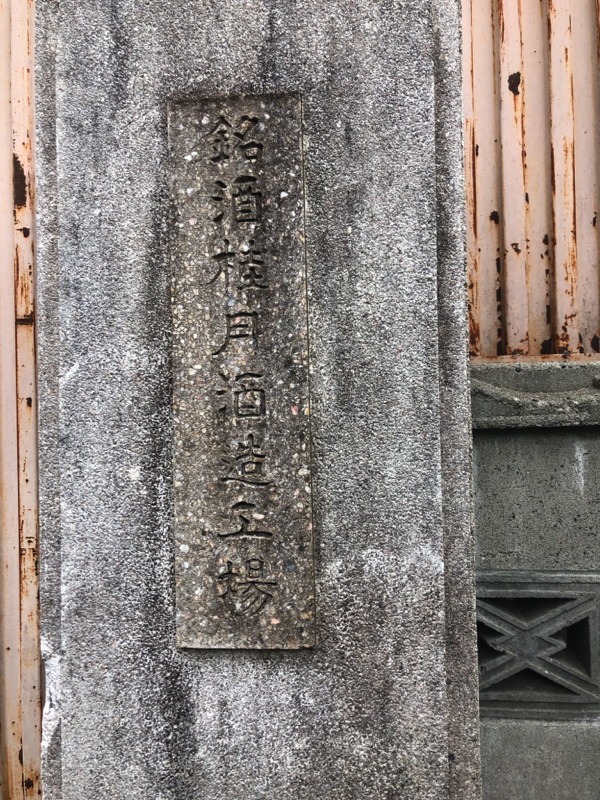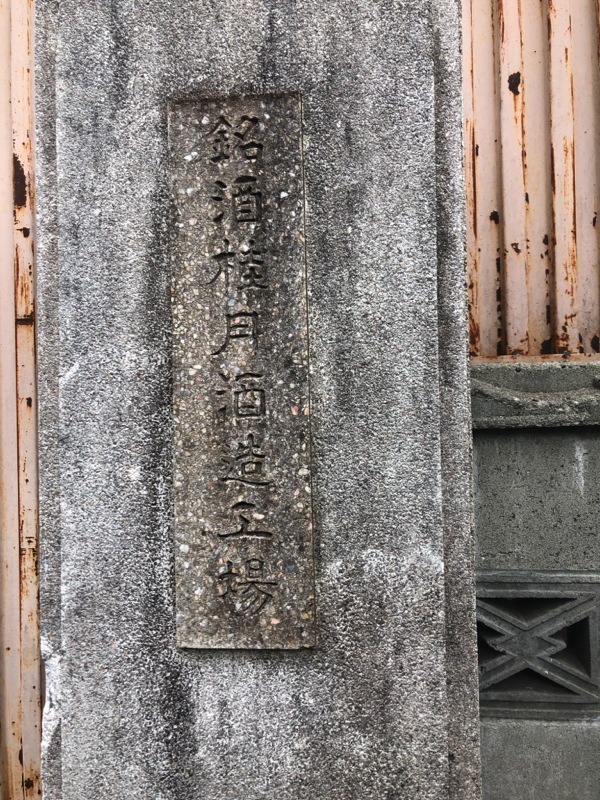 With over 140 years of history, Keigetsu, a local Sake brewing company is nestled amongst the valley showcasing
handmade sake using high-quality organically grown rice and soft water in from the region. It has won many international awards but they only produce a small batch to maintain their quality so if you do ever come across one, you're in for a treat ! But the real treat is when you get to visit the old buildings of the brewery and go on the tasting tour ! I don't drink alcohol but I'm pretty sure it tasted divine ! !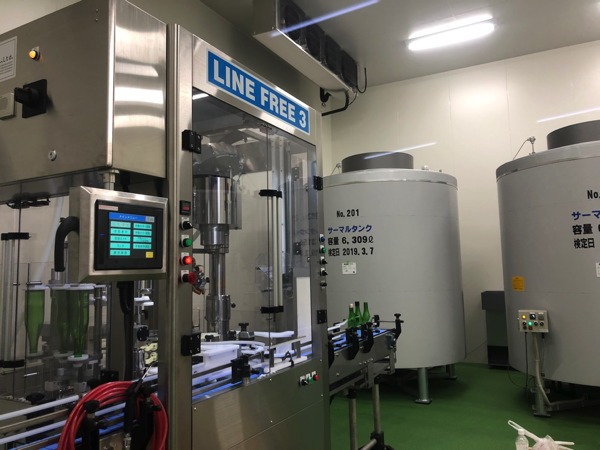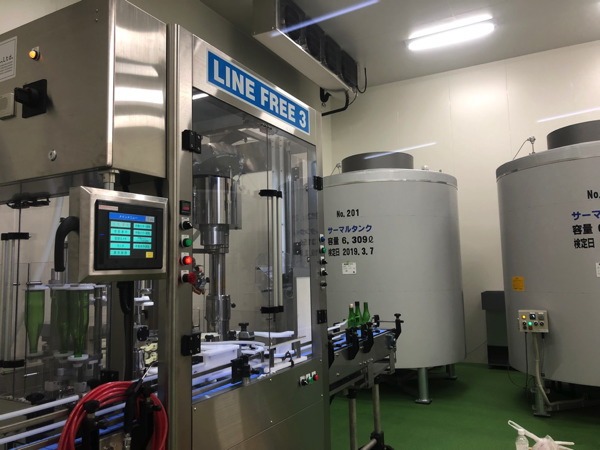 After Ai and Daigo departed on another mission down the coast, it was time for some relaxation.
We ventured across to the next prefecture , Tokushima to dip into the onsen ( hot springs ! )
In the mountains East of the Oboke Canyon sits Kazurabashi Hotel, named after the vine bridge across the Yoshino River. Located at the Shin Iya hot spring, the hotel is a classic Japanese onsen hotel. Even if you are not staying there, you can do a day visit to their famous outdoor onsen.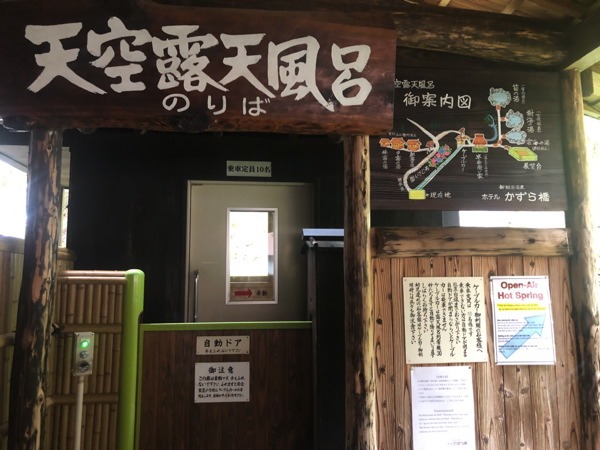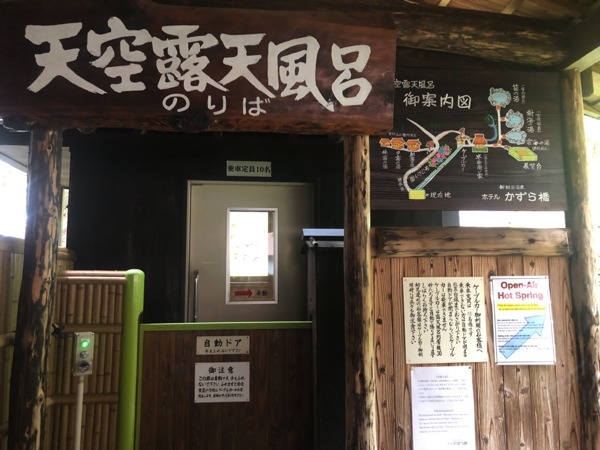 The baths are located up a 45-degree incline from the hotel, and accessed by private cable car. There are women's, men's with toilet facility at the upper end of the cable car run. The baths are open air and beautifully constructed, giving the impression of a natural, rock pool with a stunning view of the valley.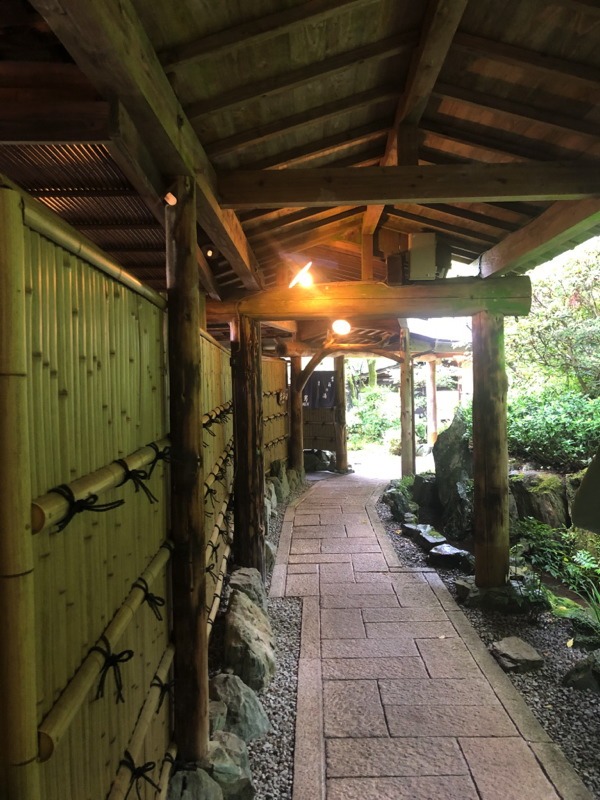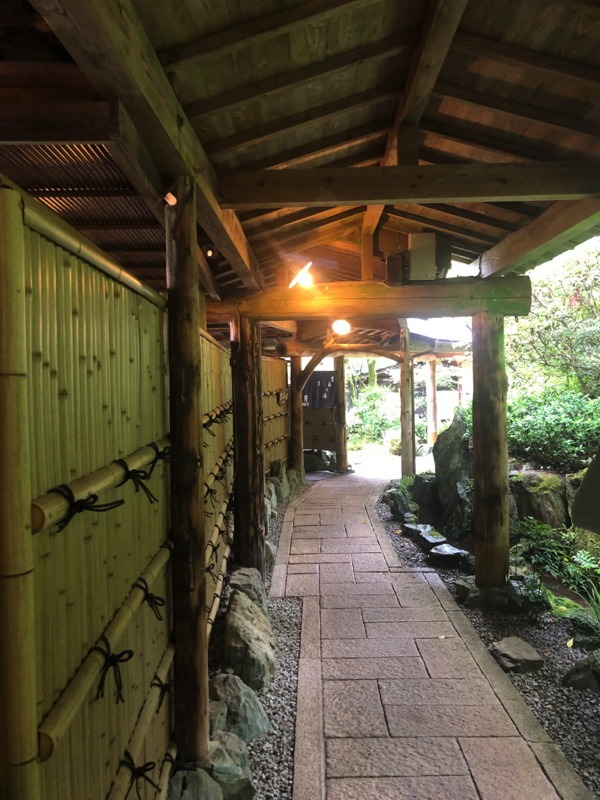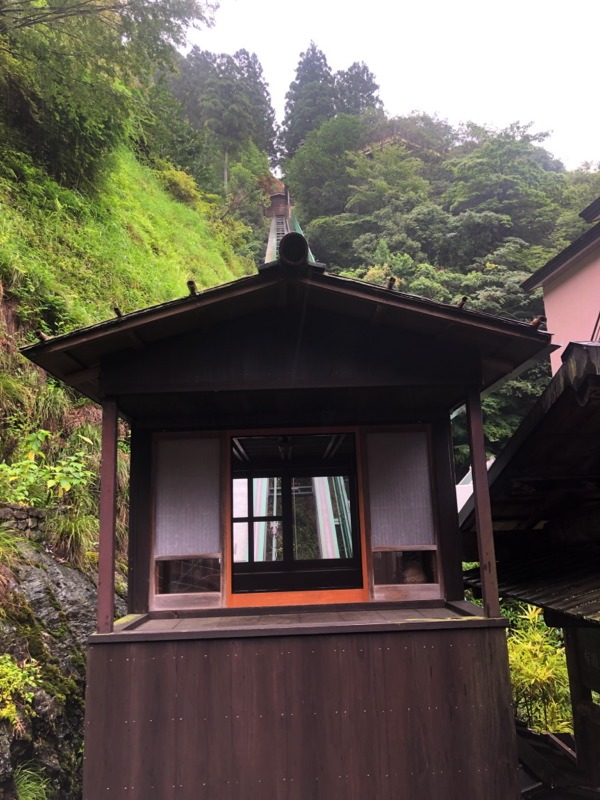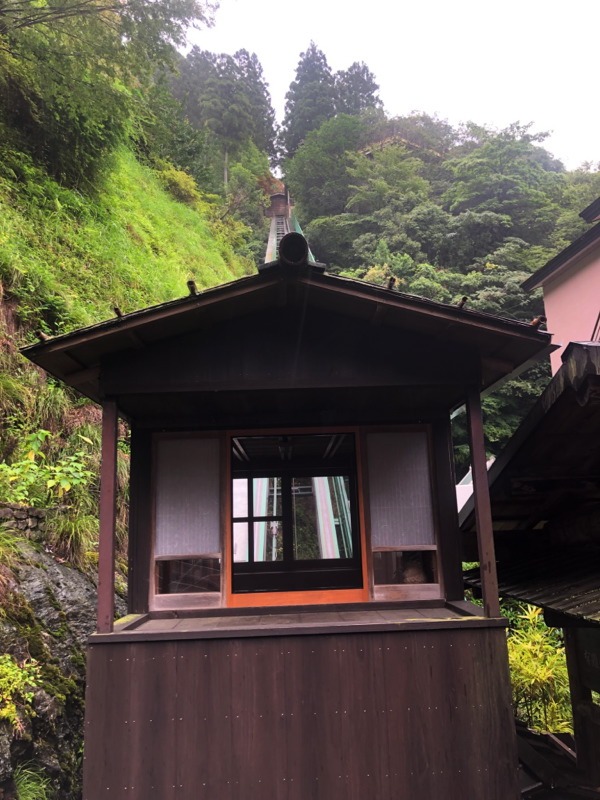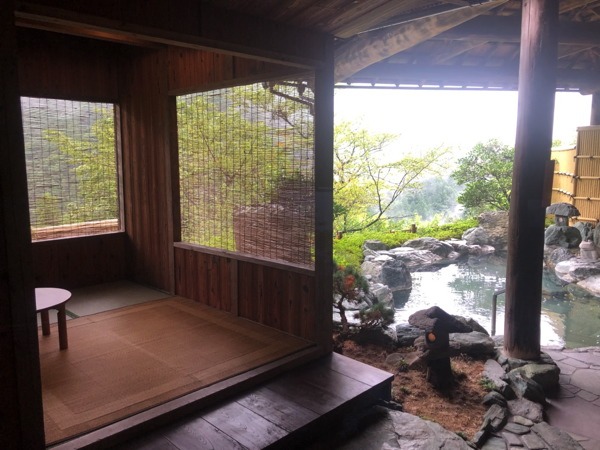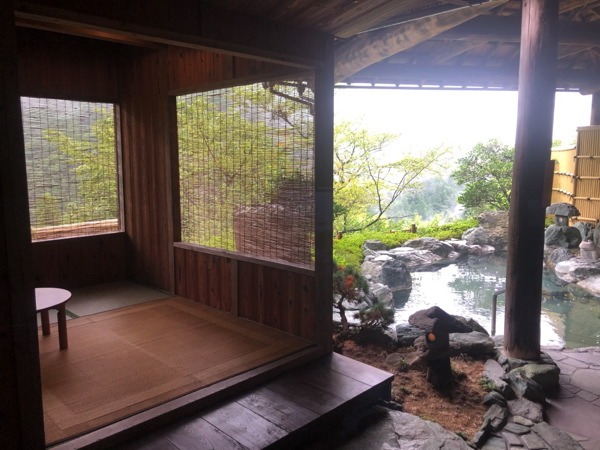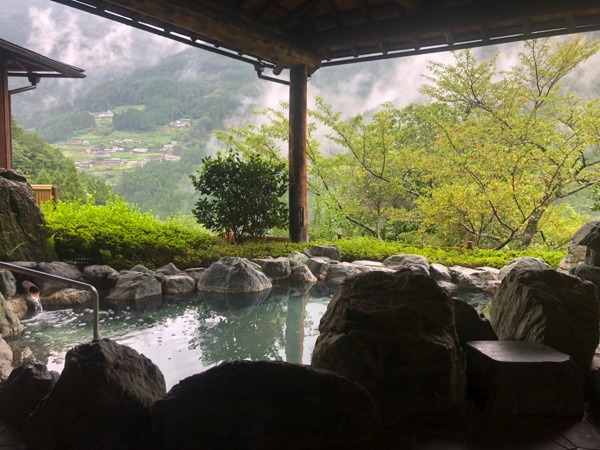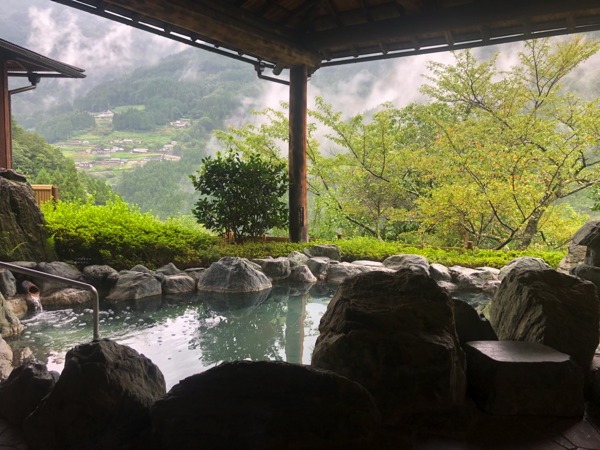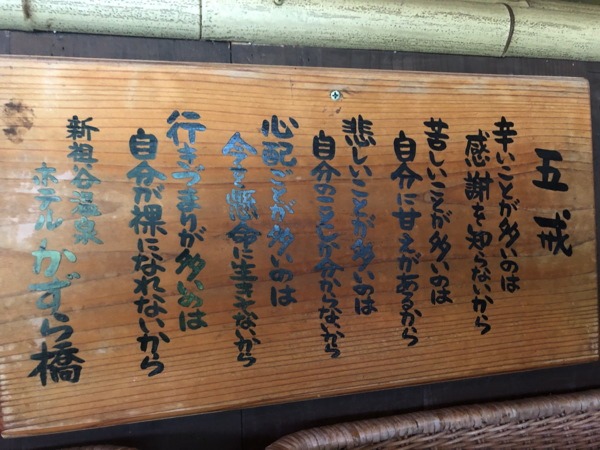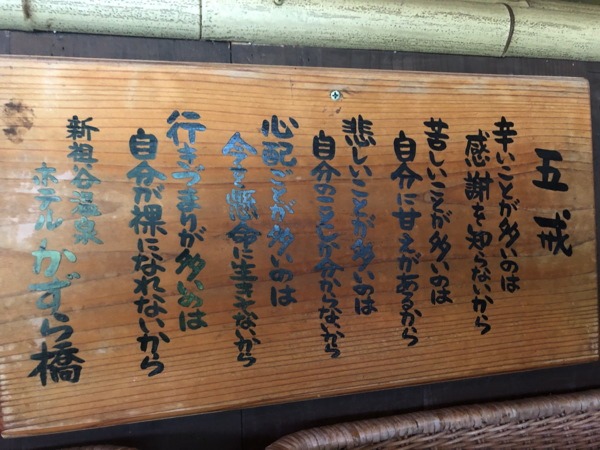 After indulging in the onsen, there is a tatami room where you can relax and gaze at their beautifully manicured zen garden.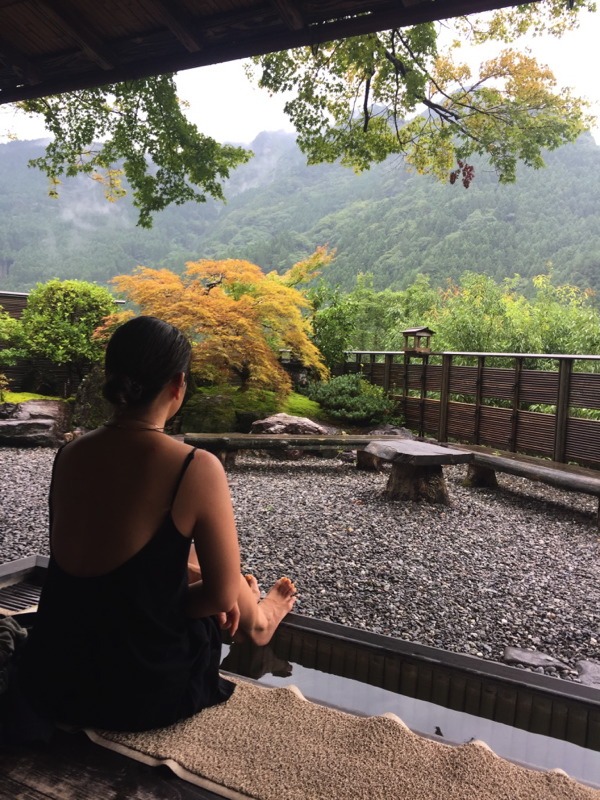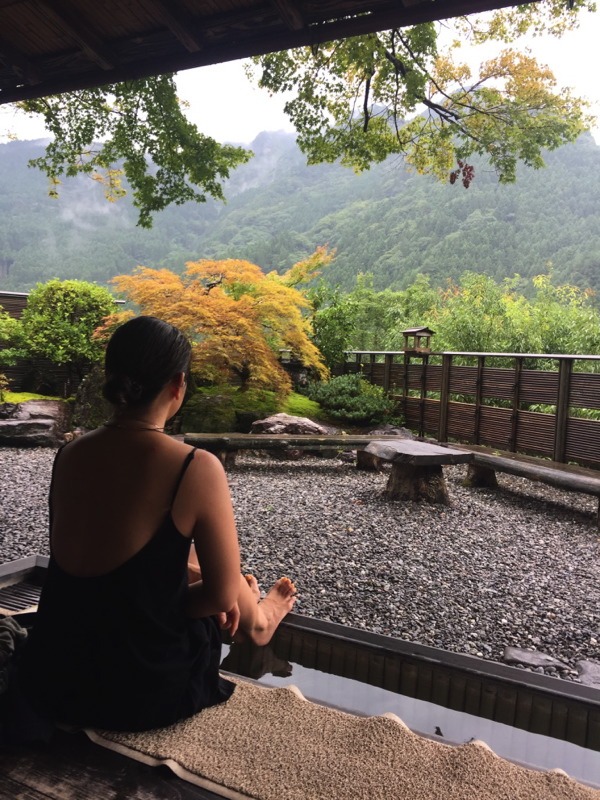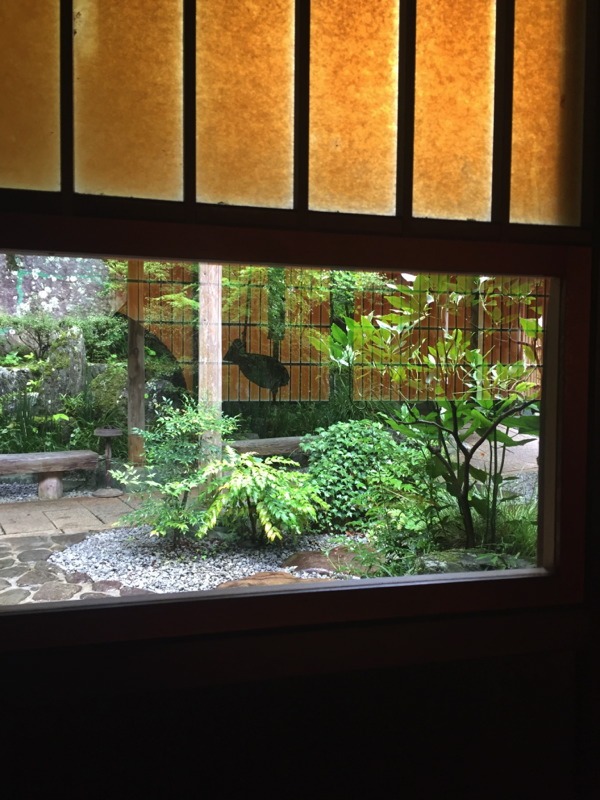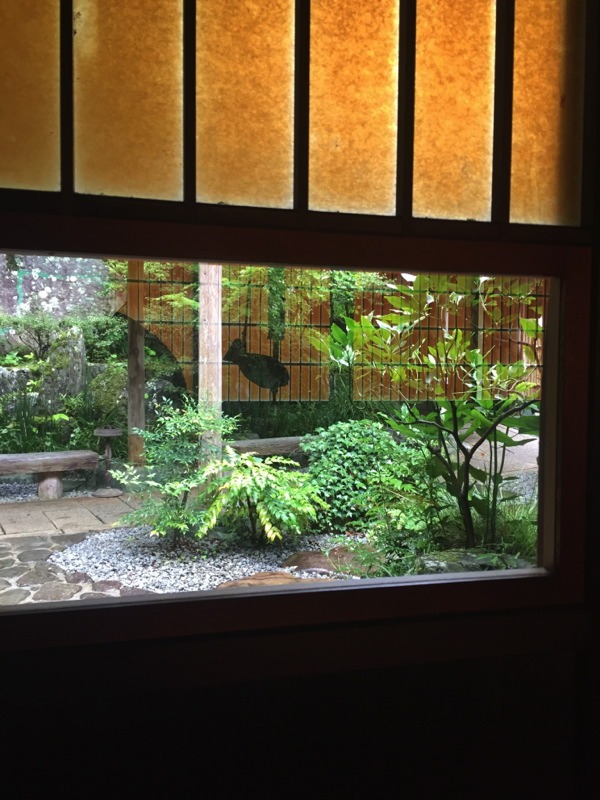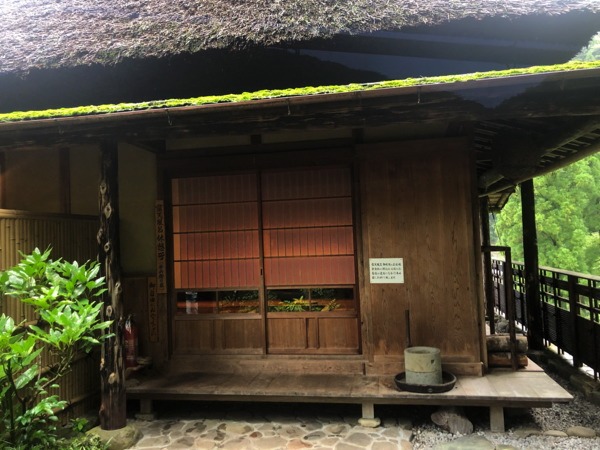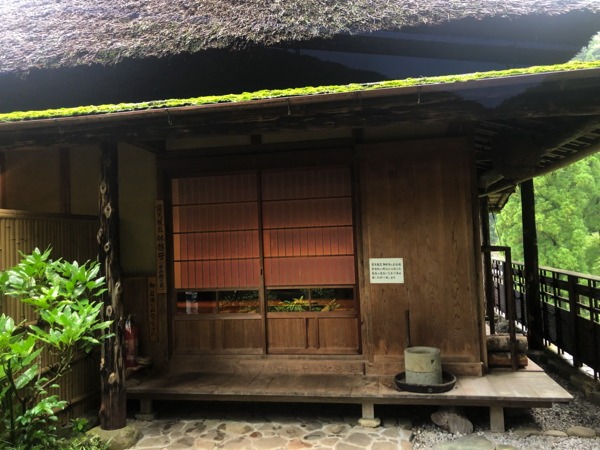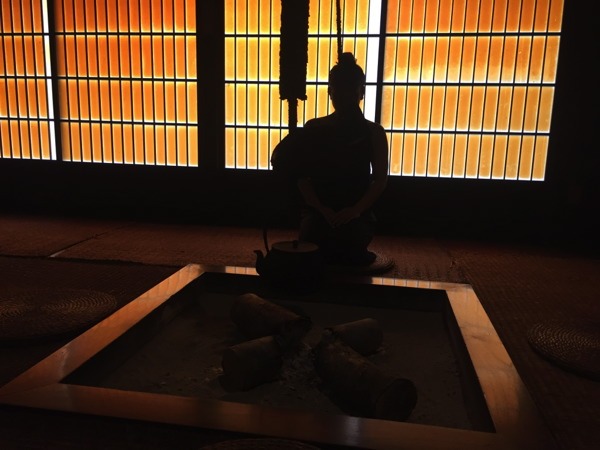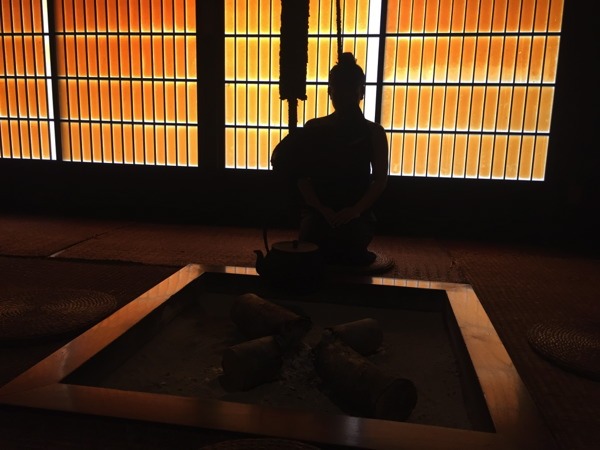 On the way back, we stopped by at this ancient cedar tree which is said to be about 3000 years old ! Can you spot me ?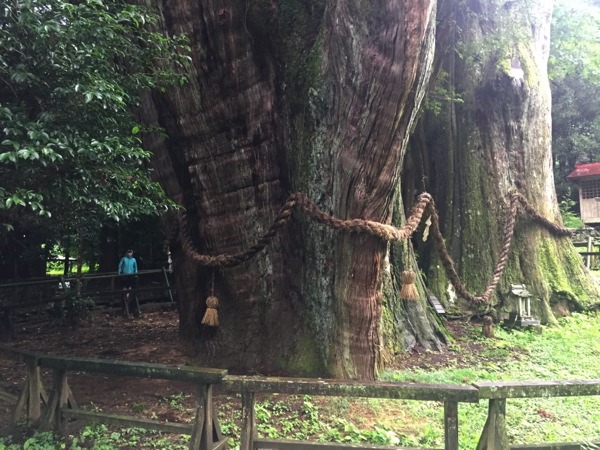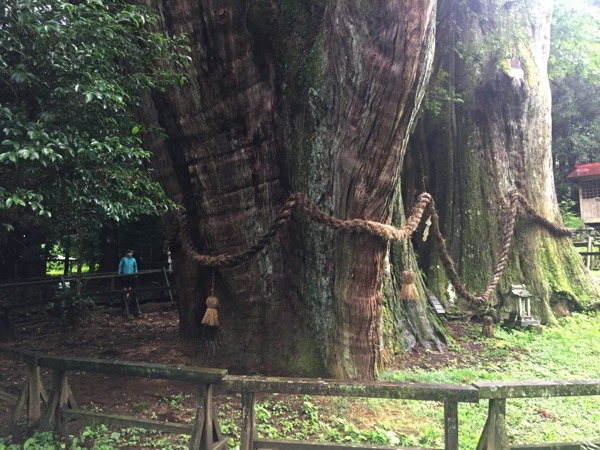 There are also numerous ancient temples and shrines scattered in this area as part of the Shikoku Ohenro- aka The Shikoku Pilgrimage  or Shikoku Junrei, It  is a multi-site pilgrimage of 88 temples associated with the Buddhist monk Kūkai (Kōbō Daishi) on the island of Shikoku, Japan. A popular and distinctive feature of the island's cultural landscape, and with a long history, large numbers of pilgrims, known as henro , still undertake the journey for a variety of ascetic, pious, and tourism-related purposes.
T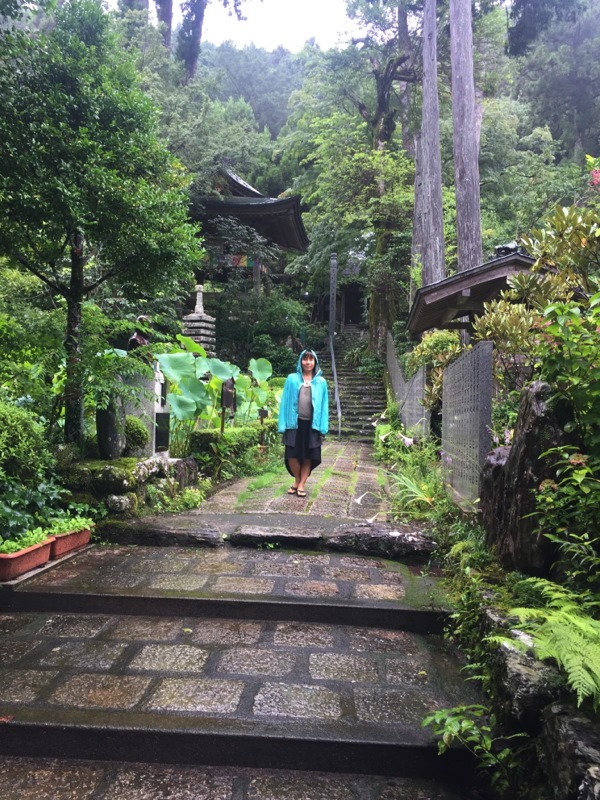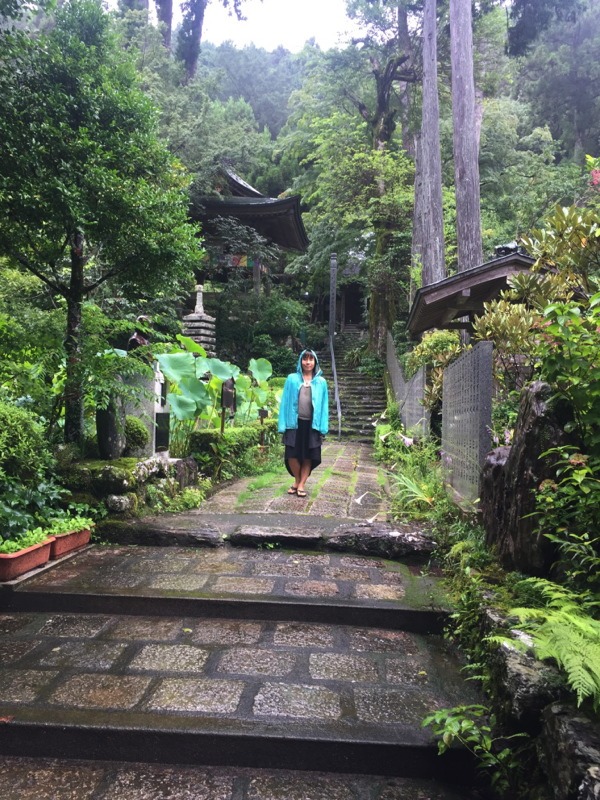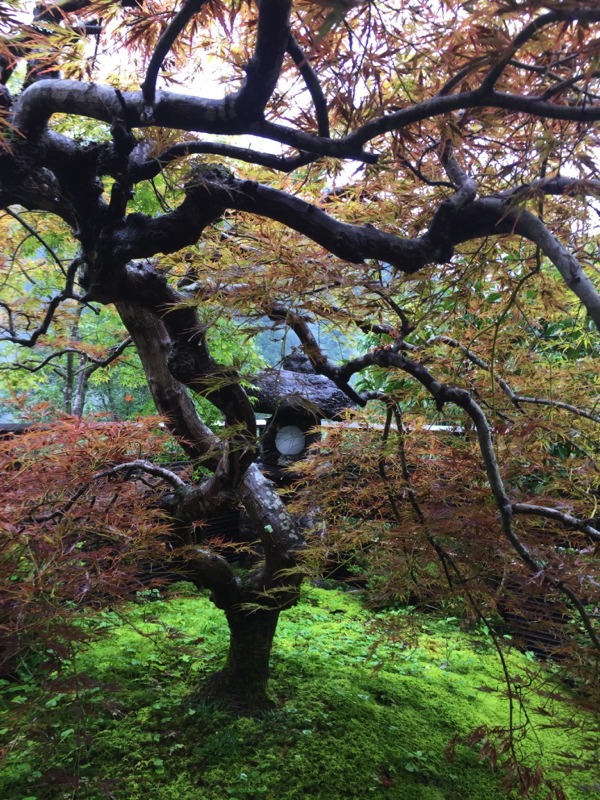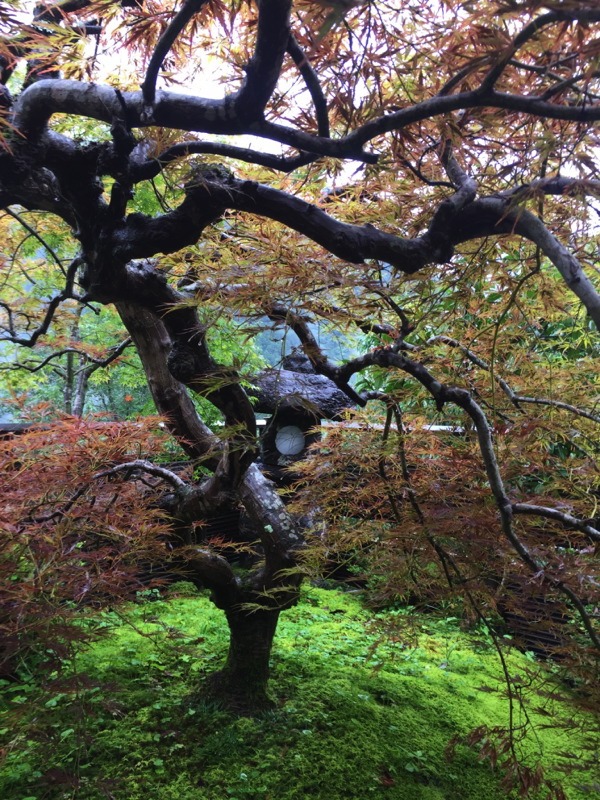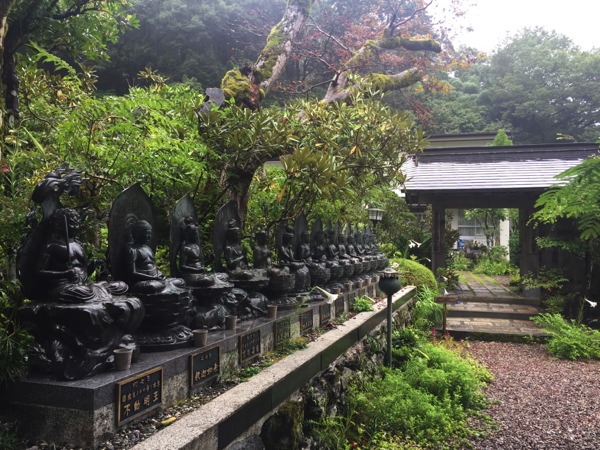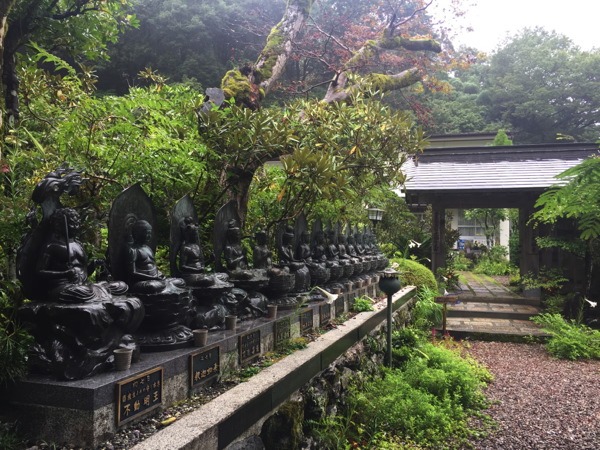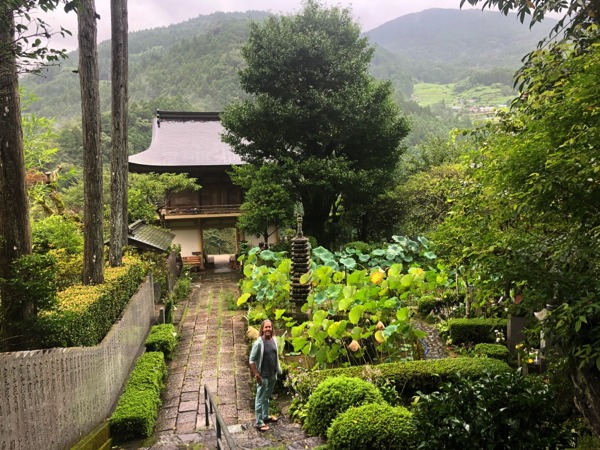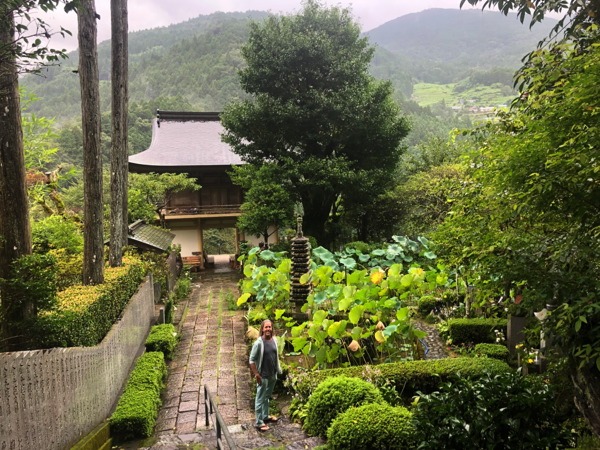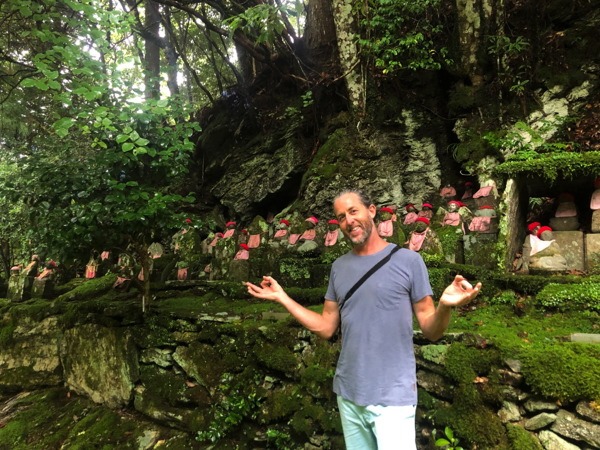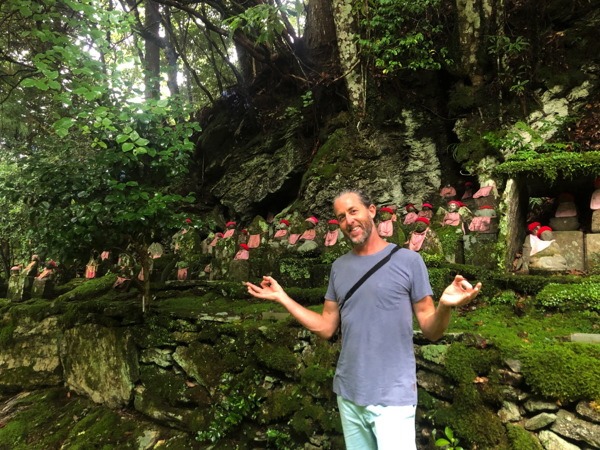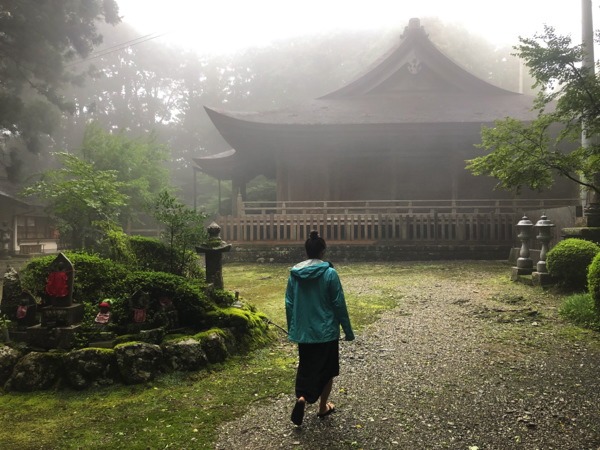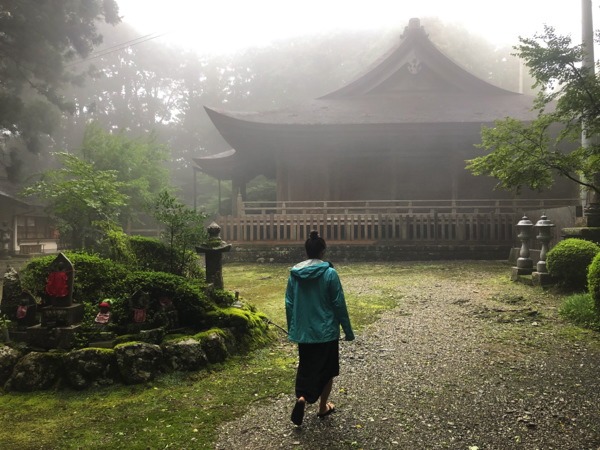 Visiting scenic spots and historical heritages are must do things when you are traveling to the country side of Japan because that is where you can  see and feel how locals still live simply and appreciate the rituals and nature.  It's so different from the big city lifestyles in Tokyo or Osaka where that sense of belonging to something bigger than you, has been lost.
But traveling in the country side can be tricky for a foreigner as well, especially if you don't speak good Japanese ( which is understandable ! )
Most country people would not be able to speak English so be prepared but regardless , they will still be so generous and kind, as long as you respect them and their culture. Public transport will be very limited in places like Tosa-cho so it's better off to rent a car at the airport ( book in advance ! ) and have your own wheels for more freedom. Most rental cars would have English navigation system so even if the road signs and maps are in Japanese, it will take you to your destination eventually.
Aside from transportation, food can be tricky if you are a strict vegan or vegetarian. Damien has been a vegetarian for over 25 years so it was a bit tricky to find what he could eat in small towns like Tosa-cho. But he became quite flexible with soup stocks and broth ( as long as they were not overly fishy ) and could have Udon or Soba Noodles which most of them would be made out of a combination of Bonito Flake and Kombu Seaweed stock .  It's extremely difficult or rare to find a dashi ( stock ) just out of pure seaweed in traditional  Noodle places. You can try and ask what their stock is made out of ( trust me, I did every single time ) but had no luck.  And to be honest , they don't taste like fish sauce or too fishy, more like soy sauce based but I get it if you are strict about your preferences. You could always find a convenience store , like Seven Eleven, Lawson, Family mart which are everywhere and grab an ONIGIRI ( rice ball ) with plane rice, nori, and seaweed filling or umeboshi ( sour plum ) inside. It's not the healthiest option but they actually do taste yummy.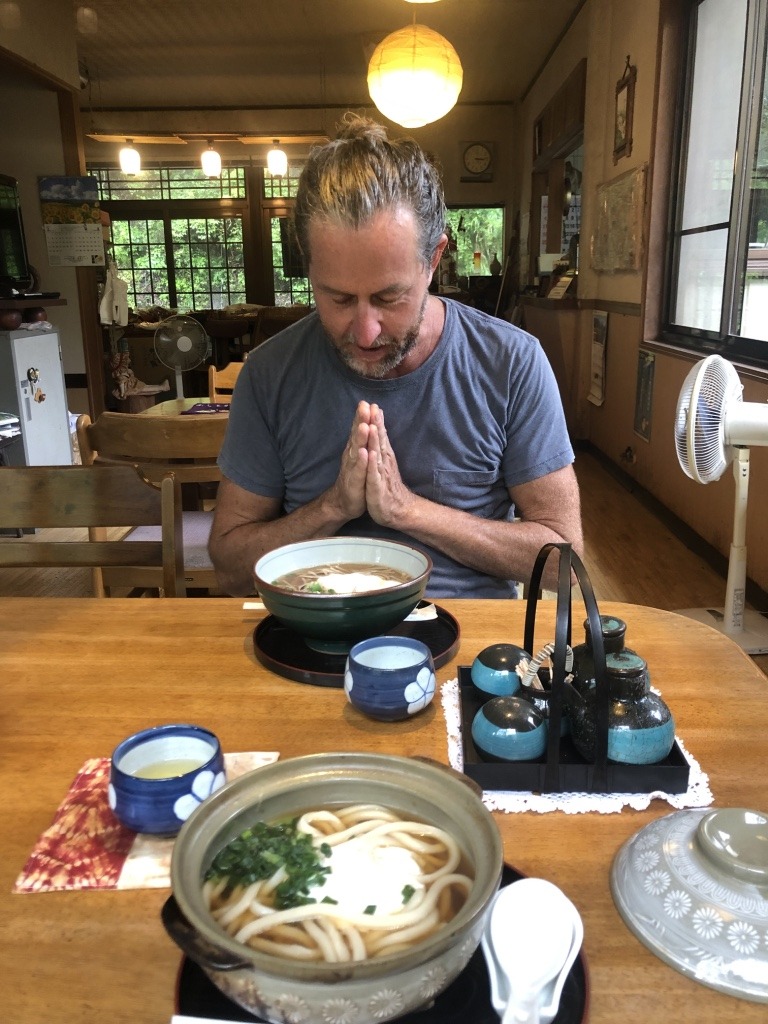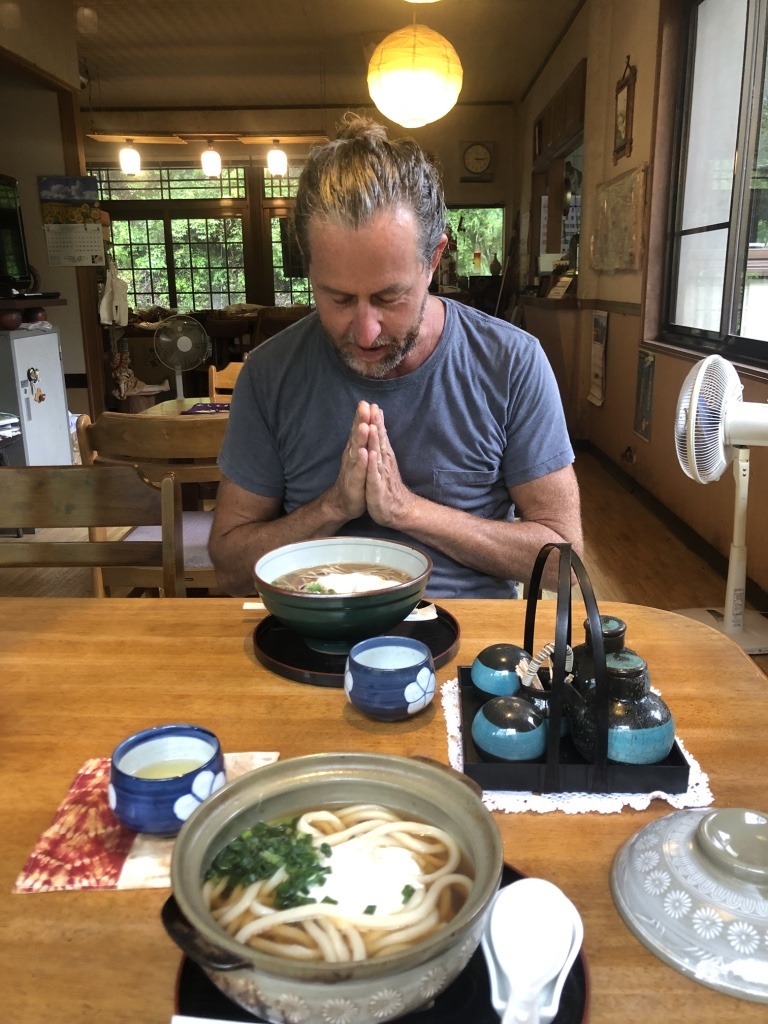 Fully relaxed and feeling so at home, we were well rested and ready for our next adventure- to Shimanto River.
Thanks Kotoe and Daiyu for your wonderful hospitality !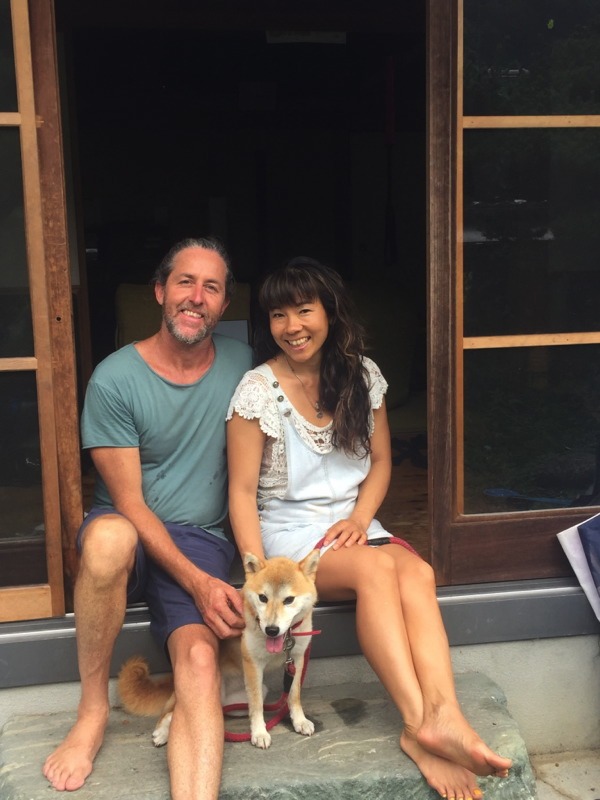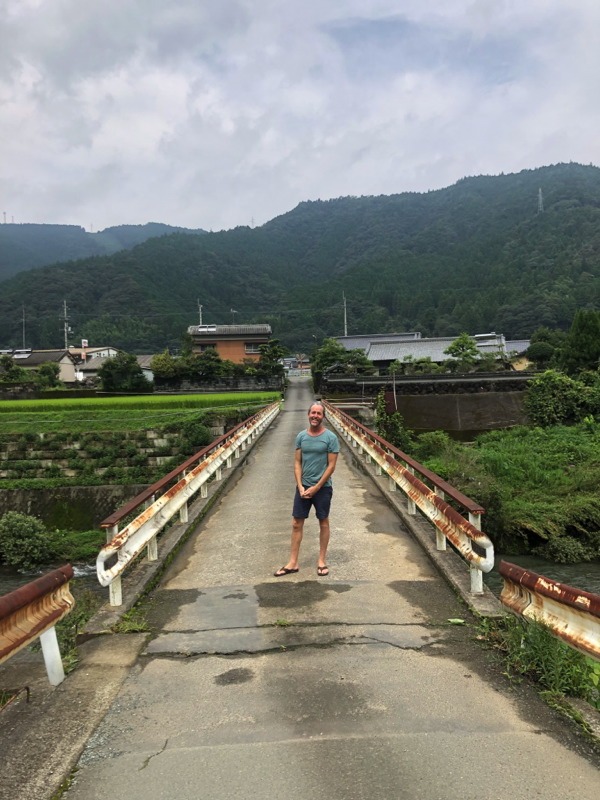 Kotoe is also an amazing Jazz pianist and singer, she has performed in sick jazz bars in New York. You can check out some of her tunes HERE