After some serious SHINRINYOKU – FOREST BATHING and feeling rejuvenated in the deep mountains of Tosa-cho, we were ready for some ocean and water time.
Although this wasn't merely a surf trip and we didn't pack our surfboards, after all, Damien and I are both keen surfers and if there is a chance of getting good waves, we would not miss it !
We planned a last minute detour to catch up with my Kiwi friend Scotty for a surf.
Scotty is super funny, will have you belly laughing 24/7, 100% froth on life and mad (rad ) surfer who lives his life to chase the typhoon swells and that's why he ended up in this part of the world, teaching English at local schools for over 20 years.
I actually have never met him, we had mutual friends on Facebook and he has always invited me to visit him.
Getting my Japanese punctuality and politeness intact, I kept Scotty updated with our estimated arrival time.
And he simply replied,
"If the surf is pumping, I may not be at home but the door is open"  Legend !
In the late afternoon, we drove to his house following his directions.
From time to time, I have heard about his magical beach house and it did not disappoint us.
If you know Cape Byron National Park, Wategos Beach , Tallows Beach, it's just like that.
You drive up through the National Park resembling the winding road from The Pass to Wategos except there are no million dollar mansions and no lighthouse walking people.
He lives a house overlooking the Pacific Ocean.
The view is just phenomenal . Especially from his bath on the top floor !! Wine in a bath , why not ?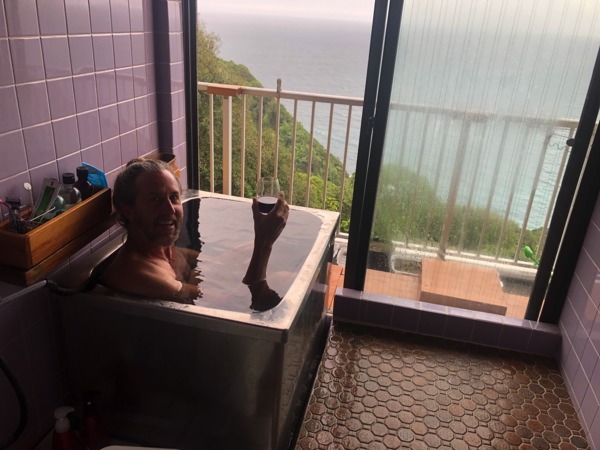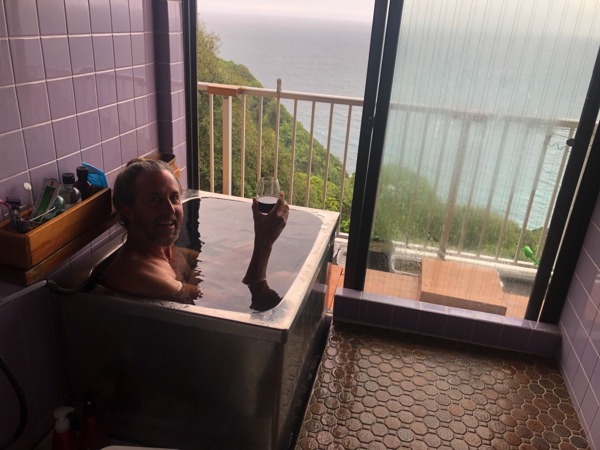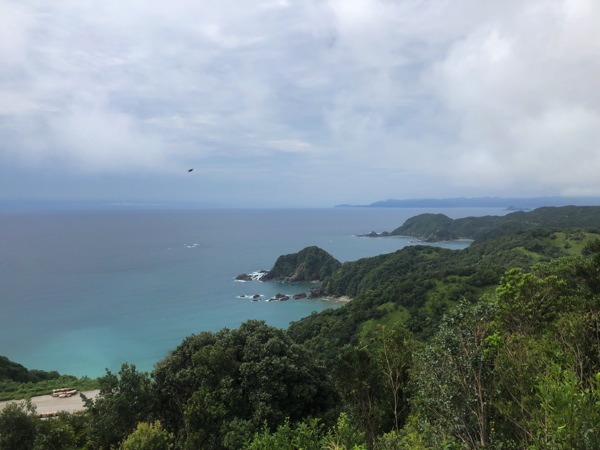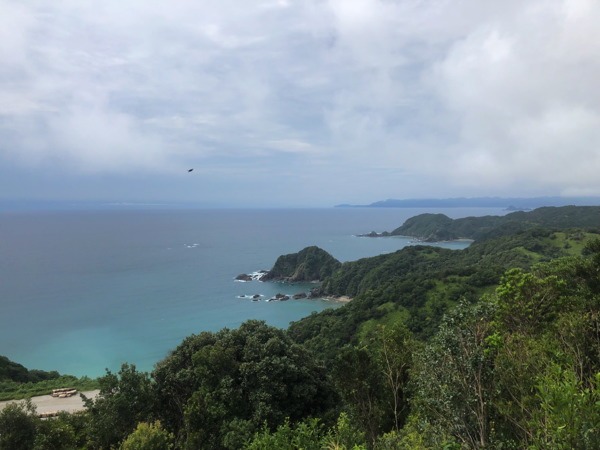 Not only the location is perfect, the price was unbelievably CHEAP!
According to Scotty, no one wanted to live near the beach, in such a remote place, away from the major cities because it was so inconvenient and quiet, so boring. Again, different values and different lifestyles between Japanese and Aussies.
On an additional note, Real Estate in the Japanese country side are ridiculously cheap. As seen in the foreign investor development boom of NISEKO or HAKUBA snow resorts, if you want a holiday house in rural Japan, it is worth considering…. though you would need a reliable Japanese partner unless you can buy it in cash!
FYI, there is even a website called AKIYA BANK- abandoned vacant homes for sales.
Scotty welcomed us to his home, cooked us a yummy veg curry and we just chatted hours, Damien rolling on the floor most of the time to Scotty's witty jokes. He is also a very talented surf photographer and has showed us some amazing surf shots of his local waves where it is WORLD CLASS. Believe it or not,, when its on, its ON., no joke. Some pro-surfers appraise it as good as Teahupo'o.
The next day, we were lucky enough to just catch the tail end of the last typhoon swell.
Scotty was pretty surfed out from the week before and caught few waves before going in to work at his school.
Three happy surfers ! Thanks mate for showing us your home spot.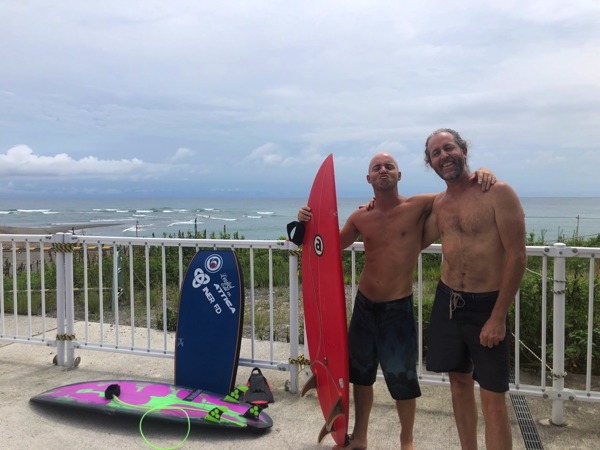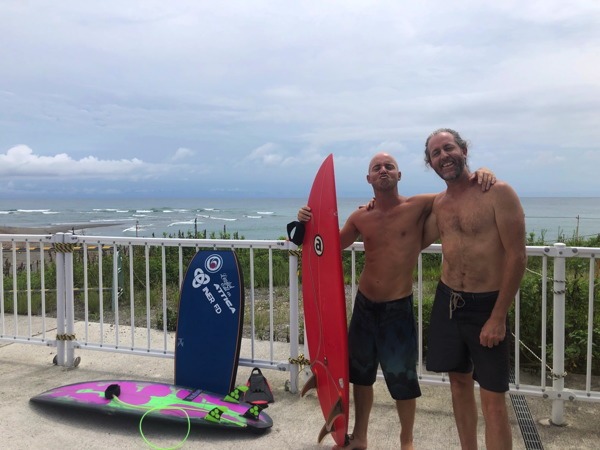 We continued our drive down the coast, in time to watch the Shimanto River fireworks.
If you are in Japan during July and August, the fireworks is a MUST GO thing.
Some of the bigger ones, like this Shimanto one, would attract some 40,000 people to gather and watch this spectacular show. The best advise is to get there before it gets dark, secure a spot with a picnic rug, hunt for some yummy food from the street vendors and wait until it starts.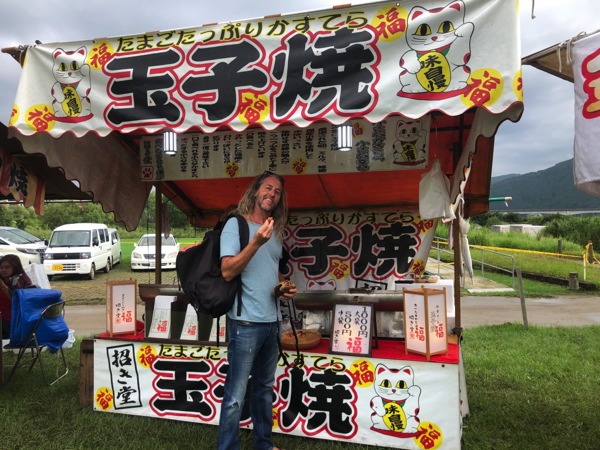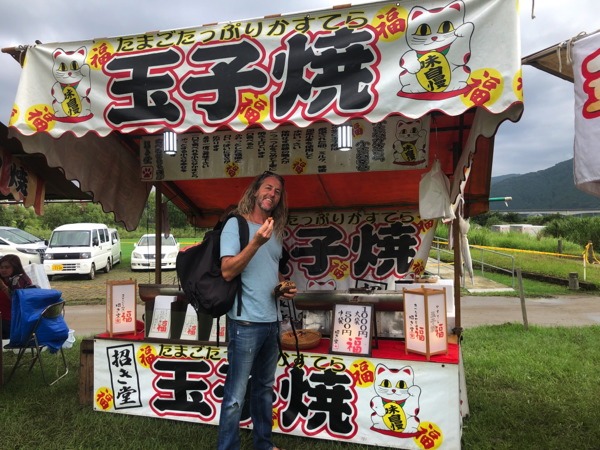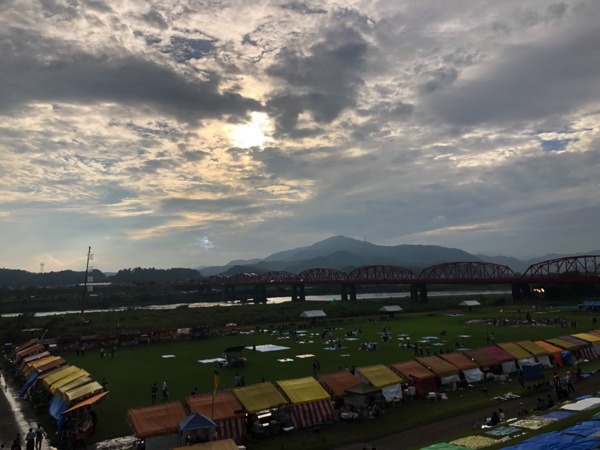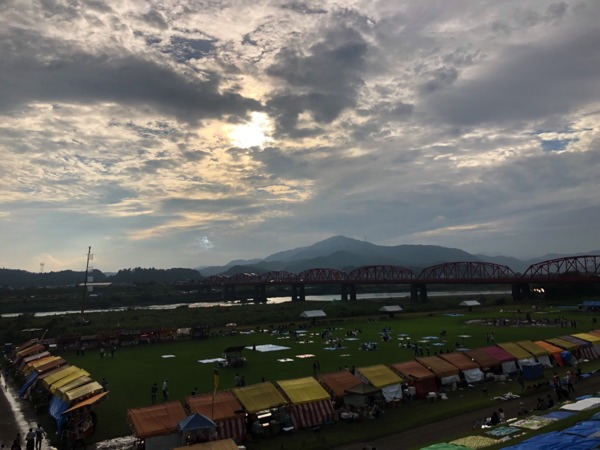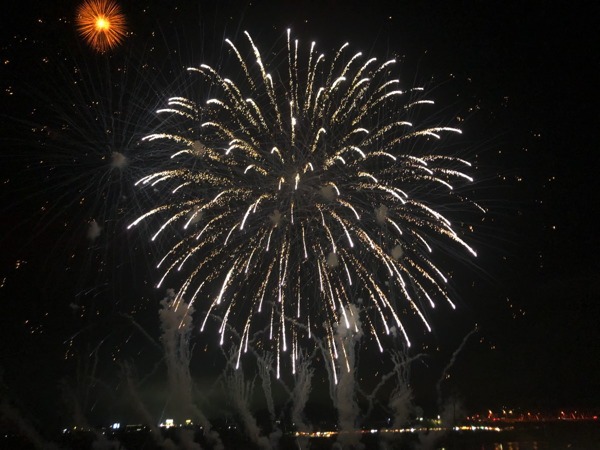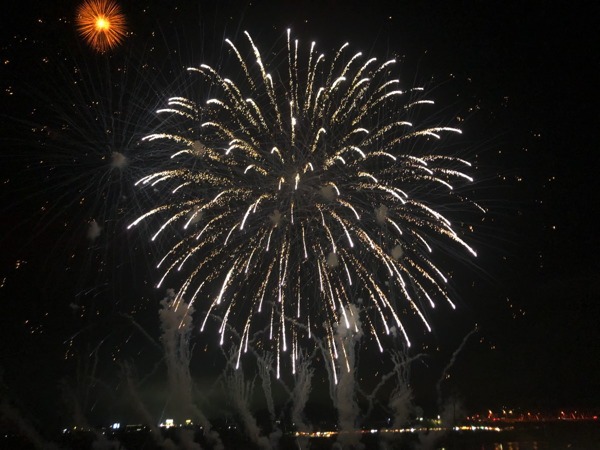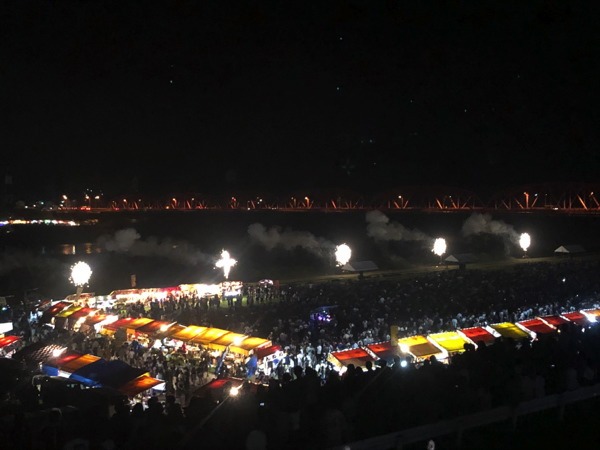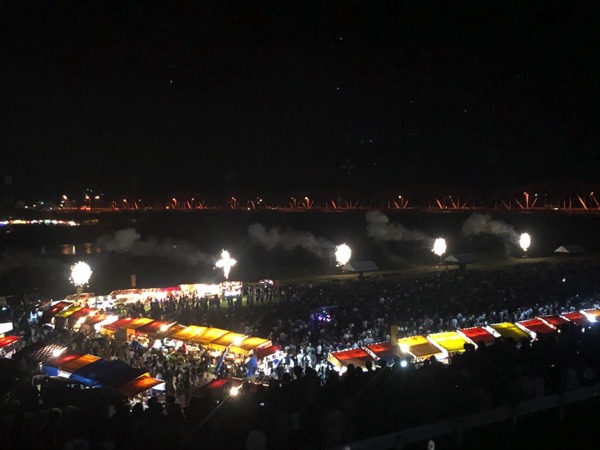 Our accommodation was again super duper lucky as we were invited to one my friend's ( my landlord in my old place in Chiba ) new property- YAMAMIZUKI.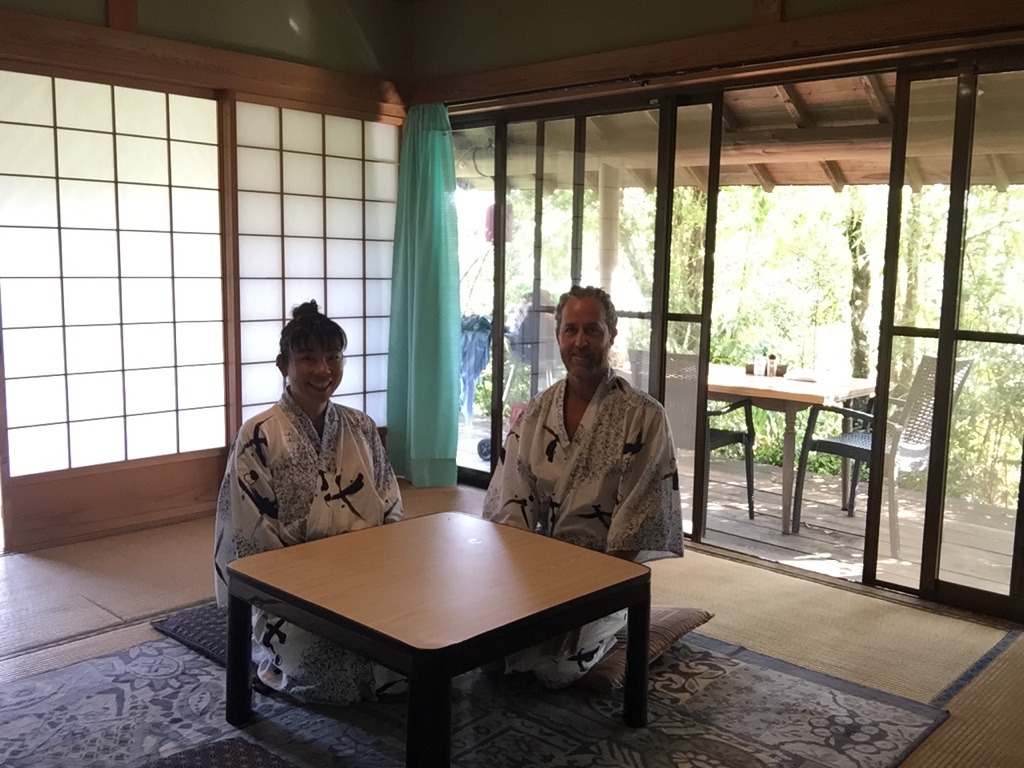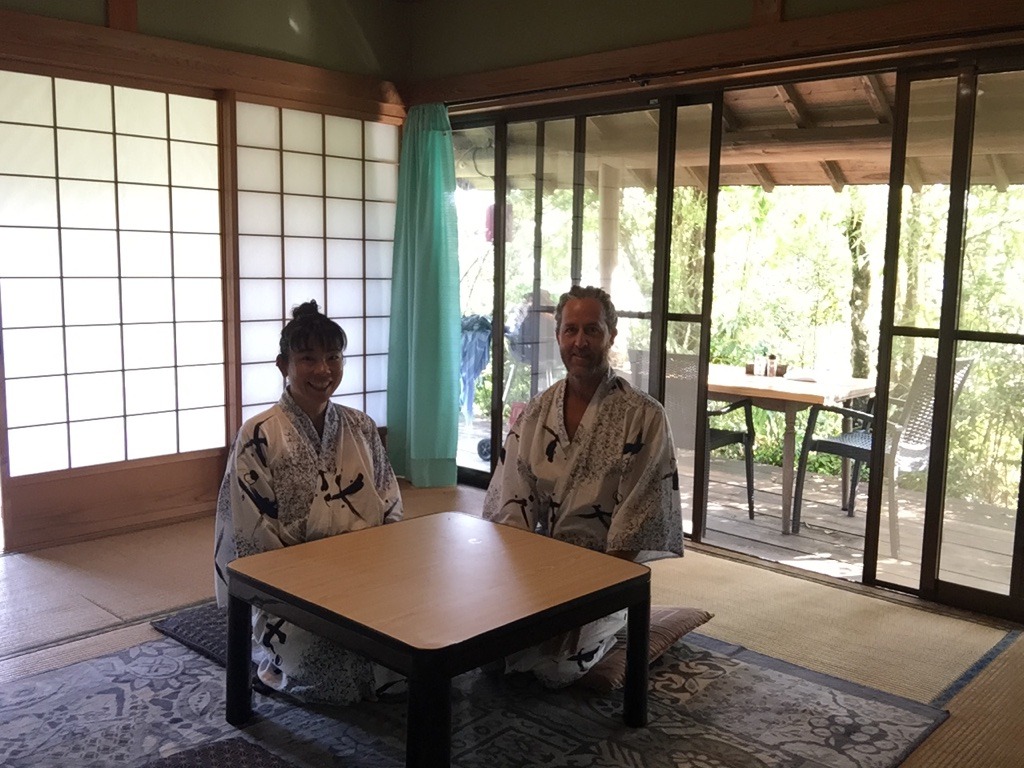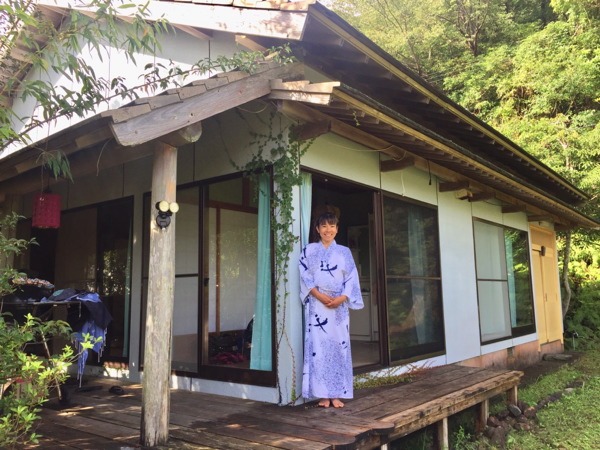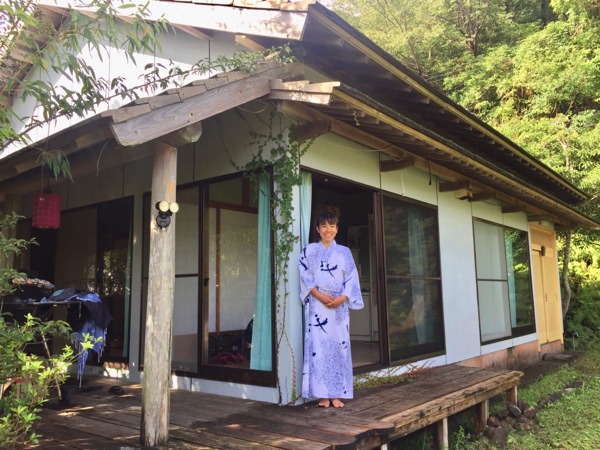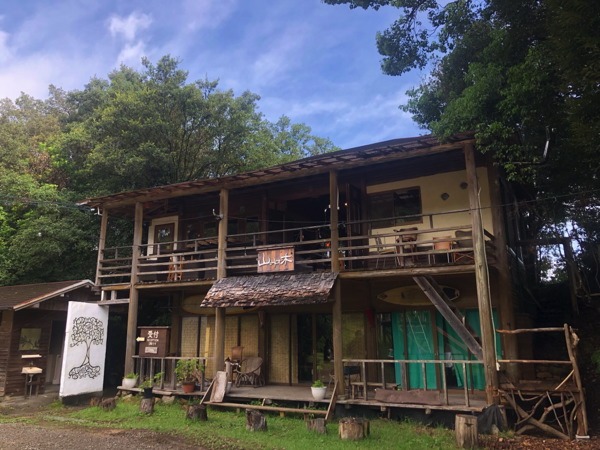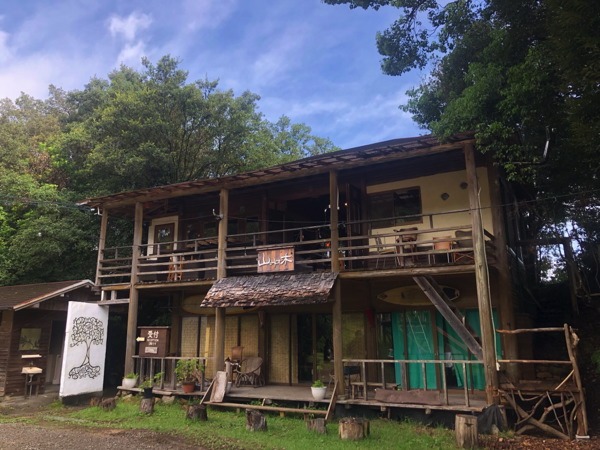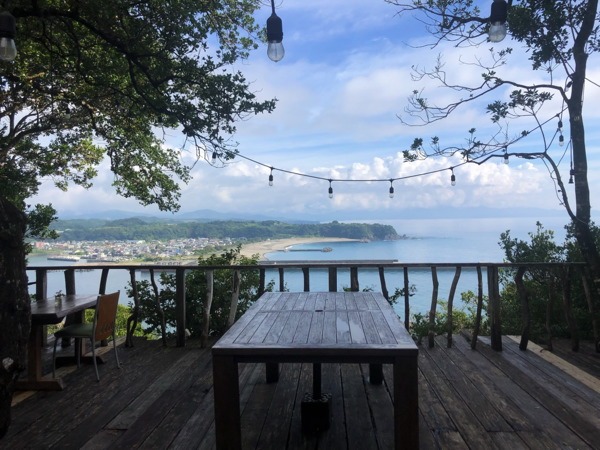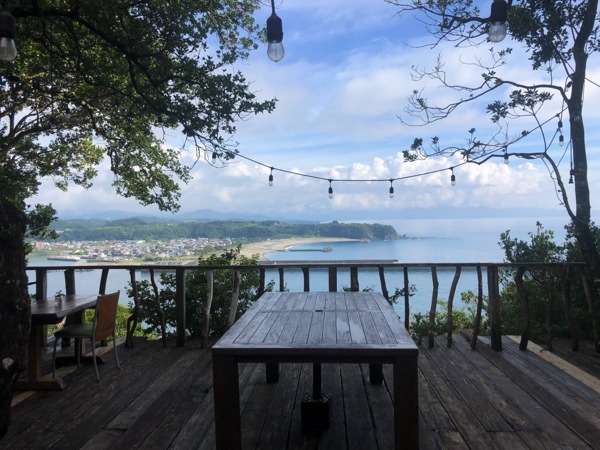 They have renovated  an old camping ground into a glamping site, adding new cabins and stylish tipis to the site to cater for younger demographics.It was off peak season so we were treated to the luxury cabin and could indulge in the natural onsen. The cafe do serve meals but we mostly self catered in our mini kitchen just to stay on budget.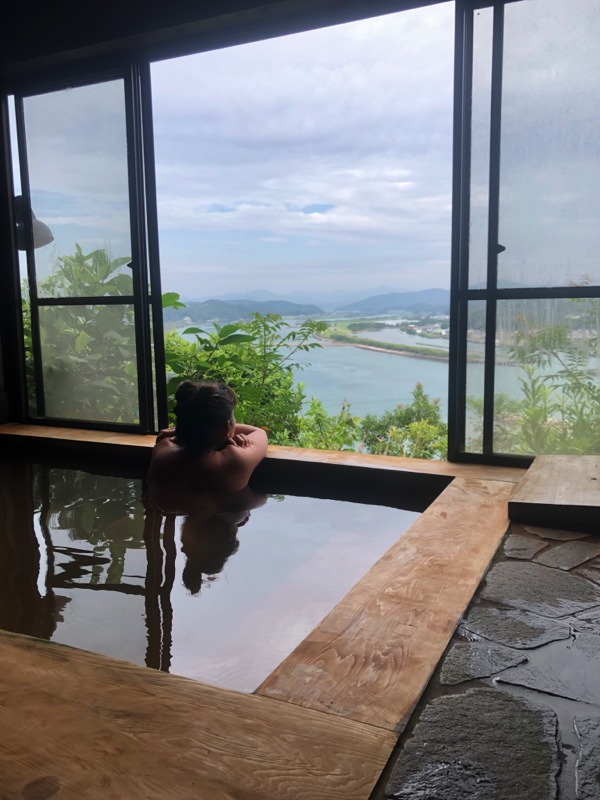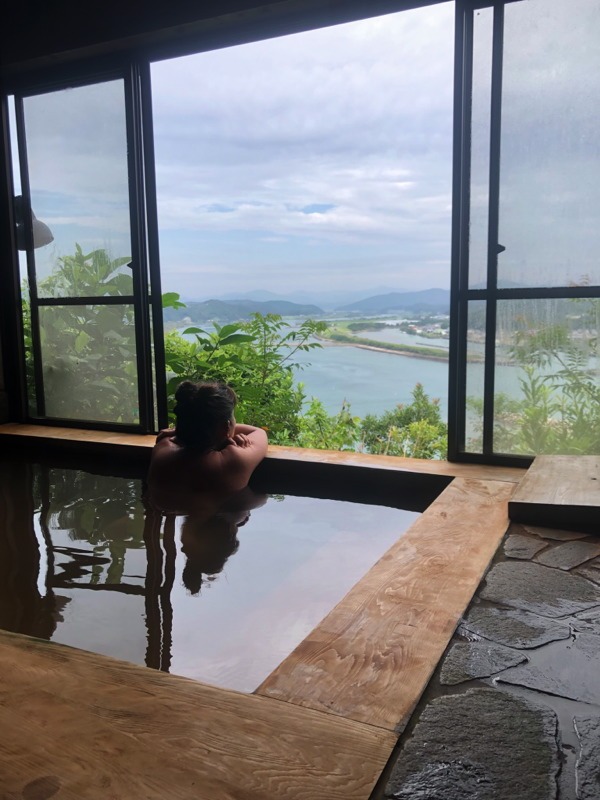 We spent three nights at Yamamizuki while exploring the untouched coastline of South Kochi.
We headed down to ASHIZURI MISAKI ( CAPE) , the southernmost point of the island of Shikoku, an hour of coastal scenic drive from Yamamizuki.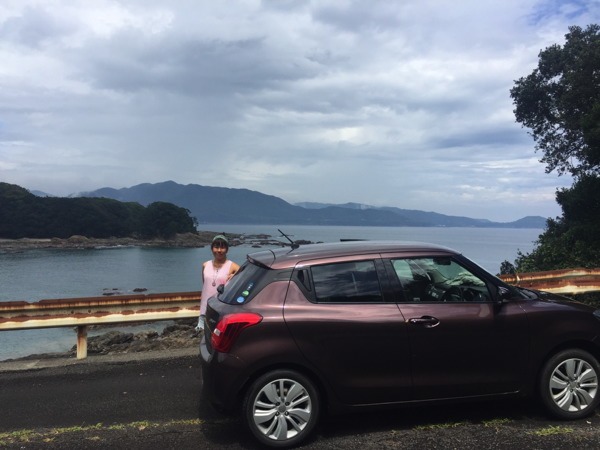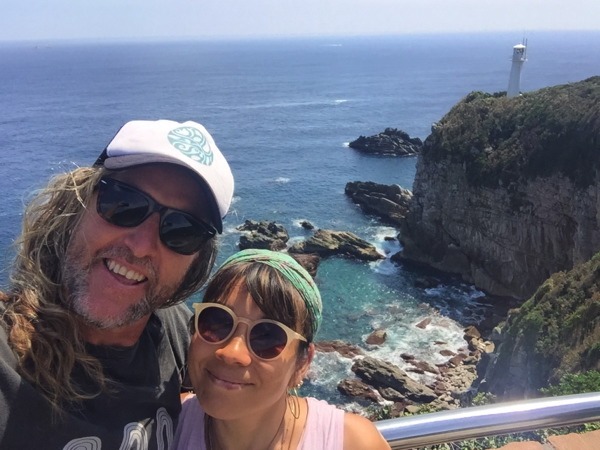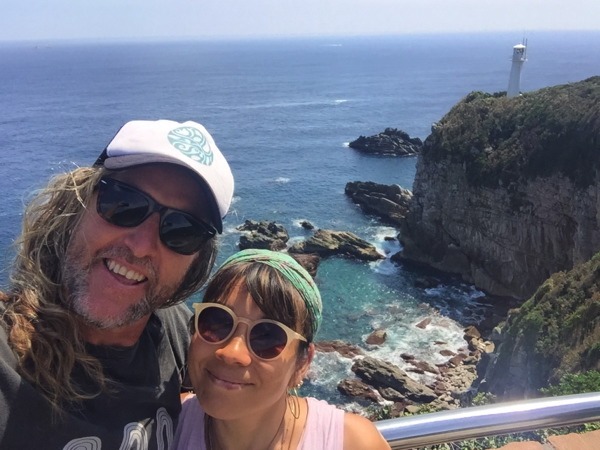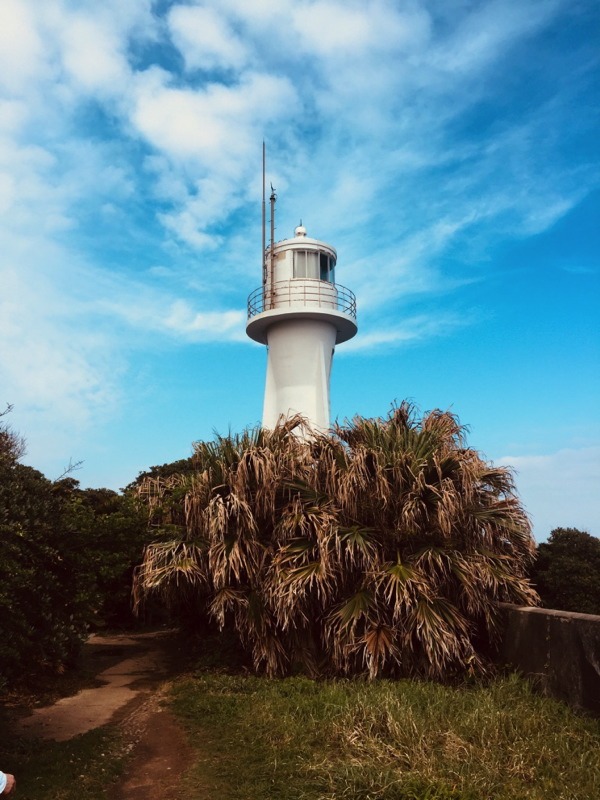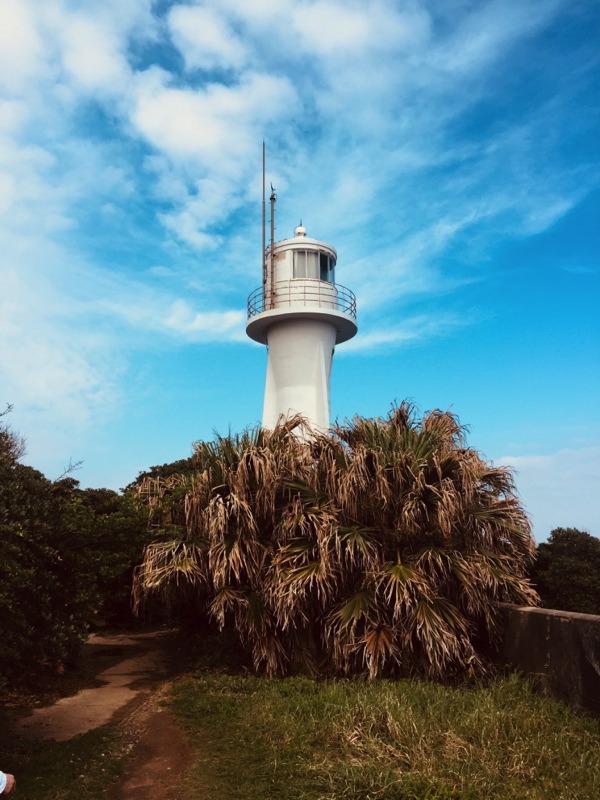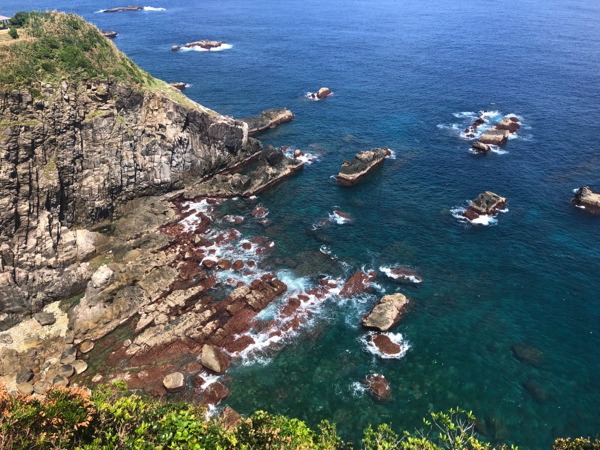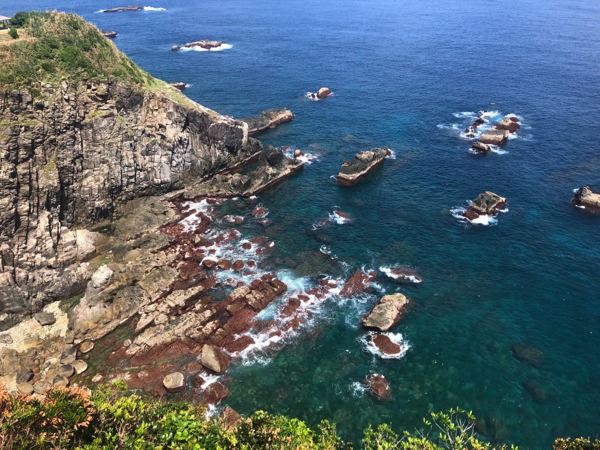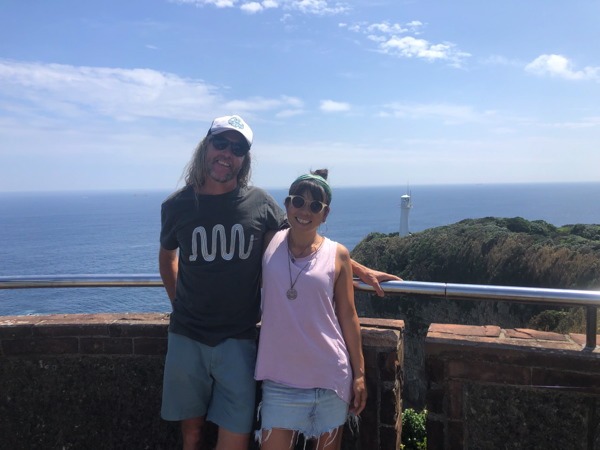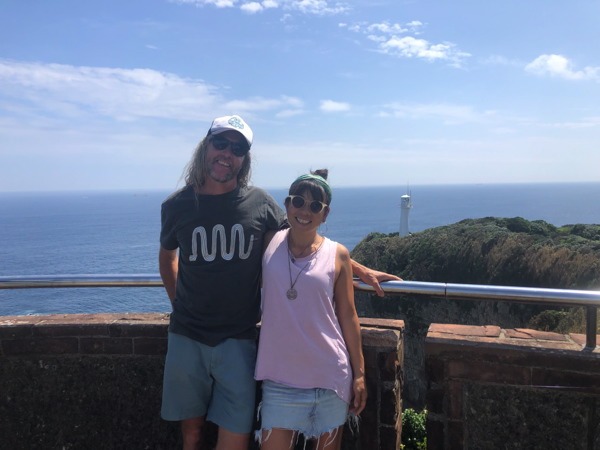 Ashizuri-misaki is a rugged, picturesque promontory that's famous for Kongōfuku-ji, Temple 38 of the 88 Shikoku pilgrimage. Ashizuri means 'foot stamping' and the cape got its name from the story of an old monk who stamped his foot in anguish when his young disciple set off looking for the promised land of Fudaraku in a boat. Fudaraku was believed to be the blessed realm of Kannon, goddess of mercy, and many set forth from the cape in their search for paradise in this lifetime, never to be heard from again. Centuries later, Ashizuri is famous for suicides, with stories such as that of a young geisha who danced off the edge onto the beckoning rocks below. (From Lonely planet )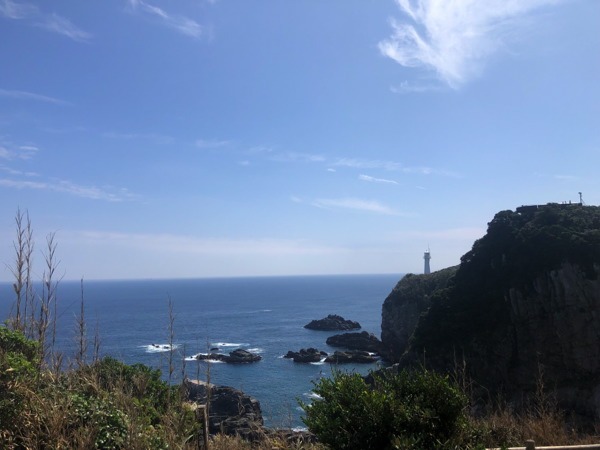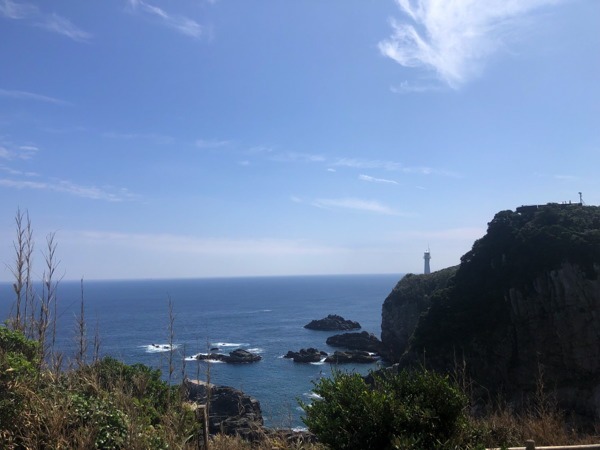 There is a beautiful track that wraps around the lighthouse where you can just stand in awe of the raw landscape of the spot.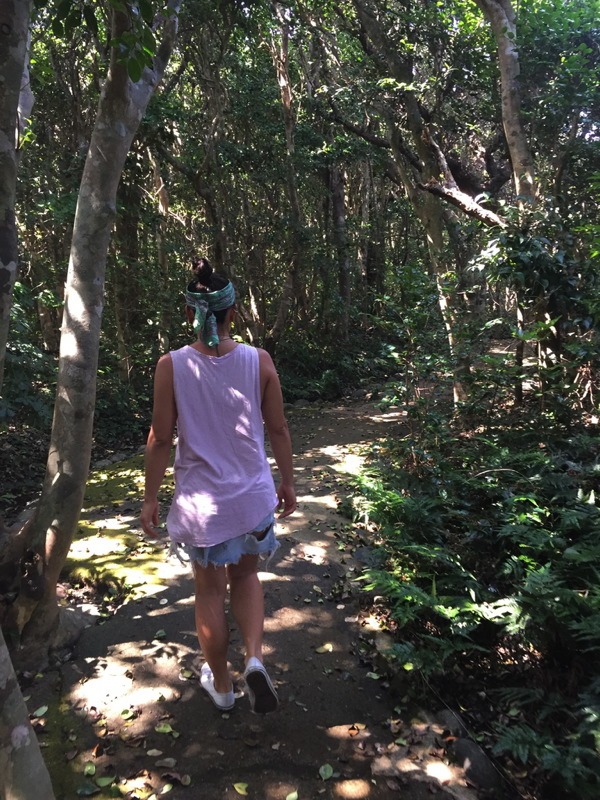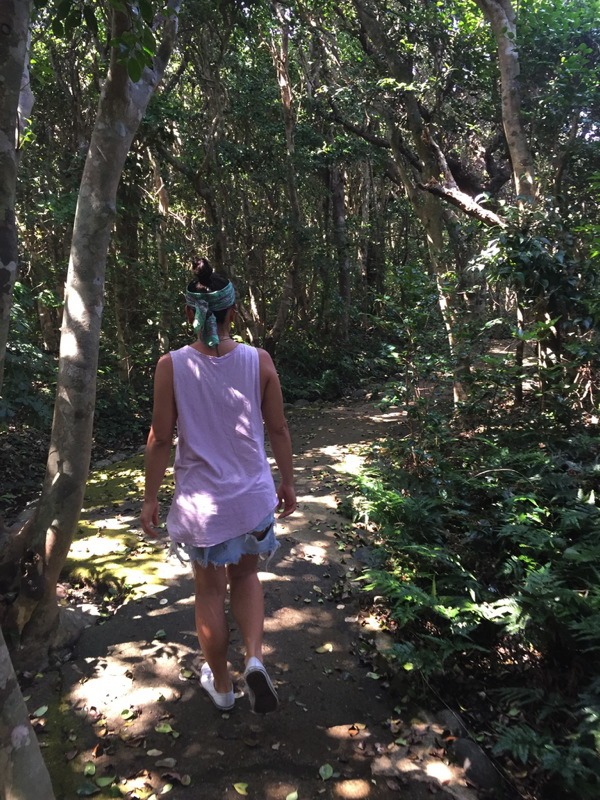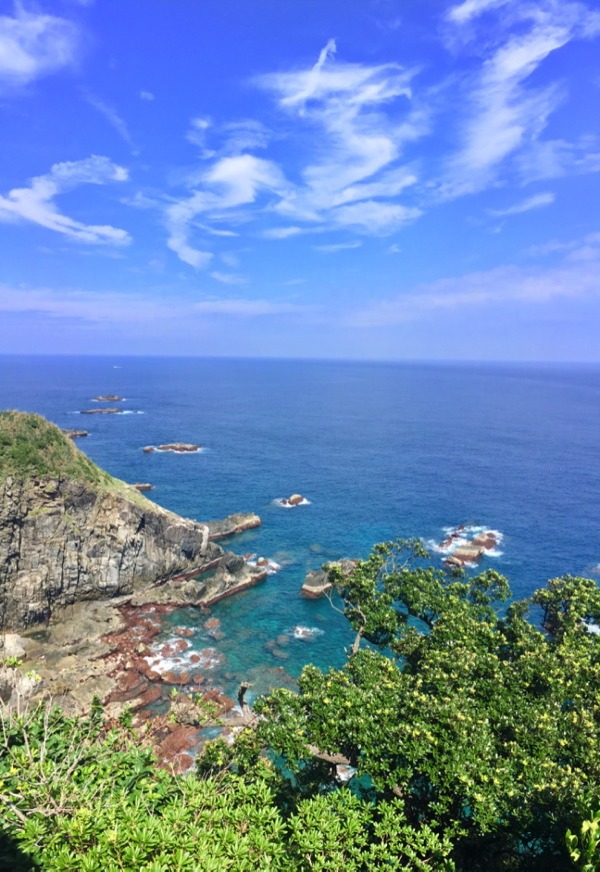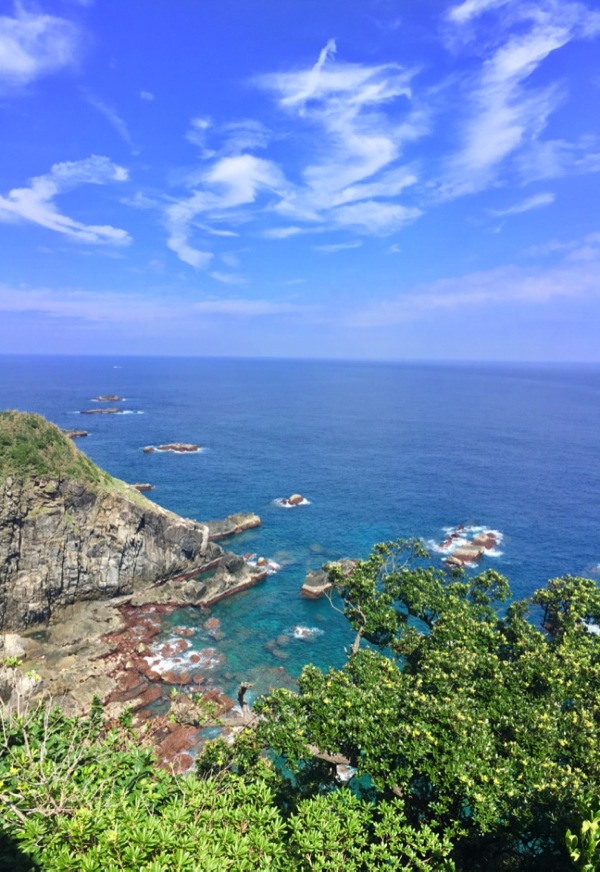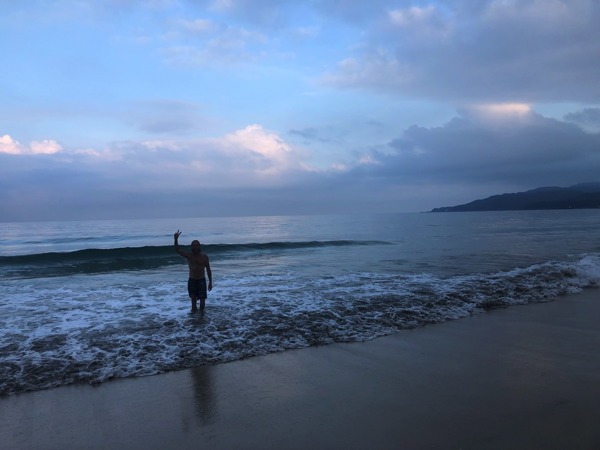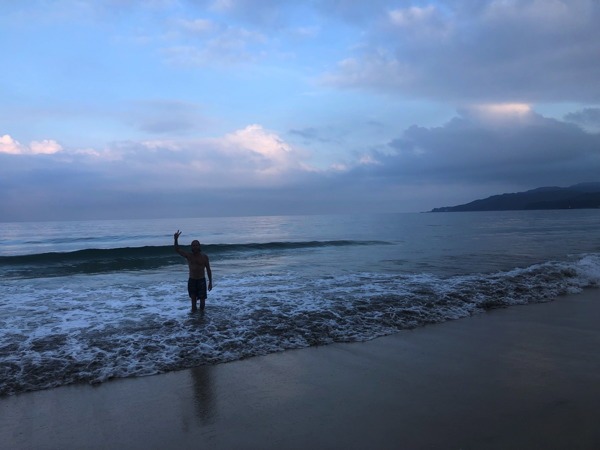 Adjacent to the Cape is KONGOFUKUJI, one of the most impressive temples along Shikoku's 88 sacred temple pilgrimage. Located at the southern tip of Kochi Prefecture, Temple #38, is also one of the most difficult temples to reach. It is over 70 kilometers from both the temple before it on the trail, and the one after. Located on a bluff above the sea at Cape Ashizuri, the temple grounds are immaculate and are full of interesting Buddhist stone carvings, ponds reflecting the architecture, not to mention the aesthetically stunning Japanese gardens!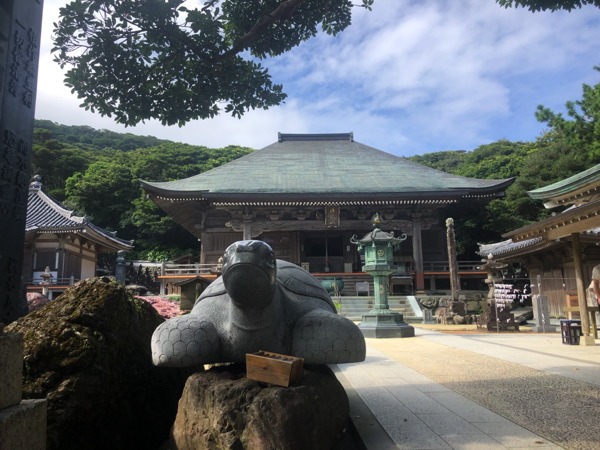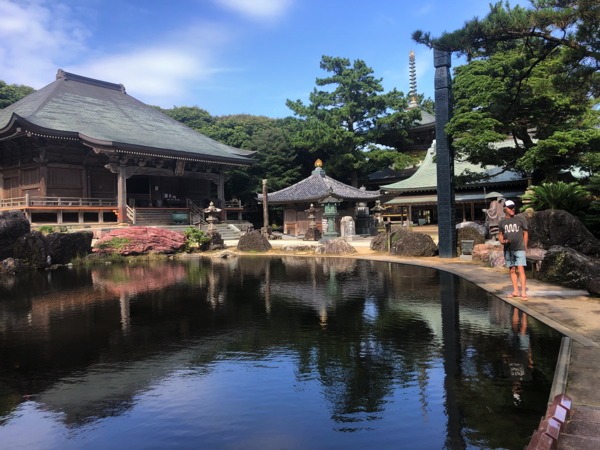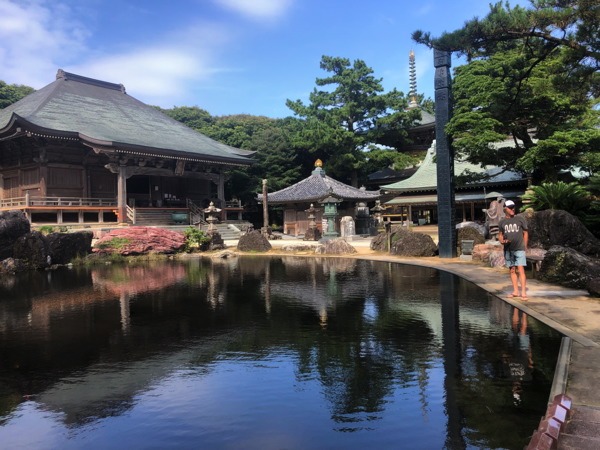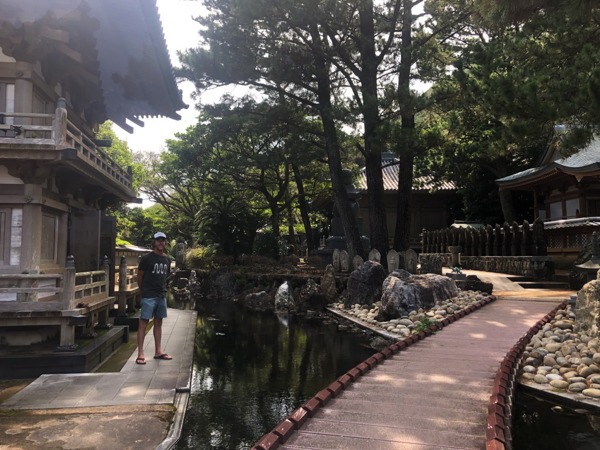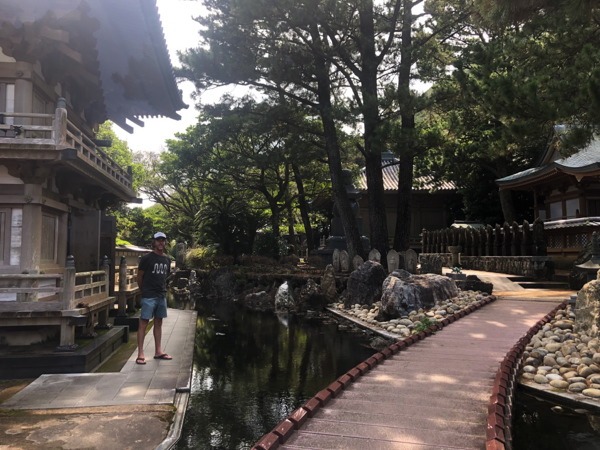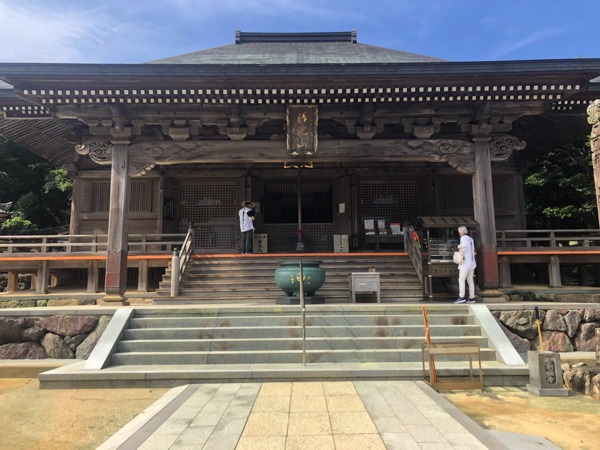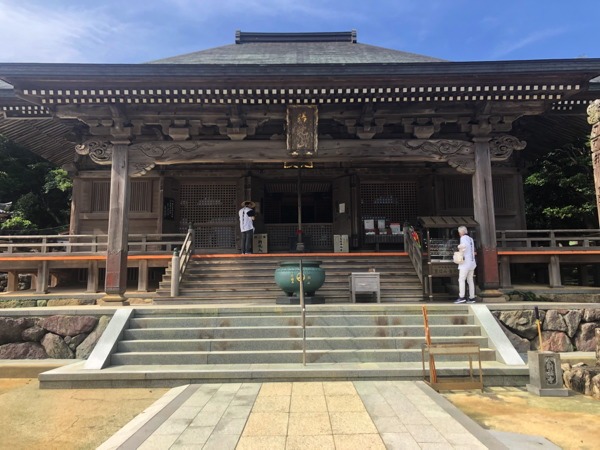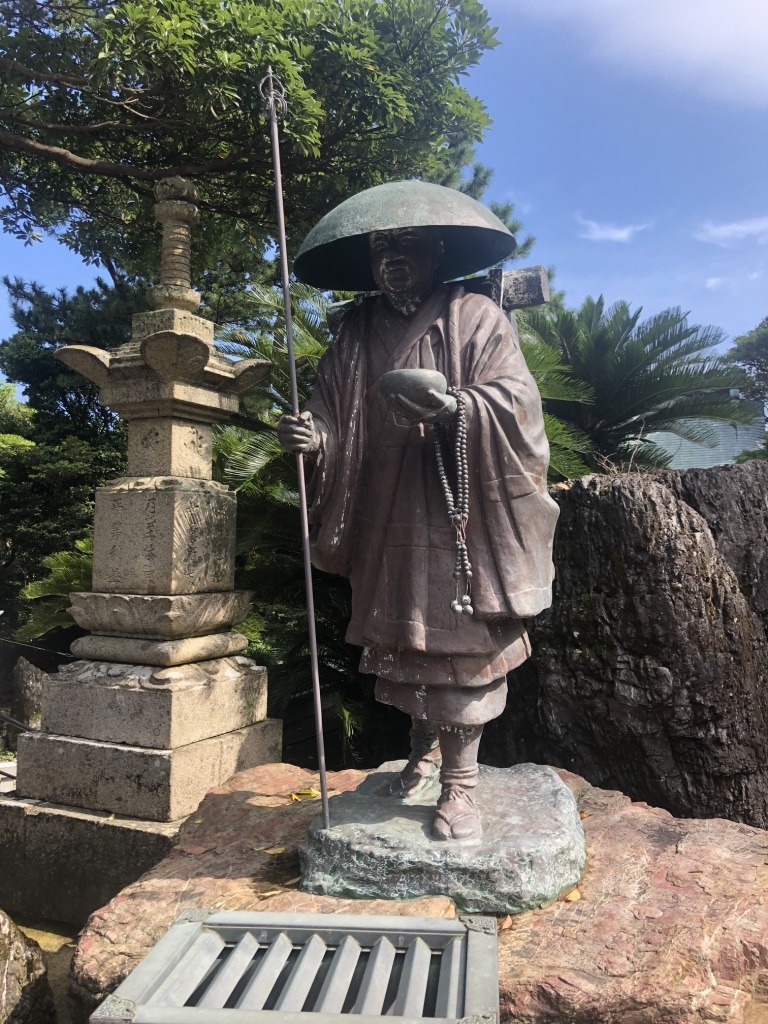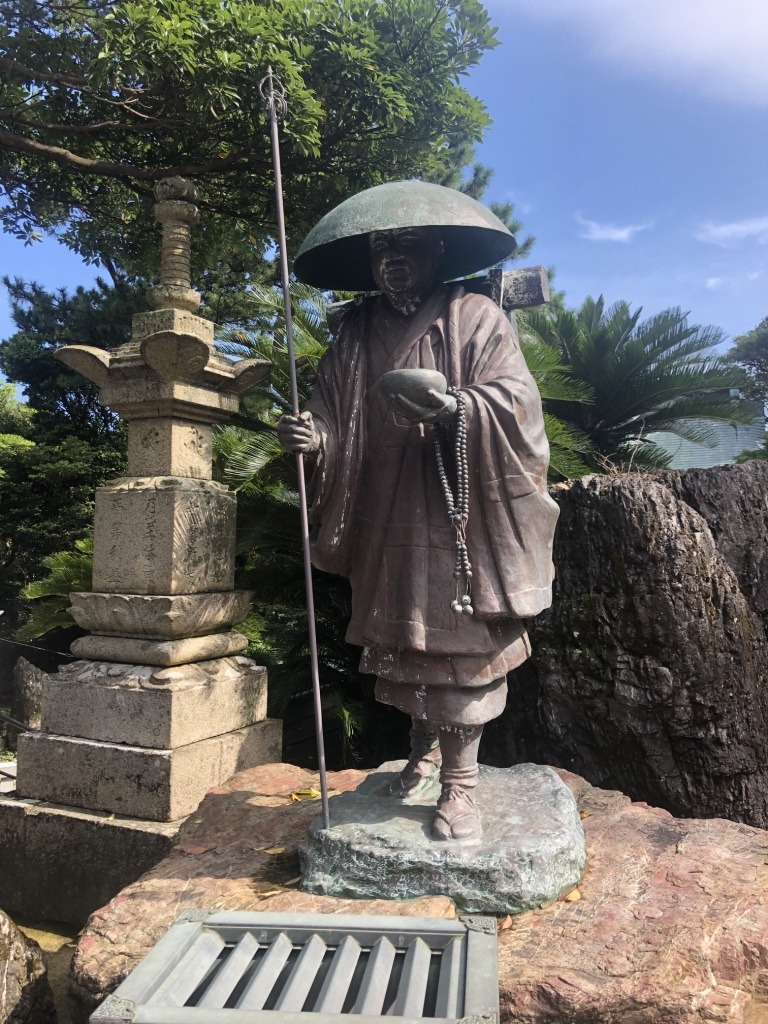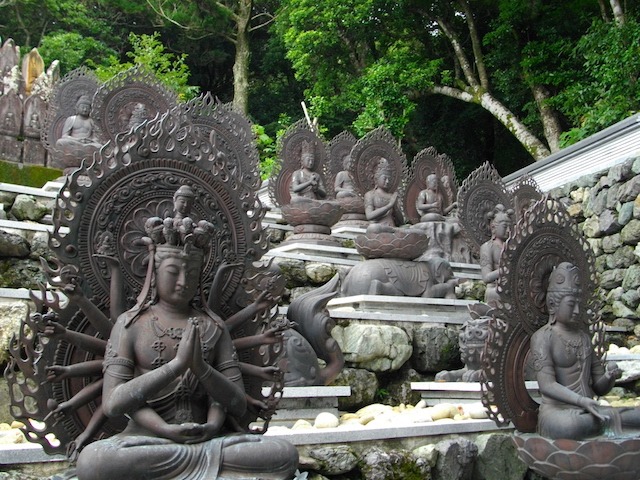 Now a staple lunch for us, some noodle time !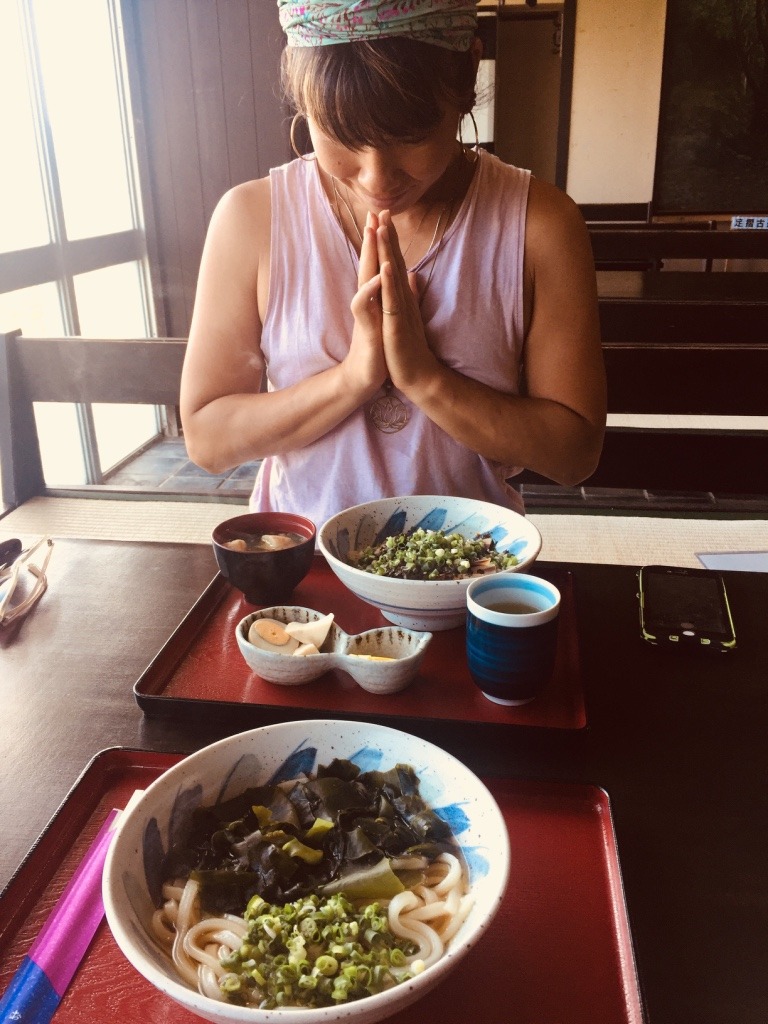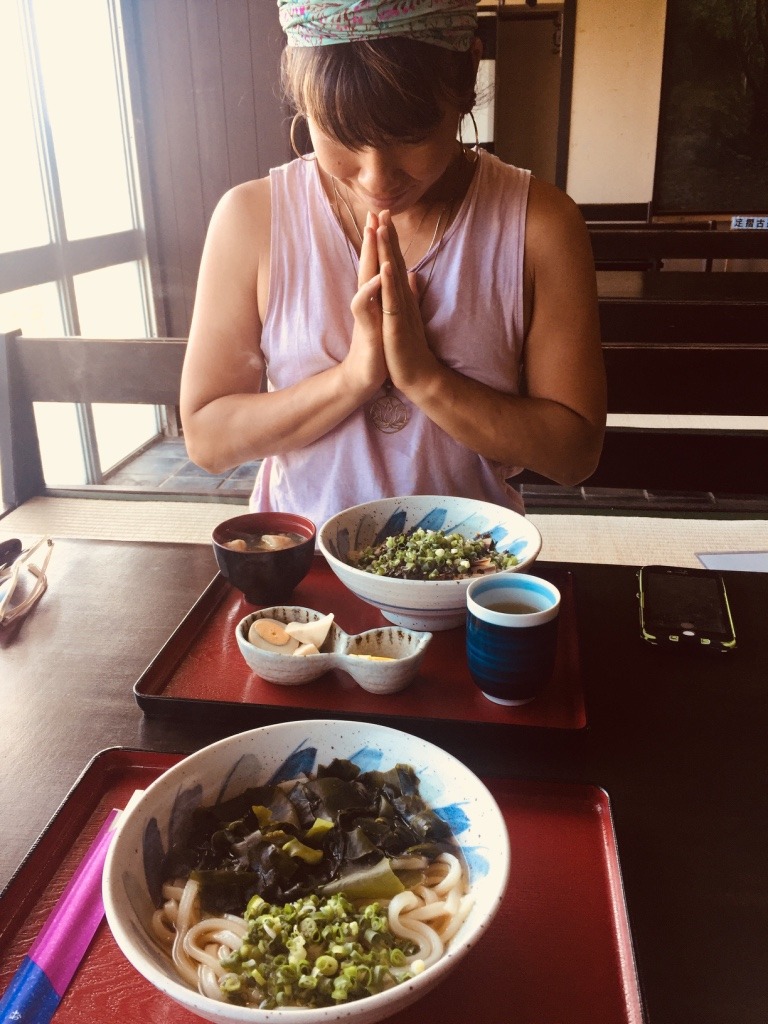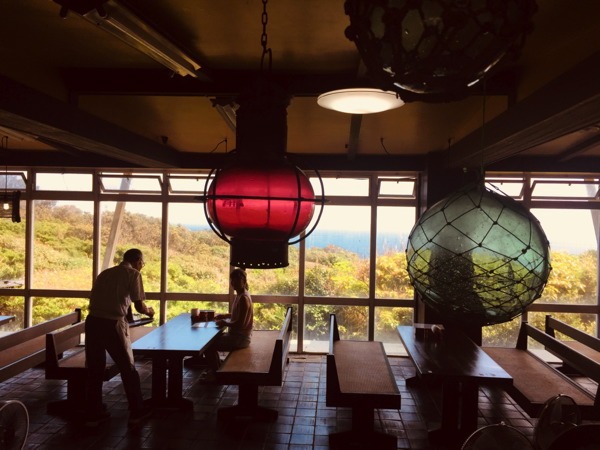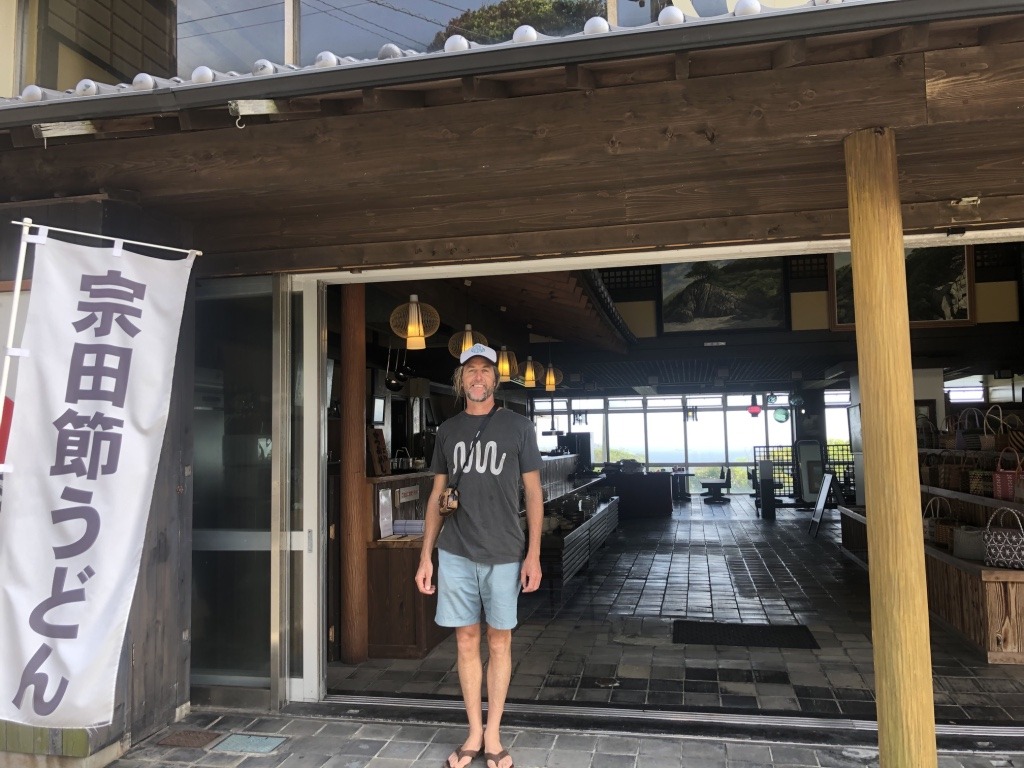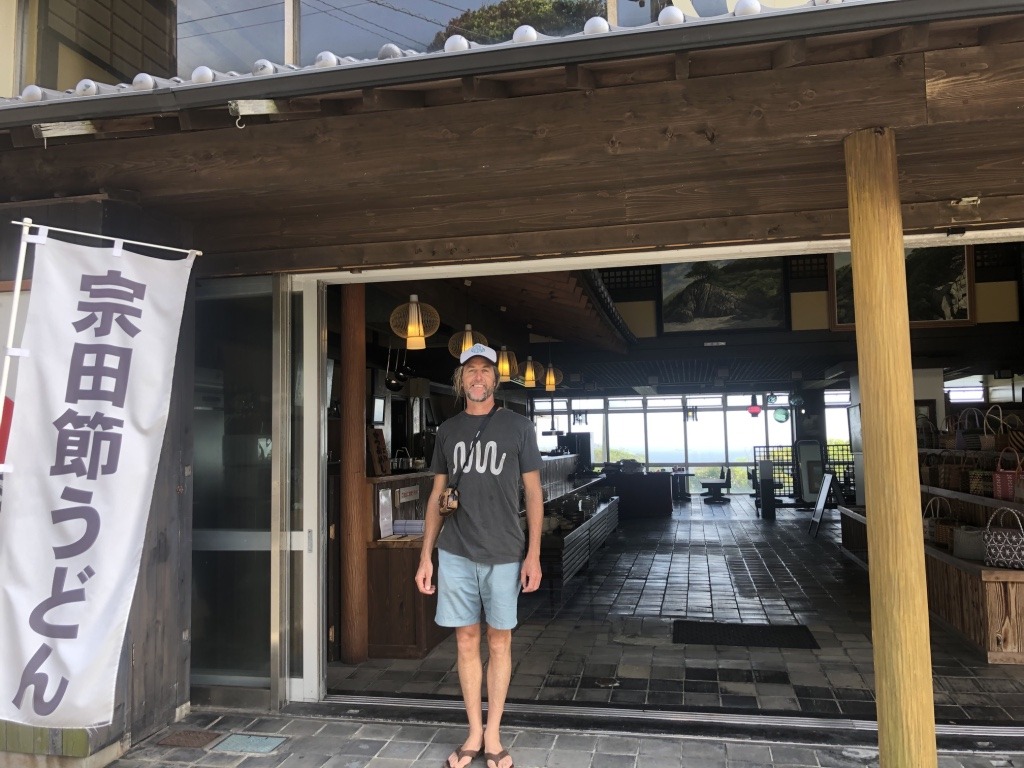 On our last day in Kochi, we followed upstream Shimanto River in search for the NIYODO BLUE.
The Niyodo River in Kochi has the most beautiful crystal clear blue water in all of Japan and is known as Niyodo Blue. This mystical blue basin was the location of a Japanese legendary tale between a mythical serpent and a beautiful daughter.
I have never seen anything like this, SO BLUE and in its natural elements.
It seems to get busy with tourists in summer seasons but I guess we were lucky to enjoy the serenity of it all.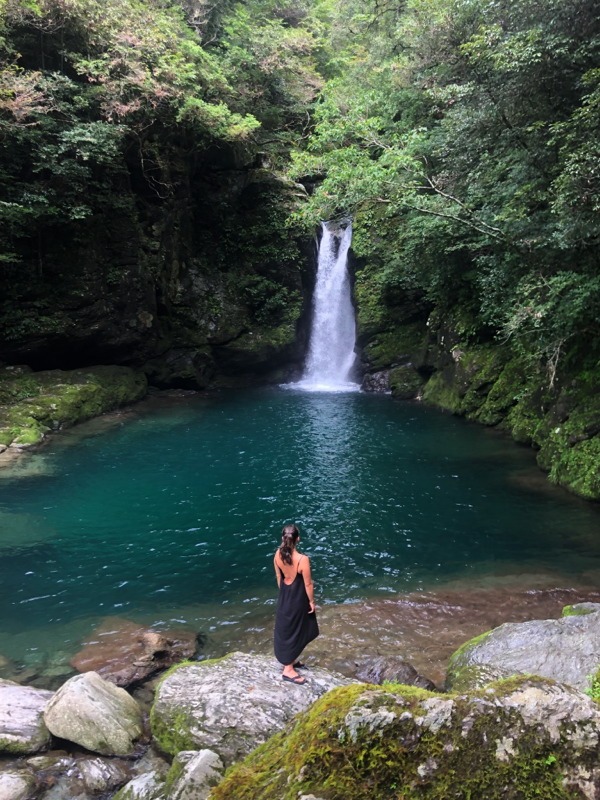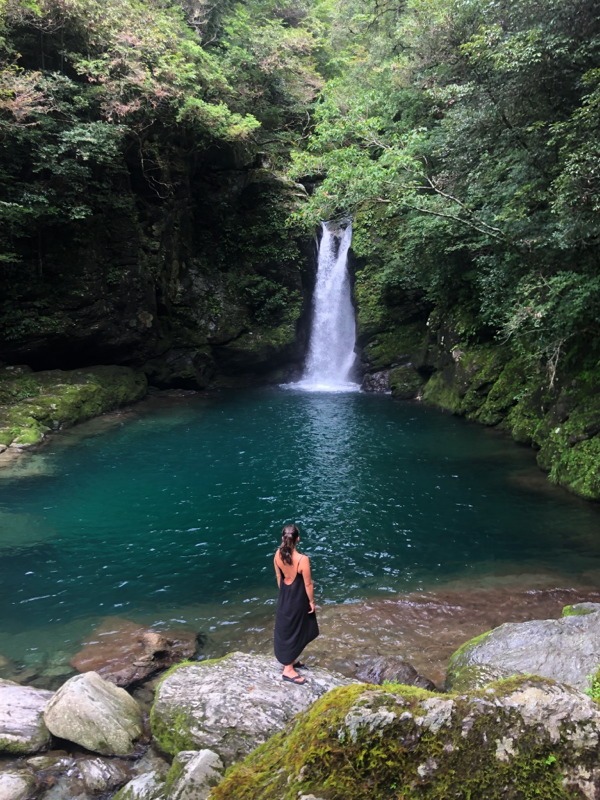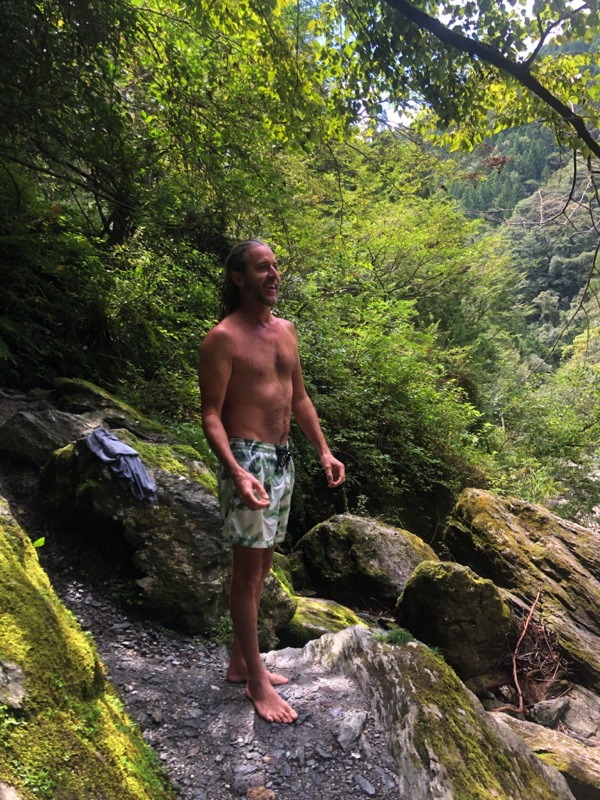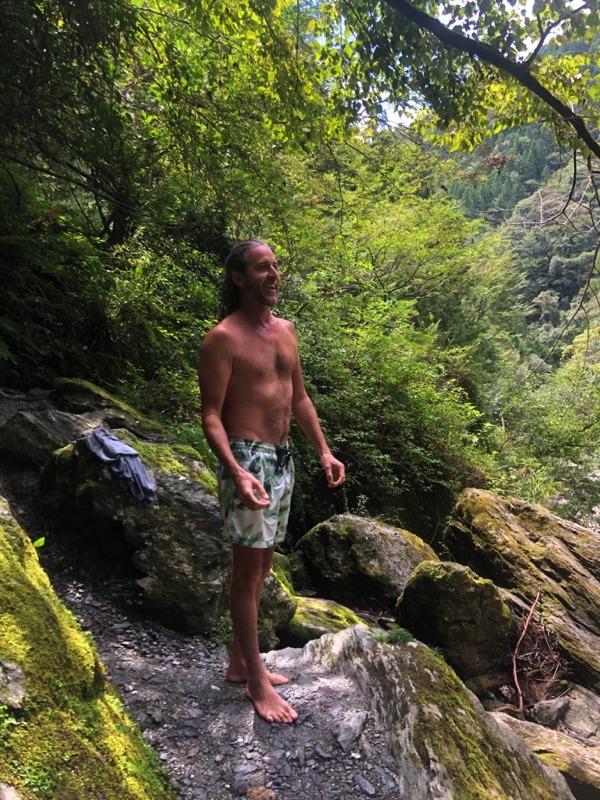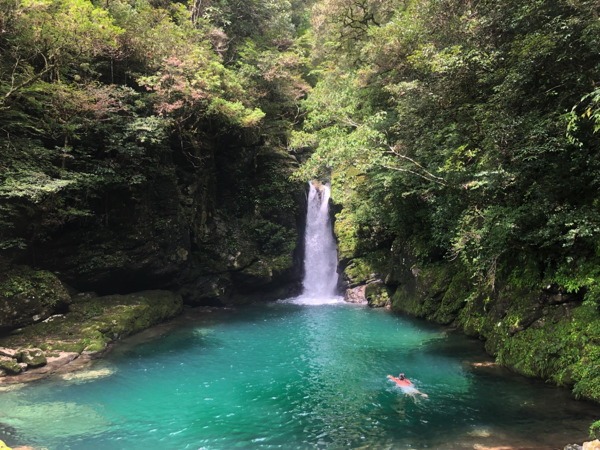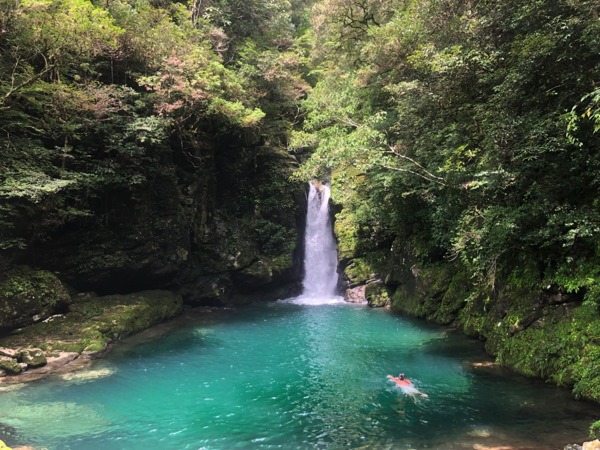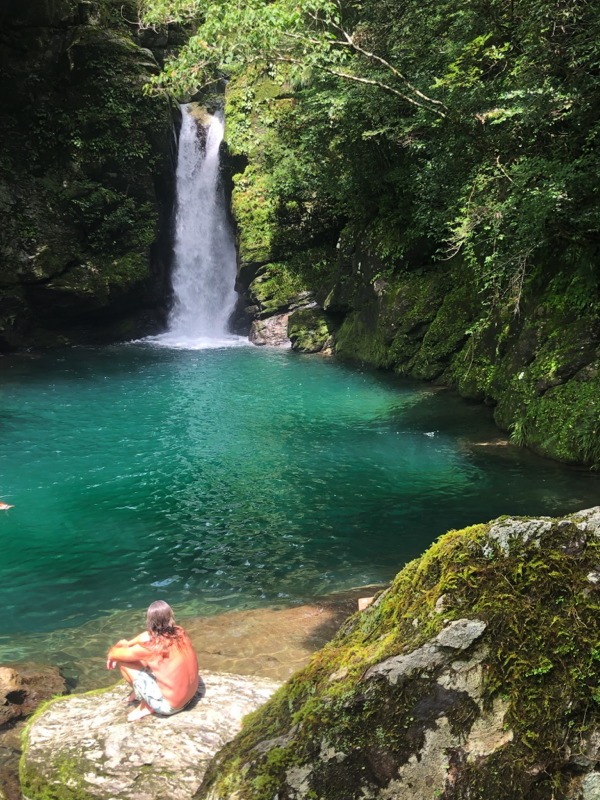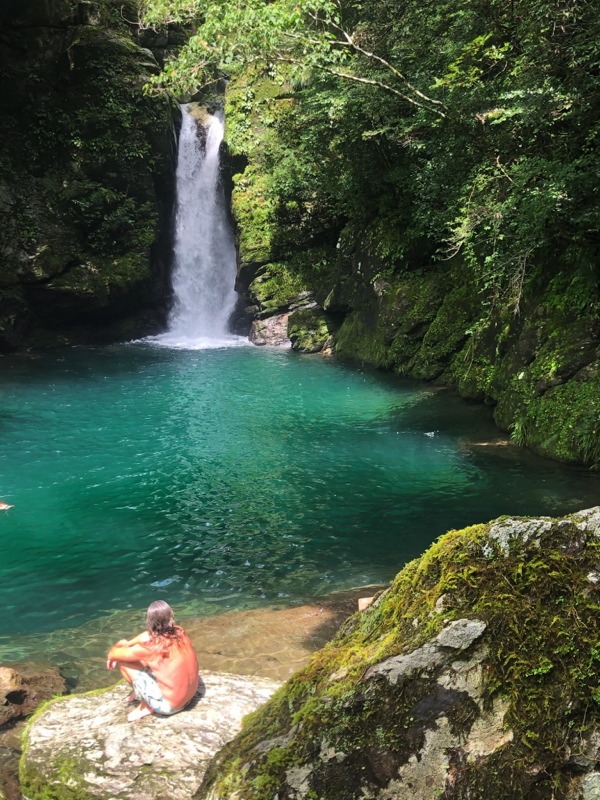 On the way, we also stopped  at one of the submersible bridges- CHINKABASHI.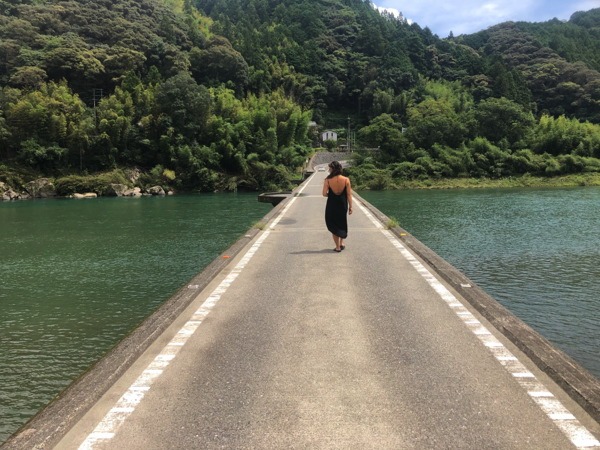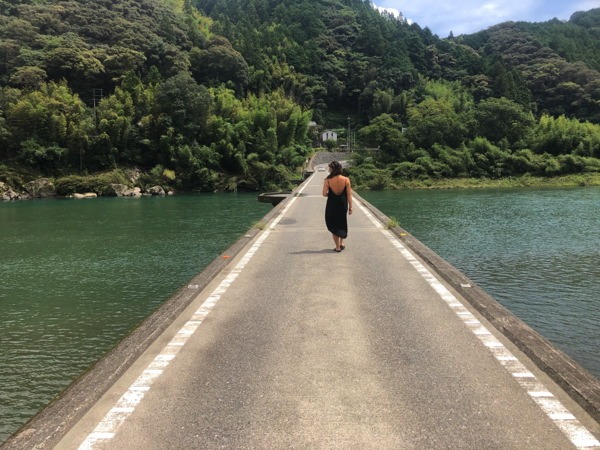 They are designed without balustrades so that debris like fallen trees being carried down a flooded Shimanto River simply flow over the bridge. As the bridges don't inhibit the flow of the river, the river is less likely to burst its banks, and the bridge is also less like to be washed away. In a way, this bridge represents the lifestyle of the people who live together in harmony with the natural environment, and acts as a vital connection between the villages that still exist here. Local children also love these bridges as a source of fun, jumping into the river from the chinkabashi. There are 22 chinkabashi that cross the main river.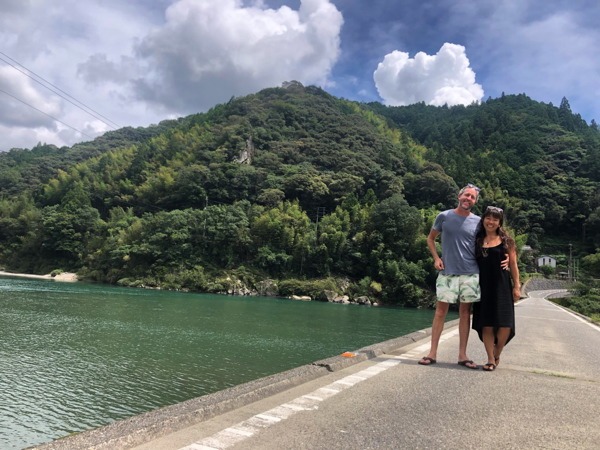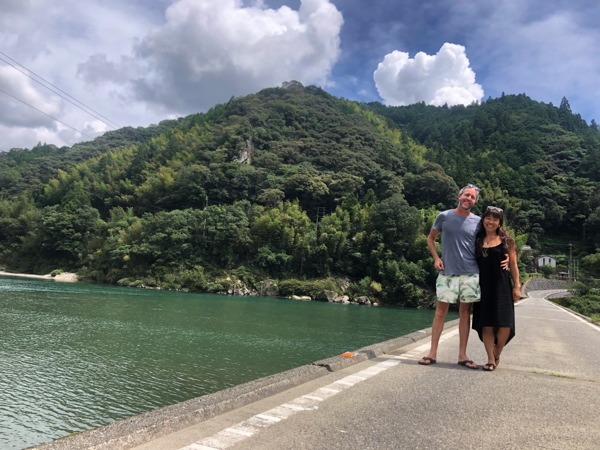 We could have stayed here forever, but we were on a timeline, to reach our  accommodation in Takamatsu, Kagawa, 250km south of Shimanto.  Although I did time it well and also manage to squeeze in a quick tour of one of the most amazing Japanese garden – RITSURIN KOUEN, where I wanted to take Damien per his request to see an authentic Japanese garden.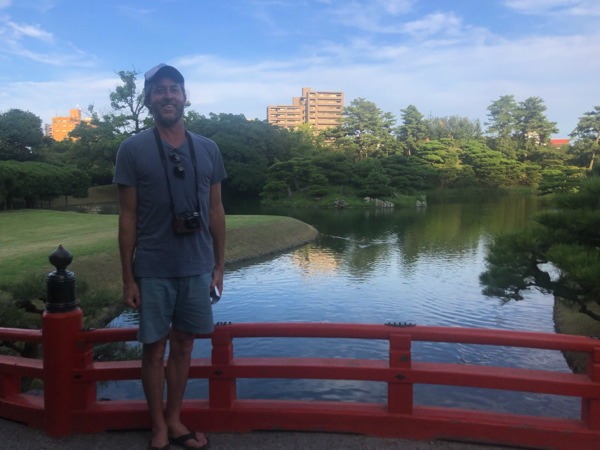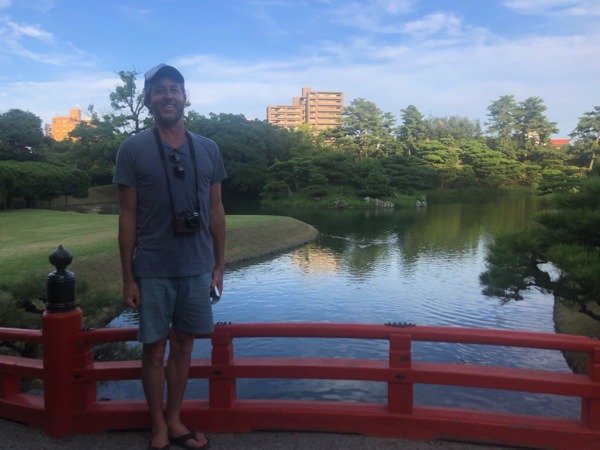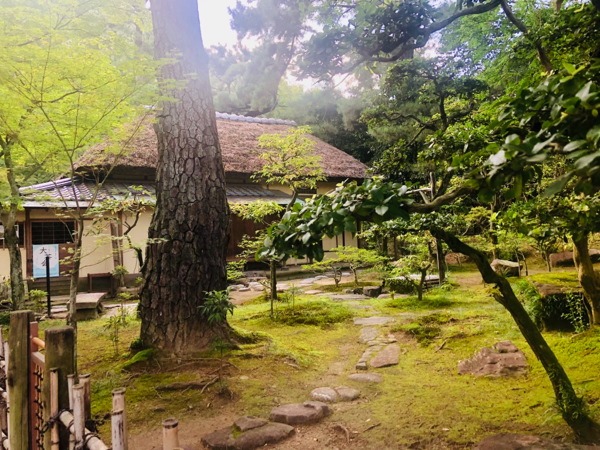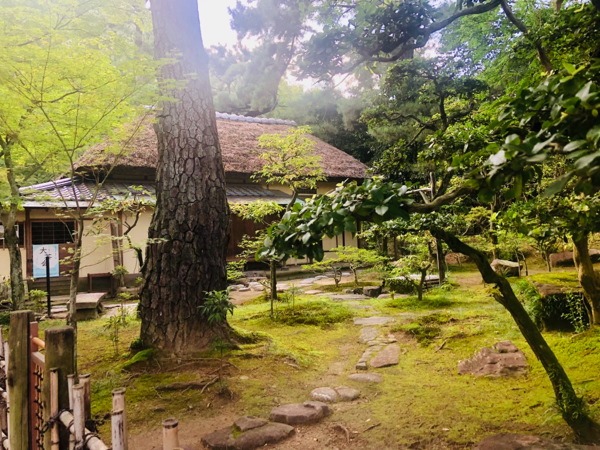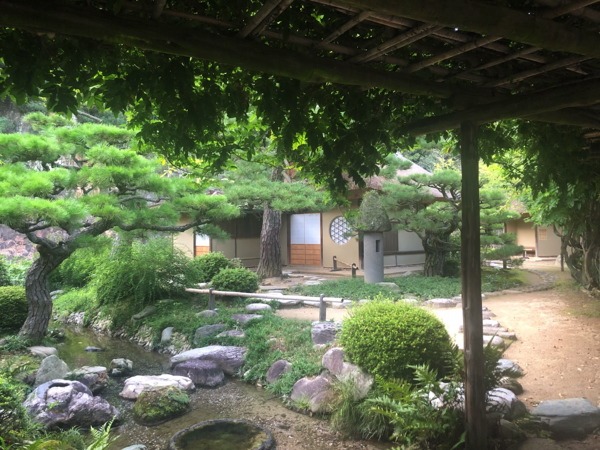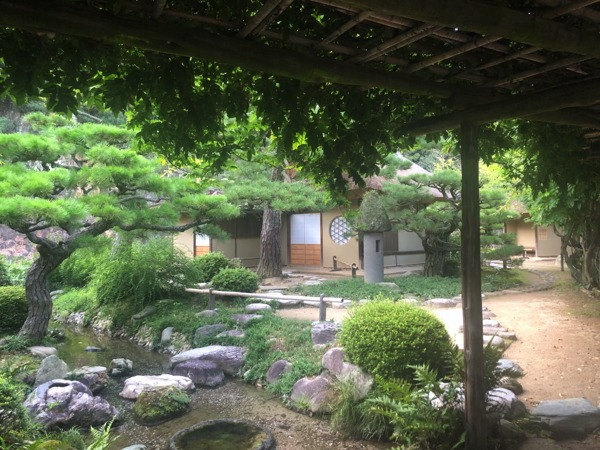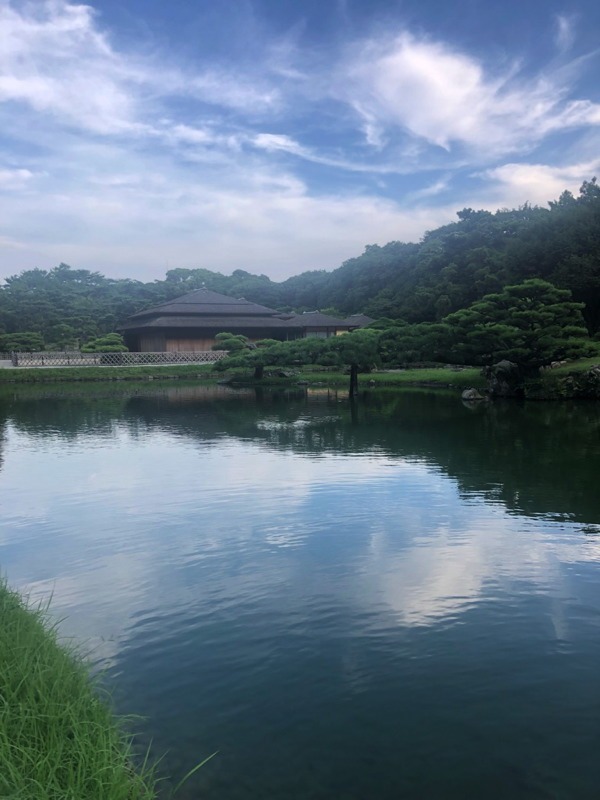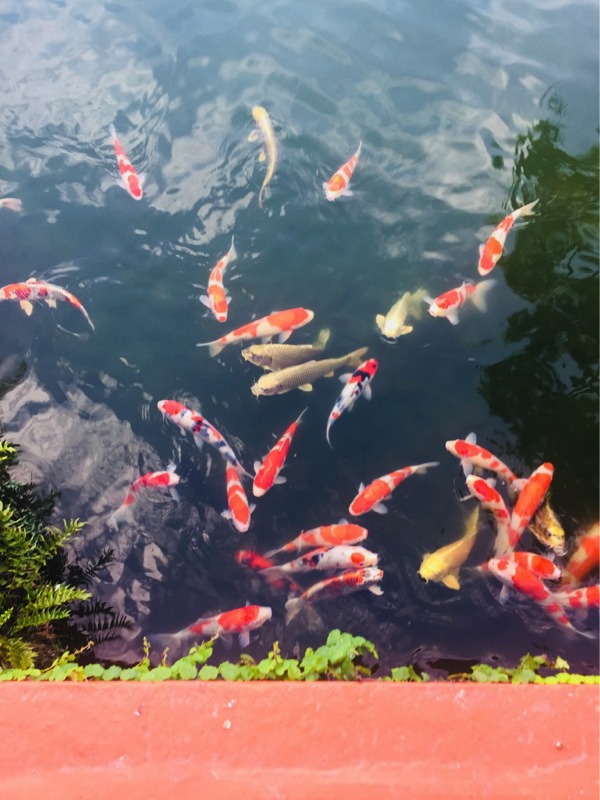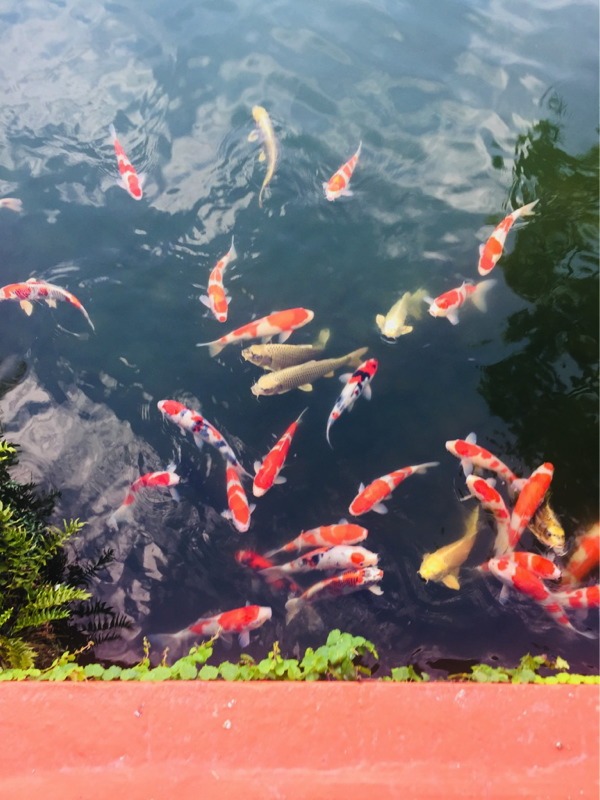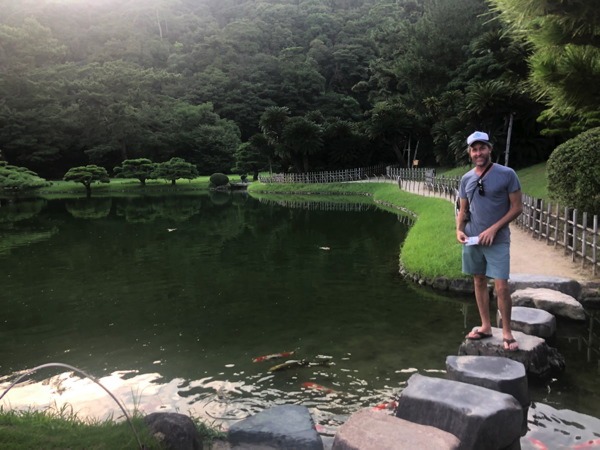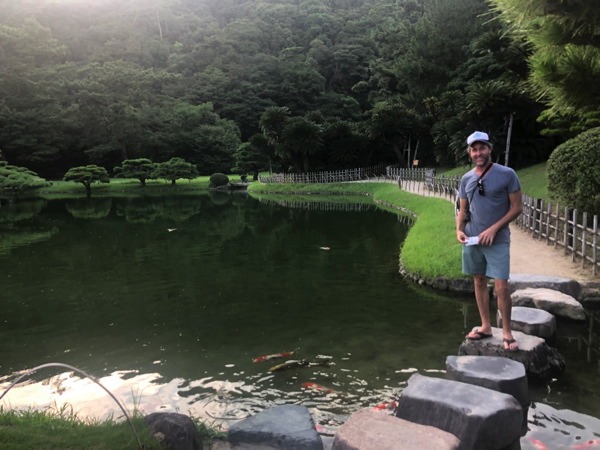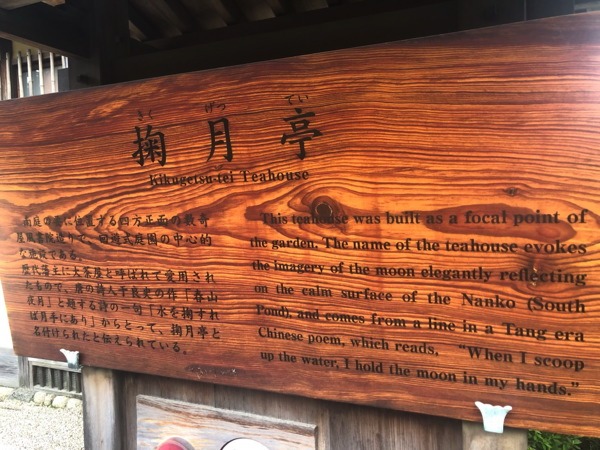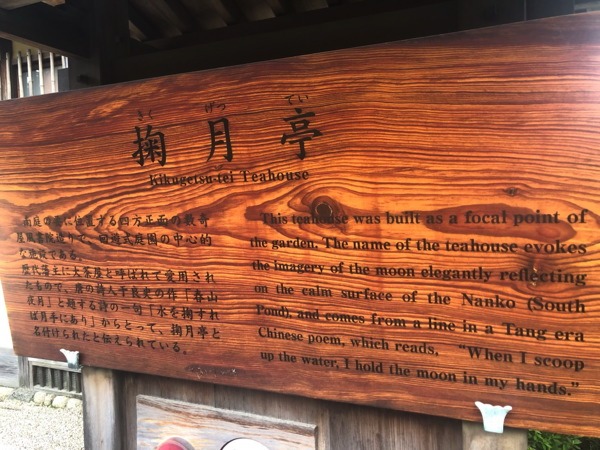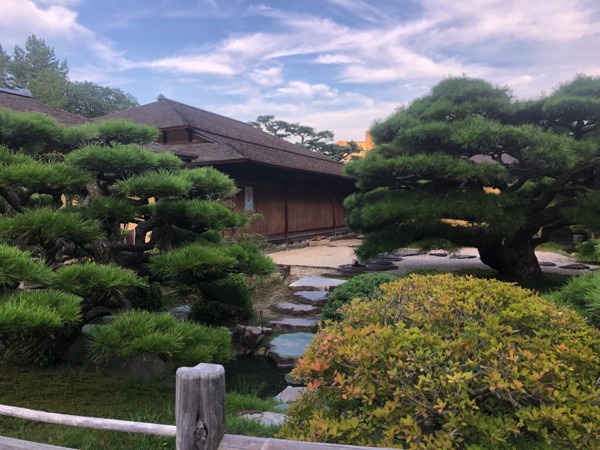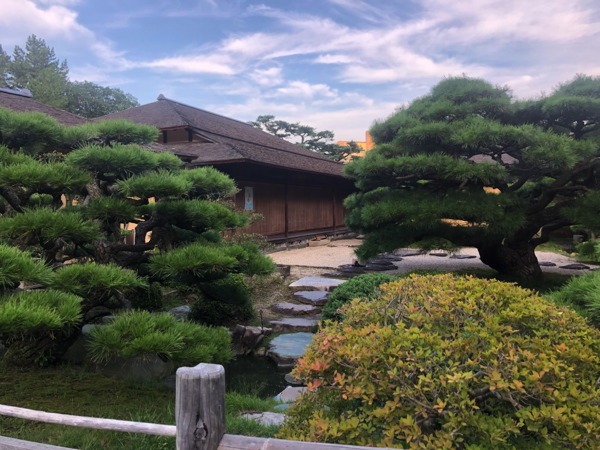 Ritsurin Koen is a landscape garden in Takamatsu City, built by the local feudal lords during the early Edo Period. Considered one of the best gardens in Japan, it is often suggested that Ritsurin Koen deserves a spot on the list of the "three most beautiful gardens of Japan"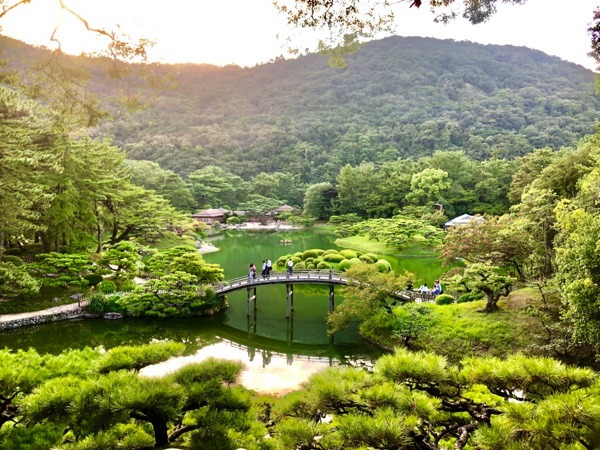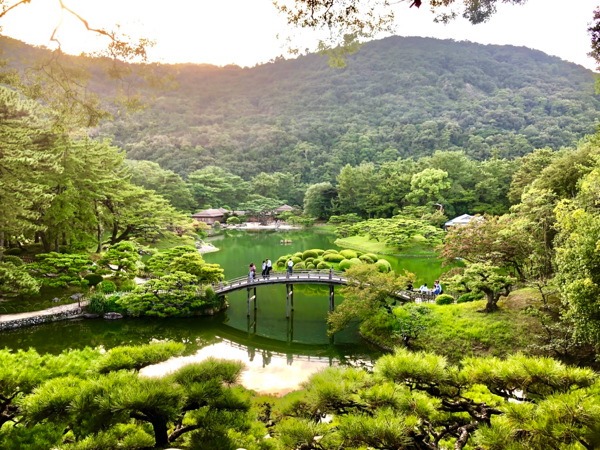 The spacious park features many ponds, hills, historic trees and beautiful pavilions divided into a Japanese style garden in the south and western style garden in the north. The gardens are set in front of wooded Mt. Shiun which serves as a wonderful background and great example of borrowed scenery.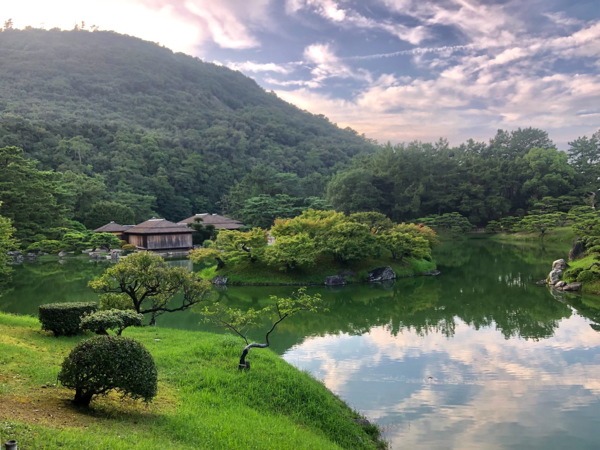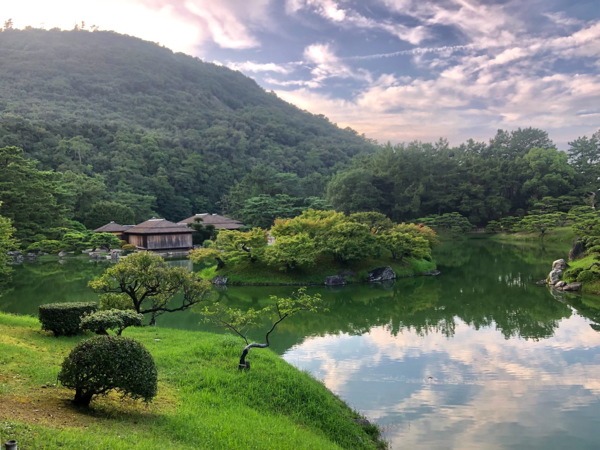 As the sun went down, we returned our rental car and checked into our first touristy accommodation- a tiny compact business hotel in the city of Takamatsu near the ferry terminal where we were to embark to the ART ISLAND OF NAOSHIMA the following day.
PS. Takamatsu prefecture is known for its UDON Noodles. So yep, Udon noodles again for dinner !
There are so many Udon bars, usually they are cheap, can be less than 500Yen!  Can't get enough of it.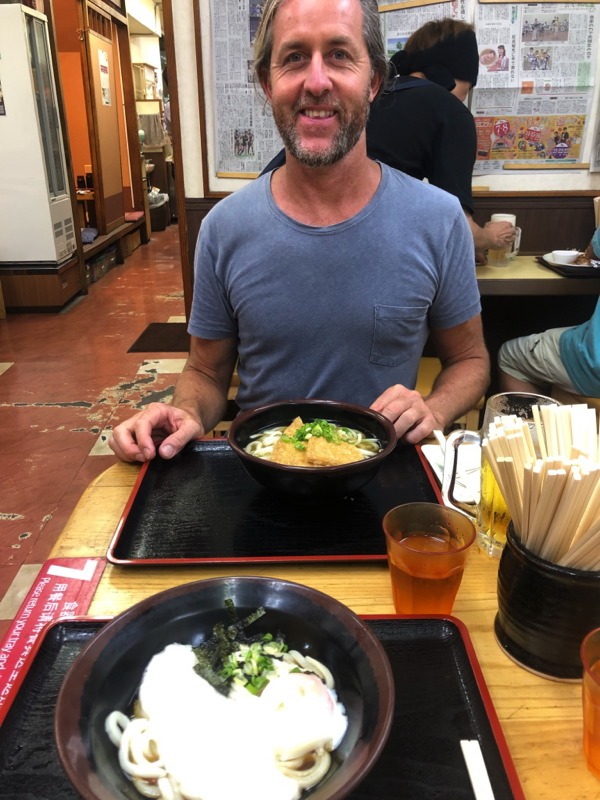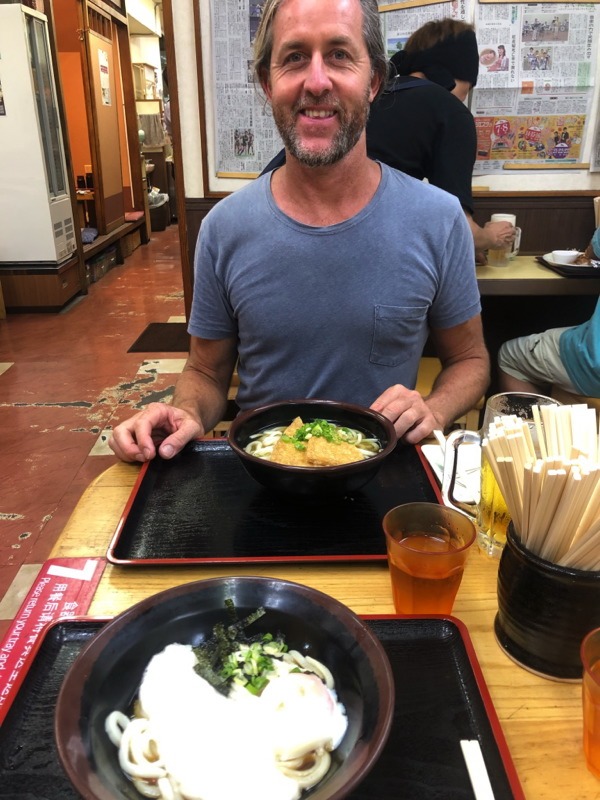 .Next Stop, Damien's dream comes true !
The ART ISLANDS OF NAOSHIMA & TESHIMA